Weekly Spots
POSTED: July 8, 2013

MEDIA MONITORS RESEARCH SPOT TEN RESULTS
Click an icon to download Adobe Reader

or PDF Plugin for Firefox

Mac & non IE or FF Browsers Click Here To Download Spot Charts

CHARLESTON, SOUTH CAROLINA
City of Churches & Alcoholic Beverages
By: Dwight Douglas, VP Marketing
Media Monitors - New York
(White Plains, NY) July 8, 2013
– According to Arbitron, Charleston, South Carolina is the 82nd largest radio market with a population of 589,800.
CITY FACTS
Founded and settled by English colonists in 1670, Charleston grew from a colonial seaport to a wealthy city by the mid-eighteenth century. Through the mid-nineteenth century, Charleston's economy prospered due to its busy seaport and the cultivation of rice, cotton, and indigo.
In April of 1861, Confederate soldiers fired on Union-occupied Fort Sumter in Charleston Harbor, thus signaling the beginning of the Civil War. Charleston was slow to recover from the devastation of the war. However, its pace of recovery became the foundation of the City's greatest asset – its vast inventory of historically significant architecture. Short on capital after the war, Charleston was forced to repair its existing damaged buildings instead of replacing them.
During the first few decades of the 1900's, industrial and port activities increased dramatically. Later, major sources of capital came from the Charleston Naval Base, the area's medical industry and the tourism industry. Today approximately 4.51 million people visit this city annually generating an estimated economic impact of $3.22 billion.
Known for its rich history, well-preserved architecture, restaurant community, and mannerly people, Charleston has received a large number of accolades, including "America's Most Friendly [City]" by Travel + Leisure in 2011 and "the most polite and hospitable city in America" by Southern Living magazine.
The Notebook, 2004, starring Rachel McAdams and Ryan Gosling, was filmed in Charleston. The American Theatre on King Street was Allie and Noah's first date spot. Dear John, 2010, starring Amanda Seyfried and Channing Tatum was also filmed in Charleston.
CHARLESTON SPOT TEN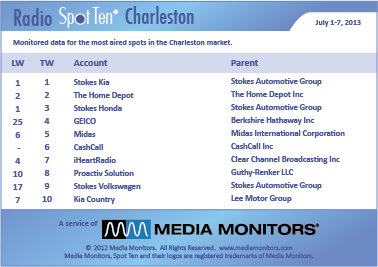 In Charleston last week the #1 radio advertiser was STOKES KIA with 927 spots. Coming in #2 was THE HOME DEPOT with 904 ads, while STOKES HONDA dropped from #1 to #3 with 780 spots. GEICO soared from #2 to #4 with 607 spots and MIDAS moved into #5 with 387 spots. CASHCALL claimed #6 with 351 spots, while IHEARTRADIO reversed from #4 down to #7 with 326 ads. PROACTIV SOLUTION slid into #8 with 323 commercials and STOKES VOLKSWAGEN took #9 with 316 spots. And in at #10 was KIA COUNTRY (Lee Motor Group) with 316 spots as well.
ALCOHOLIC BEVERAGE SPOT TEN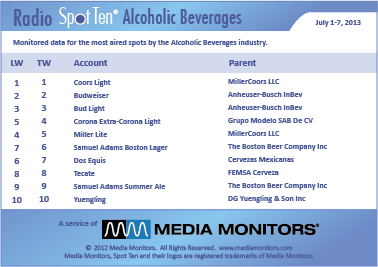 NATIONAL STATISTICS
- #1 in the nation in this category was COORS LIGHT with 5,727 spots. BUDWEISER was solid at #2 airing 5,152 commercials. BUD LIGHT stayed at #3 with 3,392 and CORONA EXTRA-CORONA LIGHT landed at #4 with 3,126 spots. MILLER LITE was #5 running 2,942 spots, while SAMUEL ADAMS BOSTON LAGER poured out 2,490 spots making them #6. DOS EQUIS was #7 with 1,863 spots and TECATE stayed at #8 with 1,487 ads. SAMUEL ADAMS SUMMER ALE maintained at #9 with 1,381 spots, while America's oldest beer, YUENGLING was #10 with 1,244 spots.
NATIONAL SPOT TEN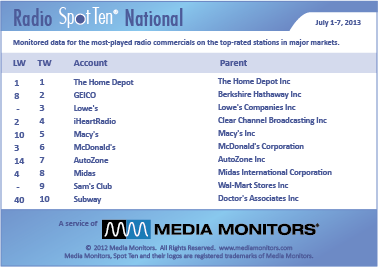 NATIONAL STATISTICS
- THE HOME DEPOT dominated again holding #1 with 58,334 spots. GEICO, regained #2 (up from #8) with 47,315 ads, while LOWE'S appears at #3 with 35,228 commercials. IHEARTRADIO dipped from #2 to #4 with 34,967 spots and MACY'S moved up from #10 to #5 with 30,699 ads.
Posted: July 8, 2013


SPOT TRENDS
Last Twelve Months
CenturyLink, Inc. is a global broadband and telecommunications company headquartered in Monroe, Louisiana. The company has roots back to 1930. William Clarke and Marie Williams purchased the Oak Ridge Telephone Company for $500 from F.E. Hogan, Sr. and there were 75 paid subscribers at the time. The switchboard was relocated to the Williams' front parlor so the family could man the board 24-hours a day. The exception was between 10 a.m. and 3 p.m. Sundays, when the office closed for church and dinner. Marie wrote out the bills by hand, and eight-year-old son Clarke McRae Williams delivered them on his bicycle. In 1946, Clarke McRae Williams married Mary Kathryn Lee on his return from service in World War II. His parents gave the company to the couple as a wedding gift. In 1968, the company was incorporated as Central Telephone and Electronics, with Clarke M. Williams as President and Chairman of the Board. He had expanded the business into three states serving 10,000 access lines. From 1999 to 2010, it was known as CenturyTel, Inc. It acquired Embarq in 2009 and began doing business as CenturyLink, officially changing its corporate name to CenturyLink, Inc. in May 2010. The company completed its acquisition of Qwest on April 1, 2011. CenturyLink provides an array of communications services to its residential, business, governmental and wholesale customers. Its services include long-distance, network access, private line, public access, broadband, data, manageable hosting, co-location, wireless and video services. The company also provides local access and fiber transport services to local exchange carriers and security monitoring services in certain local and regional markets. On July 15, 2011, CenturyLink acquired Savvis, Inc., a global leader in cloud infrastructure and hosted IT solutions. This acquisition allowed CenturyLink to achieve global scale as a managed hosting and cloud services provider and accelerated its ability to deliver those capabilities to its business customers. As part of their marketing they have put their name on large arenas in Omaha, Nebraska and Bossier City, Louisiana.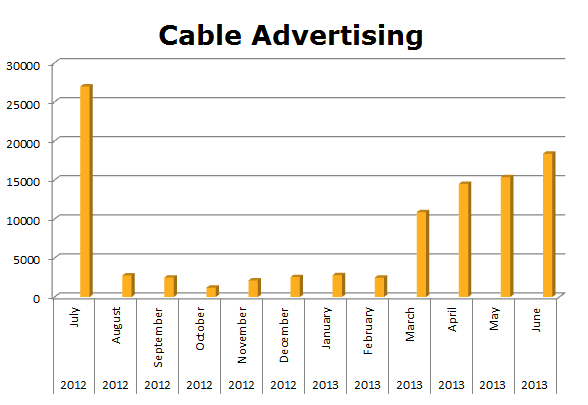 On Local Cable, CenturyLink ran 102,489 spots in the last 12 months. Their biggest month was July 2012 when they ran 26,969 spots.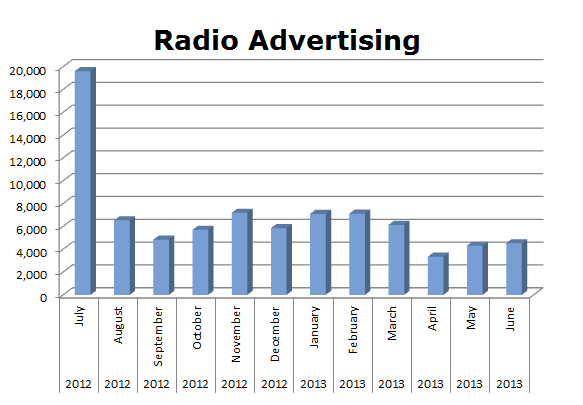 On the Radio, CenturyLink ran 82,239 spots with their high-mark coming last July 2012 when they cleared 19,608 ads.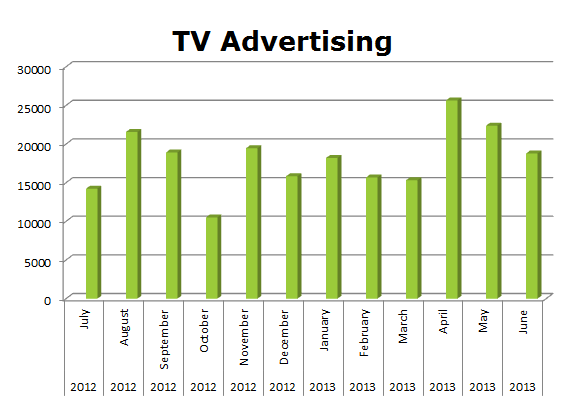 O53.96% of all CenturyLink's spots ran on Broadcast TV with a total of 216,503 aired in the last 12 months. On TV, their biggest month was April 2013 when they ran 25,648 spots.
POSTED: July 8, 2013
<! ----End Here -->

HOME DEPOT vs. LOWES
The Home Depot
is one of America's premier retailers in home improvement and construction products and services. Headquartered in Atlanta, The Home Depot employs more than 321,000 people (as of January 2011) and operates 2,248 big-box format stores across the United States (including the 50 U.S. states, the District of Columbia, Puerto Rico, the Virgin Islands and Guam), Canada, Mexico and China. It is the world's largest home improvement retailer and the 2nd largest retailer in the U.S., right behind Wal-Mart. The Home Depot was founded in 1978 by Bernie Marcus, Arthur Blank, Ron Brill, and Pat Farrah. The Home Depot's mission was to build home-improvement warehouses, larger than any of their competitors' facilities. The Home Depot was the fastest growing retailer in U.S. history. Arthur Blank, after selling his shares in the company, went on to buy the Atlanta Falcons football team and Bernie Marcus is involved in many charities in the Atlanta area. In 1981, the company went public on NASDAQ and moved to the New York Stock Exchange in 1984. The 1980s and 1990s spawned tremendous growth for the company, with 1989 marking the celebration of its 100th store opening. The slogan "You can do it. We can help." has been used by the Home Depot since 2003. Other slogans used in the past 25 years include "The Home Depot, Low prices are just the beginning" in the early 1990s and "When you're at the Home Depot, You'll feel right at home" in the late 1990s and "The Home Depot: First in Home Improvement!" from 1999-2003.
Lowe's
headquarters is located in Mooresville, NC and was started by Lucius S. Lowe when he opened the first Lowe's North Wilkesboro Hardware in North Wilkesboro, North Carolina in 1921. It was later inherited by his daughter Ruth when Lucius died in 1940 and subsequently taken over by her brother, Jim Lowe and her husband, Carl Buchan in 1943. It was fully taken over by Buchan in 1952 and expanded to many other cities in North Carolina in the 1950's. Lowe's suffered in the 1980s, due to market conditions and increasing competition from the new big-box chain, The Home Depot. Lowe's eventually had to adopt the big-box format in order to survive. Today most Lowe's stores are of the big-box variety, though some classic format stores remain in smaller markets. Prior to 2006, the Lowe's tagline was "Improving Home Improvement," and before that was "Lowe's Knows." In 2006, Lowe's adopted the new slogan "Let's Build Something Together." From all three media we learned that Lowe's ran 33.66% as many spots as The Home Depot.
MEDIA USAGE

Last 12 Months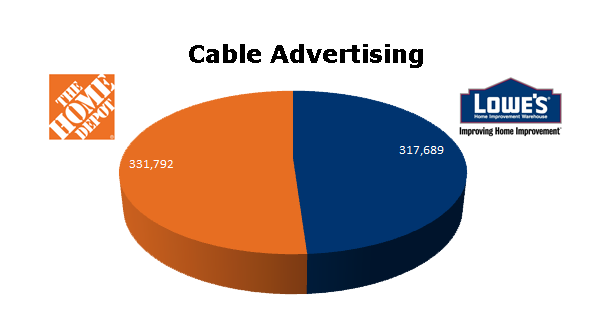 On Local Cable, The Home Depot ran 331,792 spots in the last 12 months, with Lowe's clearing 317,689 ads in the same period. The Home Depot's biggest month was May 2013 when they ran 41,412 spots. Lowe's high-mark was November 2012 when aired 40,456 ads.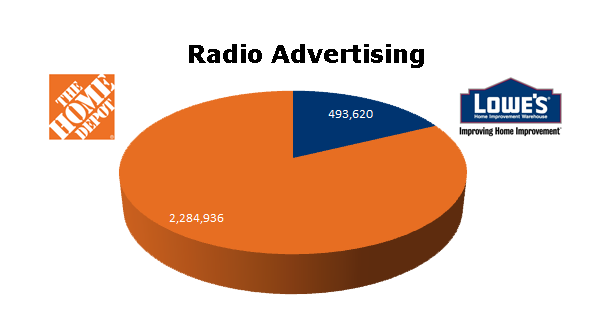 On the Radio, The Home Depot is a major advertiser running 2,284,936 spots in the last 12 months. Lowe's ran 493,620 spots in the same time frame. The Home Depot's biggest month was July 2012 when they ran 294,218 spots. Lowe's biggest month was August 2012 when they cleared 84,416 spots.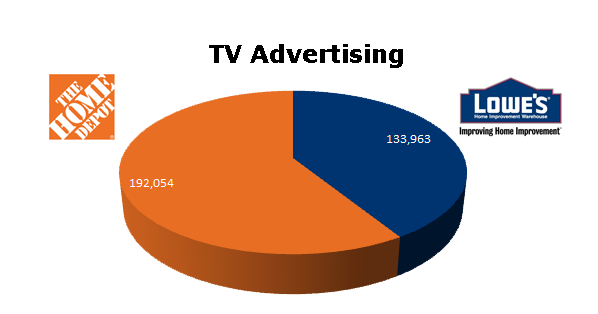 On Broadcast TV, The Home Depot ran 192,054 spots compared to Lowe's 133,963 spots in the last 12 months. The Home Depot's biggest month was May 2013 when they aired 24,506 spots; compared to Lowe's biggest month March 2013 when they ran 28,486 spots. Posted: July 8, 2013 <! ----End Here -->
Media Monitors
445 Hamilton Avenue, 7th Floor
White Plains, NY 10601 USA
1-800-67-MEDIA

For The Current Spots: