Weekly Spots
POSTED: July 1, 2013

MEDIA MONITORS RESEARCH SPOT TEN RESULTS
Click an icon to download Adobe Reader

or PDF Plugin for Firefox

Mac & non IE or FF Browsers Click Here To Download Spot Charts

HOUSTON, TEXAS
Internet Service Prodivers and Houston
By: Dwight Douglas, VP Marketing
Media Monitors - New York
(White Plains, NY) July 1, 2013
– According to Arbitron, Houston, TX is the 6th largest radio market with a population of 5,126,200.
CITY FACTS
Houston was founded on August 30, 1836 by brothers Augustus Chapman Allen and John Kirby Allen on land near the banks of Buffalo Bayou.
The city was incorporated on June 5, 1837 and named after then-President of the Republic of Texas, Sam Houston. Yes, Texas was its own country once.
Houston is the largest city (square miles) within the state of Texas, and known as "the energy capital of the world"; with headquarters of some of the major players in energy and fuel: BP, Cabot Oil, Citgo, Conoco Phillips, Frontier Oil, Halliburton, Marathon Oil, Pennzoil and Shell's US headquarters. It was also the home of the disaster in energy, the Enron Corporation.
Houston has more than sixty colleges, universities and other degree-granting institutions. One of the more prominent is The University of Houston, which has more than 36,000 students from 130 countries.
Houston has teams for nearly every major professional sport as sports have always been important to the city of Houston. Houston's respective teams are: the Houston Astros, which recently moved from the National League to the American League, (MLB), the Houston Texans (NFL), the Houston Rockets (NBA), the Houston Dynamo (MLS), the Houston Aeros (AHL), the Houston Wranglers (WTT), the Houston Takers (ABA), the Houston Energy (IWFL), the Houston Leones (PDL), and the H-Town Texas Cyclones (NWFA).
Some famous people from Houston, Texas include: actresses Hilary and Hailey Duff; film director Wes Anderson; actress Jennifer Garner; singer Beyonce Knowles; actor Dennis Quaid, and founder of Dell Computers, Michael Dell.
HOUSTON SPOT TEN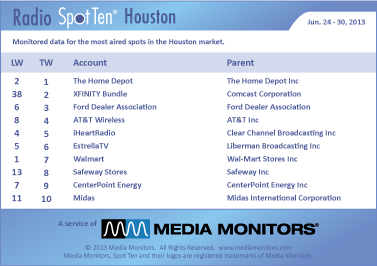 In Houston last week the #1 advertiser on the radio was THE HOME DEPOT with 1,156 spots. XFINITY BUNDLE expanded from #32 up to #2 with 835 spots, while the FORD DEALER ASSOCIATION parked at #3 with 705 spots. AT&T WIRELESS connected at #4 with 694 commercials and IHEARTRADIO ramped up at #5 with 681 spots. ESTRELLA TV took #6 with 665 ads, while WALMART dropped from #1 to #7 airing 592 spots. SAFEWAY STORES landed at #8 with 564 spots and CENTERPOINT ENERGY plugged in at #9 with 498 spots. Coming in #10 was MIDAS with 491 spots.
INTERNET PROVIDERS SPOT TEN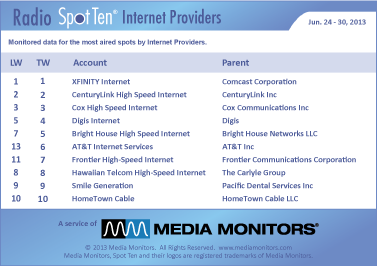 NATIONAL STATISTICS
- In this category last week, XFINITY INTERNET was #1 in the land with 1,288 spots. Coming in #2 was CENTURYLINK HIGH SPEED INTERNET with 581 spots, while COX HIGH SPEED INTERNET stayed at #3 with 384 spots. DIGIS INTERNET was #4 with 199 spots and BRIGHT HOUSE HIGH SPEED INTERNET was #5 with 105 commercials. AT&T INTERNET SERVICES was #6 with 87 ads, while FRONTIER HIGH-SPEED INTERNET was #7 with 60 spots. Landing at #8 was HAWAIIAN TELCOM HIGH-SPEED INTERNET with 60 ads and SMILE GENERATION was #9 with 50 spots. HOMETOWN CABLE came in #10 with 42 spots.
NATIONAL SPOT TEN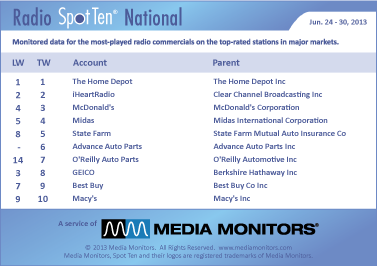 NATIONAL STATISTICS
- THE HOME DEPOT once again dominated the National Radio Spot Ten at #1 with 60,812 spots. IHEARTRADIO came in #2 with 38,067 spots, while MCDONALD'S was #3 with 28,900 spots. MIDAS made their move into #4 with 25,561 ads and STATE FARM climbed from #8 to #5 with 21,958 spots.
Posted: July 1, 2013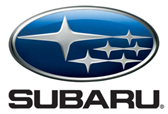 SPOT TRENDS
Last Twelve Months
Subaru
is the automobile manufacturing division of Japanese transportation conglomerate Fuji Heavy Industries (FHI). Fuji Heavy Industries is currently in a partial partnership with Toyota Motor Corporation, which owns 16.5% of FHI. Subaru is internationally known for their use of the boxer engine popularized in cars by the Volkswagen Beetle and Porsche 911, in most of their vehicles above 1500cc. They also domestically pioneered the use of the all-wheel drive (AWD) drivetrain, first introduced in 1972, that became standard equipment for mid-size and smaller cars in most international markets. They also offer many turbocharged versions of their passenger cars, such as the Impreza WRX. Subaru is the Japanese name for the Pleiades star cluster, which in turn inspires the Subaru logo and alludes to the six companies that merged to create FHI. FHI started out as The Aircraft Research Laboratory in 1917 headed by Chikuhei Nakajima. In 1932, the company was reorganized as Nakajima Aircraft Company, Ltd and became the primary manufacturer of aircraft for Japan during World War II. At the end of the Second World War, Nakajima Aircraft Company was again reorganized, this time as Fuji Sangyo Co, Ltd. In 1946, the company created the Fuji Rabbit motor scooter with spare aircraft parts left over from the war. In 1950, Fuji Sangyo was divided into 12 smaller corporations due to the Japanese Government's anti-zaibatsu (anti- conglomerate or cartel) legislation. But between 1953 and 1955, four of these corporations: coachbuilders Fuji Jidosha; engine manufacturers Omiya Fuji Kogyo; chassis builders Utsunomiya Sharyo and the Tokyo Fuji Dangyo trading company, as well as a newly formed corporation known as Fuji Kogyo, a scooter manufacturer, all decided to merge together to form Fuji Heavy Industries, that we know today. Kenji Kita, the CEO of Fuji Heavy Industries at the time, wanted the new company to be involved in car manufacturing and soon began plans for building a car with the development code-name P1. Mr. Kita canvassed the company for suggestions about naming the P1, but none of the proposals were appealing enough. In the end, he gave the car a Japanese name that he had "been cherishing in his heart": Subaru. The first Subaru car was named the Subaru 1500. Only twenty 1500s were initially manufactured due to multiple supply issues. From 1954 to 2008, the company designed and manufactured dozens of vehicles including the 1500 (1954), the tiny air-cooled 360 (1958), the Sambar (1961), the 1000 (which saw the introduction of the Subaru boxer engine in 1965), the R-2 (1969), the Rex and the Leone (1971), the BRAT (1978), the Alcyone (1985), the Legacy (1989), the Impreza (1993), the Forester (1997), the Tribeca (2005), and the latest Exiga (2008). On October 5, 2005, Toyota Motor Corporation purchased 8.7% of FHI shares from General Motors who had owned 20.1% of FHI since 1999. GM later divested its remaining 11.4% stake. After the purchase, Toyota announced a contract with Subaru on March 13, 2006, to use the underutilized Subaru manufacturing facility in Lafayette, Indiana, to hire up to 1,000 workers and use the factory to make the Camry beginning in 2007. Subaru of America was established in 1968 in Philadelphia by Malcolm Bricklin and Associates. It relocated to Pennsauken, New Jersey shortly thereafter and moved to its current headquarters in Cherry Hill, New Jersey in 1986, after which Fuji Heavy Industries acquired full ownership.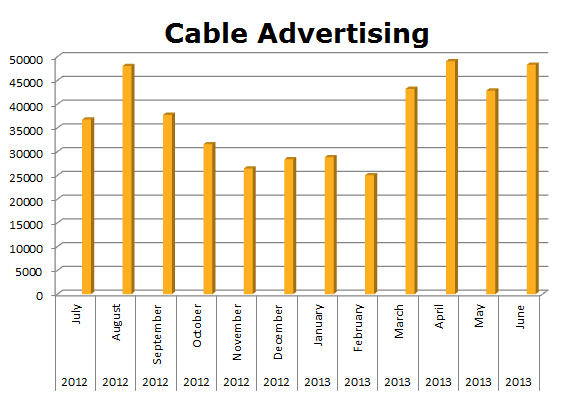 Subaru ran 72.84% of all their spots on Local Cable. In the last 12 months, they cleared 446,207 spots. Their biggest month was April 2013 when they ran 49,048 spots.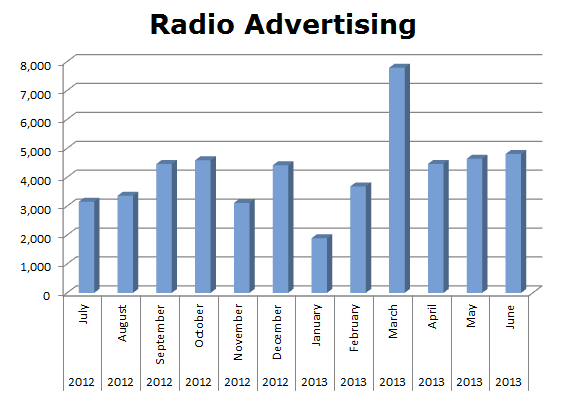 On the Radio, Subaru ran 50,333 spots in the last 12 months with their high water mark being March of 2013 when they ran 7,786 ads.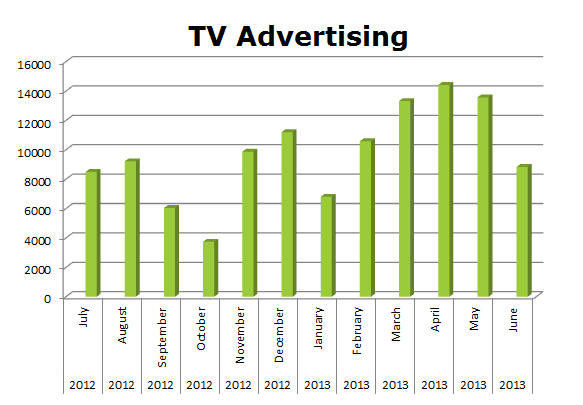 On Broadcast TV, Subaru ran 116,086 spots with their big push happening last spring 2013 with March (13,317), April (14,416) and May (13,569).
POSTED: July 1, 2013
<! ----End Here -->

Applebee's vs. TGI Friday's
Applebee's International, Inc.
sells franchises, and operates the Applebee's Neighborhood Grill & Bar restaurant chain. They have more than 1,965 restaurants in 49 states, 17 countries, and one U.S. territory. The company's headquarters are in Lenexa, KS. The Applebee's concept focuses on casual dining with mainstream dishes such as salads, shrimp, chicken, pasta, and "riblets" (which is considered Applebee's signature item). All Applebee's restaurants feature a bar area and serve alcoholic beverages (except where prohibited by law). The Applebee's chain was started by Bill and T.J. Palmer who opened their first restaurant, T.J. Applebee's Rx for Edibles & Elixirs, in Decatur, Georgia on November 19, 1980. After opening their second restaurant the pair sold their company to W. R. Grace and Company in 1983. As part of the transaction, Bill Palmer was named president of the Applebee's Division an indirect subsidiary of W. R. Grace and Company. In 1986, the name of the concept was changed to Applebee's Neighborhood Grill & Bar to reflect the Palmers' original concept of a place people could call their own. In November 2007, IHOP completed a $1.9 billion purchase of the Applebee's chain and later changed their corporate name to Dine Equity.
T.G.I. Friday's
(often shortened to "Friday's" in most countries, and stylized "FRiDAY'S", or "T.G.I.s" in the United Kingdom and the Republic of Ireland) is an international restaurant chain focused on casual dining. The company is a unit of the Carlson Companies. Its name is taken from the expression TGIF. The company asserts that it stands for "Thank Goodness It's Friday," although as of 2010 some television commercials for the chain have also made use of the alternative phrase, "Thank God It's Friday's." The chain is known for its appearance, with red-striped canopies, brass railings, Tiffany lamps and frequent use of antiques as decor. Friday's was founded by Alan Stillman in 1965. The bachelor perfume salesman lived in a neighborhood with many airline stewardesses, fashion models, secretaries, and other single people on the East Side of Manhattan near the Queensboro Bridge, and hoped that opening a bar would help him meet women. With $5,000 of his own money and $5,000 borrowed from his mother, Stillman purchased a bar he often visited, The Good Tavern, at the corner of 63rd Street and First Avenue, and renamed it T.G.I. Friday's after the expression "Thank God! It's Friday!" from his years at Bucknell University. The new restaurant, which opened on March 15, 1965, served standard American cuisine, bar food, and alcoholic beverages. Friday's has a large menu with an emphasis on alcoholic beverages which includes their famous "Ultimate" drinks which are served in an 18 oz. glass, and often made with top shelf and darker liquors. They also focus on a variety of blended drinks that are signature to the Friday's name, such as the "Tropicolada" and the "Friday's Freeze". A section of the menu is dedicated to the "Jack Daniel's Grill", a selection of items with a special Jack Daniel's-branded sauce. As new locations opened in the suburbs parents brought their children, and the chain changed its focus to casual dining for families. Stillman sold the restaurant chain in the 1970s to the Carlson Companies—although he kept the original location and, now married, founded Smith & Wollensky in 1977 with his college buddy Ben Benson. Friday's has also been used as a restaurant within hotels run by Country Inns & Suites by Carlson. The largest Friday's franchisee is The Briad Group with about 70 locations in the United States.
MEDIA USAGE

Last 12 Months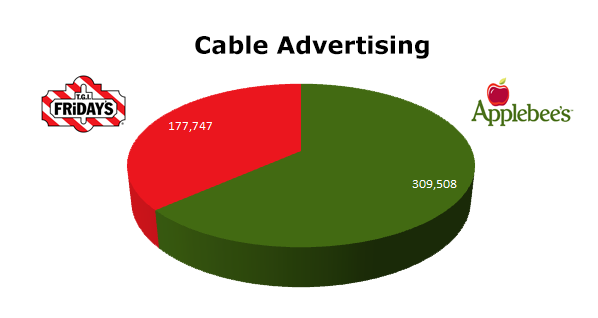 On Local Cable, Applebee's ran 309,508 spots, while TGI Friday's cleared 177,747 ads in the last 12 months. TGI Friday's biggest month was March 2013 with 54,135 spots. Applebee's biggest month on Local Cable was last month, June 2013, when they cleared 57,731 spots.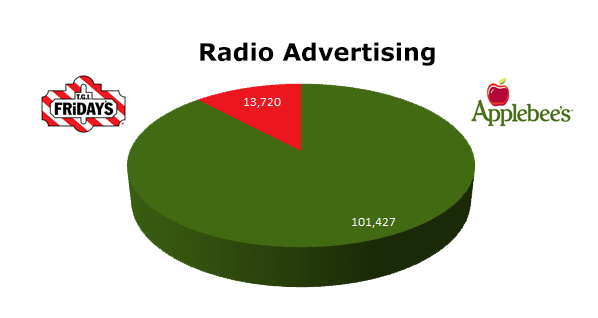 On the Radio, Applebee's ran 101,427 spots in the last 12 months, compared to TGI Friday's 13,720 spots. TGI Friday's biggest month was January 2013 with 2,816 spots, while Applebee's ran the most spots in September 2012 with 14,043 spots.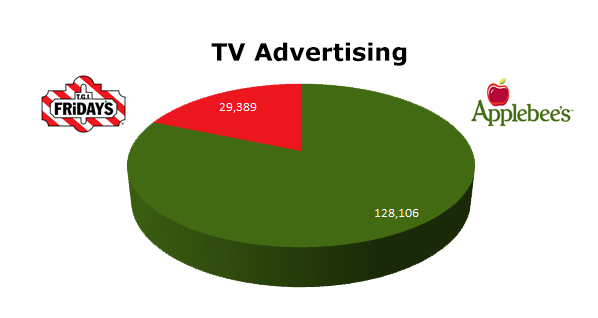 On Broadcast TV, Applebee's bested TGI Friday's by running 128,106 spots in the last 12 months, while TGI Friday's ran 29,389 spots in the same period. TGI Friday's biggest month was January 2013 when they ran 10,102 spots and Applebee's biggest month was last month, June 2013, when they cleared 15,230 spots. Posted: July 1, 2013 <! ----End Here -->
Media Monitors
445 Hamilton Avenue, 7th Floor
White Plains, NY 10601 USA
1-800-67-MEDIA

For The Current Spots: