Weekly Spots
POSTED: June 24, 2013

MEDIA MONITORS RESEARCH SPOT TEN RESULTS
Click an icon to download Adobe Reader

or PDF Plugin for Firefox

Mac & non IE or FF Browsers Click Here To Download Spot Charts

Grand Rapids
Grand Rapids and Discount Department Stores
By: Dwight Douglas, VP Marketing
Media Monitors - New York
(White Plains, NY) June 24, 2013
- According to Arbitron, Grand Rapids, Michigan, is the 69th largest radio market with a population of 732,700.
CITY FACTS
Around 1700, the Ottawa Indians moved into the area and founded several villages along the Grand River. The Grand Rapids area was first settled by Europeans near the start of the 19th century by missionaries and fur traders.
In 1826 Detroit-born Louis Campau, the official founder of Grand Rapids, built his cabin, trading post, and blacksmith shop on the east bank of the Grand River near the rapids. He returned to Detroit, then came back a year later with his wife and $5,000 of trade goods to trade with the native tribes.
Grand Rapids is home to five of the world's leading office furniture companies and is nicknamed the "Furniture City".
The Grand Rapids area is home to Alticor/Amway, Highlight Industries, Spartan Stores, Foremost Insurance Company, Meijer, GE Aviation, Wolverine World Wide (a designer and manufacturer of shoes, boots and clothing), MC Sports, Inc., Universal Forest Products, Schuler Books & Music and Spectrum Health, the largest employer in West Michigan with 16,000 staff and 1,500 physicians.
Professional sports include: in the Midwest Baseball League, the West Michigan Whitecaps; in the American Basketball Association, the Grand Rapids Flight; in the American Hockey League, the Grand Rapids Griffins and in indoor football, the Grand Rapids ThunderHawks.
In higher learning, Grand Rapids is home to Aquinas College, Calvin College, Cornerstone University, Grace Bible College, Kuyper College and Grand Rapids Community College.
Grand Rapids was the hometown of Gerald Ford, the 38th President of the United States; Wally Pipp, the baseball player who was replaced by Lou Gehrig; Del Shannon, singer song-writer; Andy Richter, Cohan O'Brien's sidekick; and Dick and Richard DeVos, who were big wigs at Amway.
GRAND RAPIDS SPOT TEN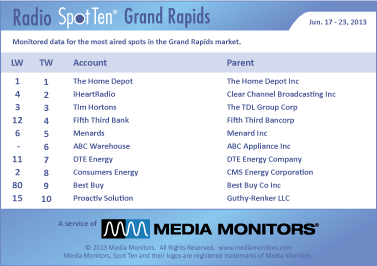 In Grand Rapids last week, the #1 radio advertiser was THE HOME DEPOT with 721 spots. IHEARTRADIO was #2 airing 695 announcements, while TIM HORTONS was steady at #3 running 570 ads. FIFTH THIRD BANK leaped from #12 to #4 with 440 spots and MENARDS captured #5 with 420 spots. ABC WAREHOUSE appears at #6 with 371 ads, while DTE ENERGY lit up #7 with 358 spots. CONSUMERS ENERGY dropped from #2 to #8 airing 338 commercials and BEST BUY bounced from #80 up to #9 with 336 spots. PROACTIV SOLUTION slid into #10 with 311 spots.
DISCOUNT DEPARTMENT STORES SPOT TEN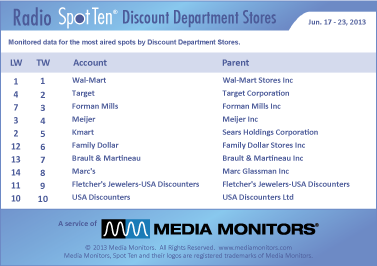 NATIONAL STATISTICS
- The king of the discount department stores reigns supreme at #1 with 23,267 – that's WAL-MART. TARGET came in #2 with 3,656 ads, while FORMAN MILLS moved from #7 to #3 with 764 spots. MEIJER was in at #4 with 383 spots and KMART captured #5 with 300 spots. FAMILY DOLLAR jumped from #12 to #6 with 225 ads. BRAULT & MARTINEAU was #7 with 174 ads, while MARC'S hit #8 with 157 spots. FLETCHER'S JEWELERS – USA DISCOUNTERS hit #9 with 156 spots and USA DISCOUNTERS stayed at #10 running 154 spots.
NATIONAL SPOT TEN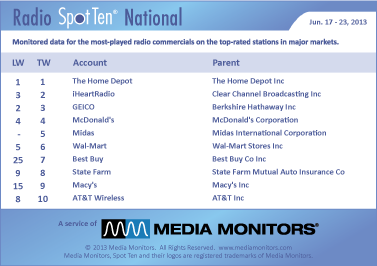 NATIONAL STATISTICS
- THE HOME DEPOT is #1 again with 59,831 spots. IHEARTRADIO moved up to #2 airing 39,096 announcements, while GEICO fell to #3 with 33,695 ads. MCDONALD'S was solid at #4 running 30,012 commercials and MIDAS lands at #5 with 26,296 spots.
Posted: June 24, 2013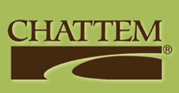 SPOT TRENDS
Last Twelve Months
Chattem
was founded as the Chattanooga Medicine Company on February 21, 1879 in the heart of downtown Chattanooga. The first product was Thedford's Black Draught®, a senna based laxative, originally developed in 1840 by Dr. A.Q. Simmons of Snow Hill, Georgia. The product was renamed Black Draught® and first year sales were $35,488. The Company acquired a second product called Dr. McElree's Wine of Cardui, a preparation or tonic for women based on the sedative and antispasmodic properties of Cnicus benedictus. This was the first US product for menstrual cramps. The Chattanooga Medicine Company was one of the first businesses to recognize the value of outdoor advertising. Many painted sales messages appeared across the landscape usually on store fronts and sides of barns located near well-traveled crossroads. The Chattanooga Medicine Company was also a pioneer in direct marketing with the printing and distribution of millions of Cardui wall calendars and church fans and the popular Ladies Birthday Almanac. During World War II, the Chattanooga Medicine Company stepped forward to become one of the nation's leading producers of foods and medicines for the U.S. Army. Soon Dr. John C. Krantz discovered one of the first new antacid compounds commonly known as Dihydroxy Aluminum Aminoacetate and Dr. Irvine W. Grote, a Company advisor, discovered a second new antacid, Dihydroxy Aluminum Sodium. Until recently, these two compounds were manufactured by the fine chemicals division for use in "Bufferin" and "Rolaids", respectively. During expansion the company name was changed from the Chattanooga Medicine Company to Chattem Drug and Chemical Company and created two divisions, Chattem Chemicals and Chattem Consumer Products. During this era they focused on 32 products which included; first aid ointments, germicidal powder, vitamins, analgesic balms and liquids. Over the years, Chattem's strategy was to buy products from other drug and chemical companies to fill up their dance card. They also divested brands as they went along. This plan has worked for this giant in over-the-counter treatments. In September 1978, during their rapid period of growth, particularly in the toiletries area, the company changed their name to Chattem, Inc. In 2006, fueled by the growth of Selsun Blue®, Icy Hot® and Gold Bond®, sales exceeded $300 million for the first time. In 2007, Chattem purchased ACT®, Unisom®, Cortizone®, Kaopectate® and Balmex® from Johnson & Johnson. The acquired brands were divested by J&J in connection with the recent acquisition by J&J of Pfizer Inc.'s Consumer Healthcare business. As the result of the acquisition of these brands, and the subsequent growth of those brands under Chattem's aegis, sales surpassed another milestone in 2007, exceeding $400 million and providing an excellent foundation for continuing growth.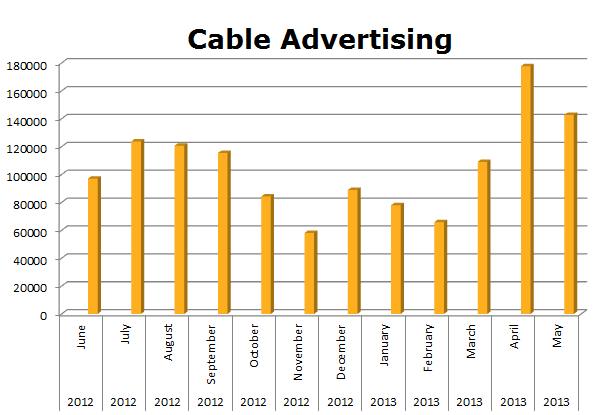 On Local Cable, Chattem ran 1,261,562 spots in the last 12 months. The most were run in April 2013 totaling 177,672 spots.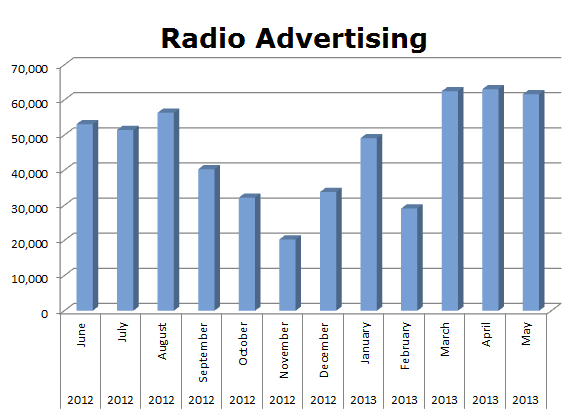 On the Radio, Chattem cleared 553,006 spots in the last 12 months with three big months of March 2013 – 62,498; April 2013 – 63,061 and May 2013 with 61,643 ads.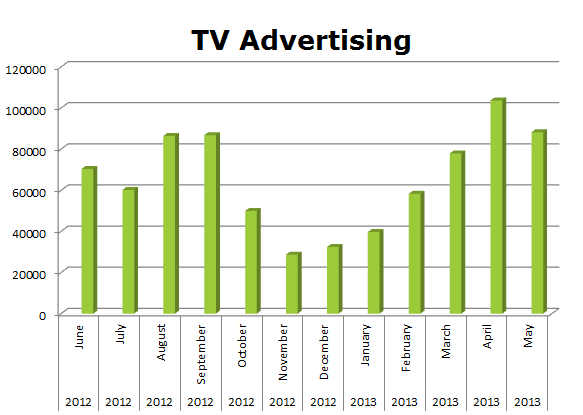 On Broadcast TV, Chattem ran 782,644 spots in the last 12 months with the biggest month being April 2013 when they cleared 103,693 spots.
POSTED: June 24, 2013
<! ----End Here -->

LEXUS vs. INFINITI
Lexus
is the luxury vehicle division of Japanese automaker Toyota Motor Corporation. First introduced in 1989 in the United States Lexus has been ranked as the highest-selling maker of luxury cars. In 2005, the division launched in Japan, becoming the first Japanese luxury car to be introduced in its home market, after being successful outside of the home market. After all, the name Lexus stands for Luxury Export US. In 1990, during its first full year of sales, Lexus sold 63,594 LS 400 and ES 250 sedans in the U.S., the vast majority being the LS model. By 1991, sales had increased to 71,206 cars in the U.S. market, making Lexus the country's top-selling luxury import. That same year, Lexus received first place in J.D. Power's studies on initial vehicle quality, customer satisfaction, and sales satisfaction. In 1993, the GS series came to America, based on the Toyota Aristo, which had sold for two years prior in Japan. That same year, Lexus also became one of the first marques to debut a certified pre-owned program, with the aim of improving trade-in model values. Still being affected by the rebuilding after the earthquake and tsunami, Toyota's net revenues were ¥4,751.8 billion (roughly $48.41 billion) a decrease of ¥677.2 billion or 12.5%. Worldwide they have 325,905 employees.
Infiniti
, the luxury car division of Japanese automaker Nissan Motor Co., Ltd, started in 1989 in North America and its global operations have since grown to include Mexico, the Middle East, South Korea, Russia, Switzerland, China and the Ukraine. Today, the Infiniti global network includes more than 230 dealers in 15 countries. The Infiniti brand was introduced to create and sell premium vehicles that wouldn't have otherwise fit in with Nissan's more mainstream image. Not by coincidence, Infiniti was created around the same time as Japanese rivals Toyota (Lexus) and Honda (Acura) launched their luxury brands. The Infiniti was sold first in Japan as the Leopard and then converted for U.S. sales, while the Lexus was first designed for the U.S. market. The Lexus started at $21,000 and the Infiniti began at $23,000. By 2000, Infiniti was facing extinction. The company rededicated itself to developing a dynamic and powerful line-up of sporty luxury cars. Car and Driver reported that Infiniti executives invited members of the motoring press to a meeting where they "swore never again to take their eyes off BMW." Although this effort began with a completely redesigned Q45 flagship for the 2002 model year, it was the G35 that turned sales around for Infiniti in 2003. For the 2007 model year a redesigned version of the G35 sedan was introduced, followed in 2008 by a new version of the company's G coupe, the G37. Also released in 2008 was the new Infiniti EX35 compact crossover, which was Infiniti's entry into the compact luxury crossover market. In May of this year, Nissan announced financial results for the fiscal year 2011, ending March 31, 2012 that showed a net revenue of ¥9,409 trillion, an operating profit of ¥545.8 billion and a net income of ¥341.4 billion, which would be roughly $4.29 billion. They have more than 180,000 employees worldwide. In our analysis, Infiniti aired 42.53% as many spots as Lexus.
MEDIA USAGE

Last 12 Months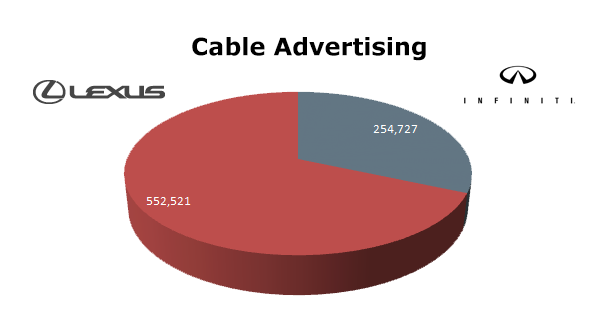 On Local Cable, Lexus was way out in front of Infiniti. Lexus ran 552,521 spots in the last 12 months, compared to Infiniti's 254,727 ads. Lexus ran hottest in the month of September 2012 with 57,831 ads, while Infiniti cleared the most spots in May of 2013 with 34,275 spots.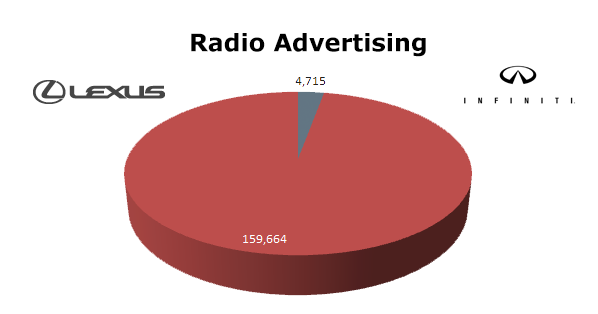 Lexus is more radio than Infiniti, which only ran 2.95% as many spots as Lexus. Lexus ran 159,664 spots in the last 12 months, while Infiniti ran only 4,715 ads. Lexus biggest radio month was September 2012 with 26,139 spots and Infiniti hit their high in March 2013 with 1,747 spots.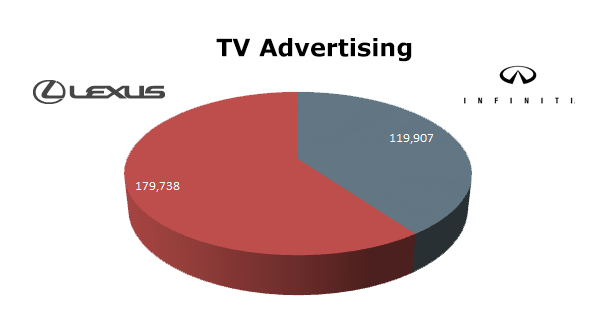 On Broadcast TV Lexus ran 179,738 spots in the last 12 months, while Infiniti aired 119,907 commercials. Lexus ran the most spots in August 2012 with 19,647 and also in December 2012 with 19,918 ads. Infiniti hit their high water mark in August 2012 with 17,270 spots. Posted: June 24, 2013 <! ----End Here -->
Media Monitors
445 Hamilton Avenue, 7th Floor
White Plains, NY 10601 USA
1-800-67-MEDIA

For The Current Spots: