Weekly Spots
POSTED: June 10, 2013

MEDIA MONITORS RESEARCH SPOT TEN RESULTS
Click an icon to download Adobe Reader

or PDF Plugin for Firefox

Mac & non IE or FF Browsers Click Here To Download Spot Charts

THE WINDY CITY
Chicago and Weight Loss
By: Dwight Douglas, VP Marketing
Media Monitors - New York
(White Plains, NY) June 10, 2013
– According to Arbitron, Chicago, IL is the 3rd largest radio market with a population of 7,878,800.
CITY FACTS
Often called "The Windy City" because of the strong winds that come off Lake Michigan.
The name "Chicago" is the French rendering of the Miami-Illinois name shikaakwa, meaning "wild leek but etymologically, the sound /shikaakwa/ in Miami-Illinois literally means 'striped skunk', and was a reference to the wild leek, or the smell of onions.
Chicago's first railway, Galena and Chicago Union Railroad, opened in 1848, the same year they opened the Illinois and Michigan Canal. The canal allowed steamboats and sailing ships on the Great Lakes to connect to the Mississippi River.
The Great Chicago Fire of 1871 destroyed a third of the city, including the entire central business district. The Chicago Water Tower is one of the few surviving buildings.
Chicago is host to the following top universities: The University of Chicago; Northwestern University; Loyola University Chicago; Illinois Institute of Technology; DePaul University; and University of Illinois at Chicago.
With two baseball teams, the first thing most Chicagoans ask another Chicagoan when they meet, "Cubs or White Sox?" But they have some other professional teams: the Chicago Bears of the NFL; Chicago Blackhawks, one of the six original teams of the NHL; and the Chicago Bulls of the NBA.
Second City, the legendary Chicago comedy "factory" has produced some of the most amazing talent in the more than 50 years of its existence. Here is just the short list: Dan Aykroyd, John Belushi, John Candy, Steve Carell, Stephen Colbert, Rachel Dratch, Chris Farley, Tina Fey, Bonnie Hunt, Eugene Levy, Adam McKay, Bill Murray, Mike Myers, Bob Odenkirk, Gilda Radner and Betty Thomas.
CHICAGO SPOT TEN
In Chi-Town last week the #1 radio advertiser was MCDONALD'S with 1,335 spots. MENARDS took #2 with 1,067 ads, while THE HOME DEPOT slipped from #1 to #3 with 1,018 spots. STATE FARM was solid at #4 with 809 spots and GEICO stayed at #5 with 777 ads. AT&T WIRELESS was #6 with 703 spots and WAL-MART held at #7 airing 678 commercials. THE PURGE (Movie) landed at #8 with 604 spots and ALLSTATE soared from #69 to #9 with 591 spots. SPEEDWAY entered at #10 with 575 spots.
WEIGHT LOSS & GAIN SPOT TEN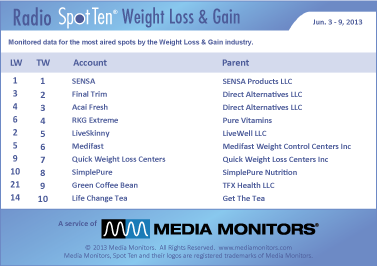 NATIONAL STATISTICS
- Weight loss is big business in America and radio is used a lot to promote these products and services. #1 last week nationwide was SENSA with 5,039 spots. FINAL TRIM settled into #2 with 2,347 ads, while ACAI FRESH was #3 running 1,807 spots. RKG EXTREME was #4 with 1,064 spots and LIVESKINNY lost 3 places down to #5 with 724 ads. MEDIFAST took #6 with 647 spots, while QUICK WEIGHT LOSS CENTERS slipped into #7 with 472 spots. SIMPLEPURE moved from #10 to #8 with 414 spots and GREEN COFFEE BEAN perked from #21 up to #9 airing 404 spots. Coming in #10 was LIFE CHANGE TEA brewing 287 spots on the week.
NATIONAL SPOT TEN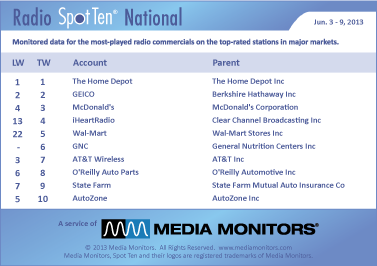 NATIONAL STATISTICS
- Down from their high mark of 81,248 spots last week, THE HOME DEPOT maintained #1 with 57,263 spots, while GEICO stayed at #2 with 36,933 spots. MCDONALD'S was #3 with 29,396 spots and IHEARTRADIO leaped from #13 to #4 with 28,560 spots. WAL-MART climbed from #22 to #5 with 26,292 spots.
Posted: June 10, 2013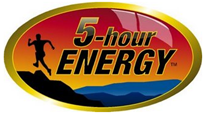 SPOT TRENDS
Last Twelve Months
5-Hour Energy
is a flavored energy shot drink made by Living Essentials, LLC based out of Farmington Hills, Michigan. It was introduced in 2004 by Carl Sperber and is the number one selling product in the energy shot category in the United States. It can be found in many locations where health, lifestyle, and sporting goods are sold. According to the company, 5-Hour Energy drink is a blend of B vitamins (B3, B6, Folic Acid, and B12), amino acids, and nutrients. It contains no sugar, no herbal stimulants, and only four calories. The Original blend contains about as much caffeine as one cup of coffee, the Extra Strength formula contains about as much caffeine as 12 ounces of coffee, and the Decaf blend contains about the same amount of caffeine as a ½ cup of coffee. The Original 5-Hour Energy is available in 5 flavors: grape, pomegranate, berry, orange, and lemon-lime. Extra Strength is available in berry and Decaf comes in a citrus flavor. The drink can be used to help people feel sharp and alert. The makers of 5-Hour Energy recommend drinking ½ of a bottle to provide moderate energy and the whole bottle for maximum energy. Unlike many of its competitors, it provides energy with no "sugar crash" later. The company is also looking to expand into the International market in the upcoming years. And believe it or not, they have a new competitor called COCAINE ENERGY a drink that promises a whopping 280 MG of caffeine per dose. Living Essentials is a privately held company and very little is known about their financials.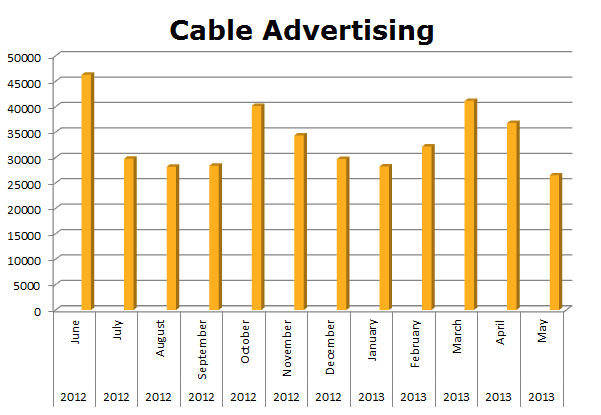 On Local Cable, 5-Hour Energy ran 401,791 ads in the last 12 months. The biggest month for energy on cable was June 2012 with 46,302 spots. 55.98% of all their spots ran on Cable.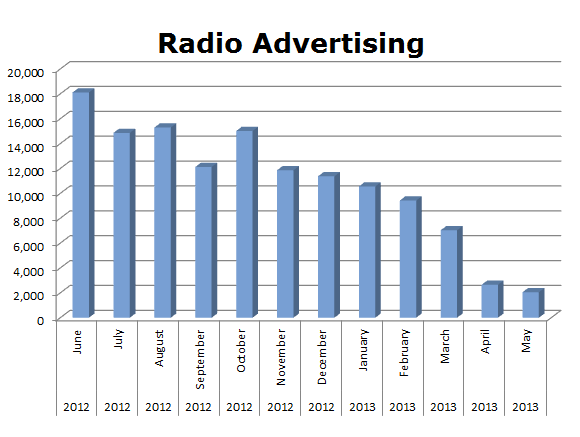 On the Radio, 5-Hour Energy ran 130,351 spots in the last 12 months. They seem to be trailing down since last year at this time. Their biggest month was June 2012 when they cleared 18,112 spots.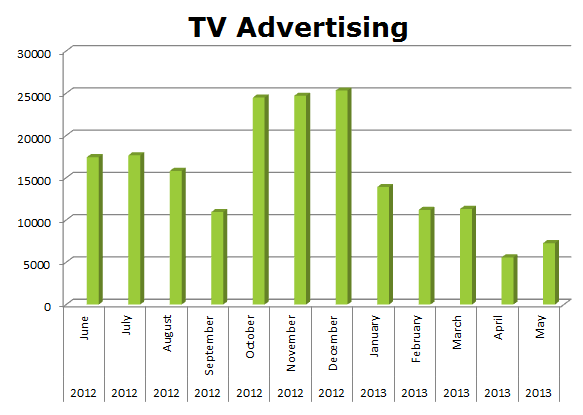 On Broadcast TV, 5-Hour Energy ran 185,646 spots in the last 12 months. They ran hard in October (24,484), November (24,703) and December (25,330) of 2012.
POSTED: June 10, 2013
<! ----End Here -->

Goldenwest vs. Sterling
Goldenwest Diamond Corporation
is one of the largest direct diamond importers in the country. The company is better known by its trade names of The Jewelry Exchange, Jewelry Factory, and Jewelry Source. It is based in Tustin, California. The company was started in 1977 by Bill Doddridge after starting his career working in his step-father's pawnshop. After saving enough money, Doddridge bought his own pawn shop, Buena Park Loan & Jewelry. Soon after, he found that supply did not meet the demand at the pawn shop and Doddridge began designing and selling his own jewelry designs. He found he could create pieces for far less than buying used jewelry from pawn customers, thereby maintaining low cost margins. By 1984, all of Doddridge's jewelry was guaranteed to appraise for double the cost. In 1986, the business moved to Santa Ana, California and jewelry manufacturing was brought in-house. A year later, Doddridge began importing his diamonds directly and began focusing on his jewelry business full time. According to the company's website, what makes the Jewelry Exchange different from most other jewelry stores is that they are one of the country's leading jewelry manufacturers, eliminating the manufacturer mark up in prices, which then enables them to pass savings on to its customers. In fact, they have the lowest production costs of any jewelry manufacturer in the United States. Currently, Goldenwest Diamond Corporation has 19 locations throughout the country, including stores in some of the largest cities like New York City, Detroit, and Washington, D.C. The company offers engagement rings, earrings, pendants, precious and semi precious stones, necklaces, bracelets, and watches. Goldenwest is a private company with approximately 300 employees.
Sterling Jewelers, Inc.
is a wholly owned subsidiary of Signet Jewelers Limited. It is the largest specialty fine jewelry company in the U.S. by sales and number of stores. Signet Jewelers is based in the U.K. and is the world's largest specialty retail jeweler with national U.S. brands such as Kay Jewelers and Jared The Galleria of Jewelry. Sterling's history started in 1910 when Henry Shaw opened his first store in Lorain, Ohio. By 1937, the company, operating under the name Shaw-Rogers, was split into the Shaw- Rogers and LeRoy's Jewelry Company. In 1940, LeRoy's became Sterling Merchandise Company. In the 1960's Sterling Merchandise Company opened its first store in Lima, Ohio and within 10 years had more than 50 store locations, making it one of the largest specialty jewelry retailers. In 1987, Signet Group, PLC purchased Sterling, creating the largest jewelry retailer in the world. Sterling also acquired Westhall Company and its 82 stores, which had previously been Shaw-Rogers. In 1990, Sterling acquired Kay Jewelers, Inc (506 stores) which doubled the size of the company. Three years later, Sterling opened the first Jared The Galleria of Jewelry superstore. In 1998, the company sales exceeded $1 billion for the first time in its history. By 2005, the sales exceeded $2 billion. Sterling Jewelers has its own exclusive brands that are widely recognized today. In 2000, they launched the Leo Diamond; in 2008, they introduced the Open Hearts collection in collaboration with actress Jane Seymour; and in 2009, they introduced the Love's Embrace line. According to the 10-K filing of Sterling's parent company, Signet Jewelers Limited they had total sales of $3.749 billion with a net income of $502.1 million, which represented a 67.1% increase for fiscal 2012. They have 16,555 employees worldwide.
MEDIA USAGE

Last 12 Months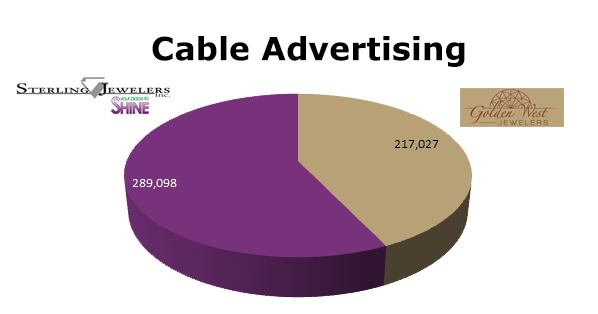 On Local Cable, Sterling ran 289,098 spots, while Golden West cleared 217,027 ads. The biggest month for Sterling was December 2012 with 80,742 spots. Golden West ran the most spots in November 2012 with 27,735 spots.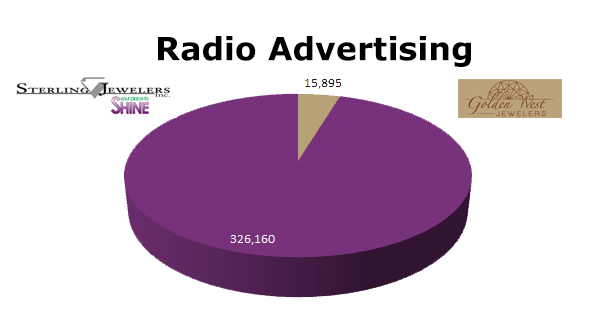 On the Radio, Sterling overwhelmed Golden West by running 326,160 spots against Golden West's 15,895 ads in the last 12 months. Golden West's biggest month was December 2012 with 2,737 spots, while Sterling was heavy in both November (64,463) and December (64,062) 2012.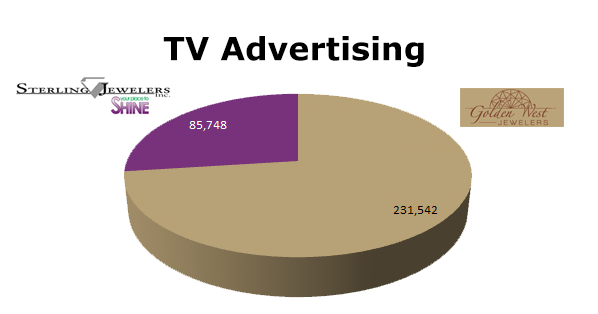 On Broadcast TV, Golden West powered over Sterling. Golden West ran 231,542 spots in the last 12 months, compared to Sterling's 85,748 ads. Sterling ran the most spots in the month of December 2012 with 25,996 spots, while Golden West was heaviest in same month, December 2012 running 34,730 spots. Posted: June 10, 2013 <! ----End Here -->
Media Monitors
445 Hamilton Avenue, 7th Floor
White Plains, NY 10601 USA
1-800-67-MEDIA

For The Current Spots: