Weekly Spots
POSTED: May 27, 2013

MEDIA MONITORS RESEARCH SPOT TEN RESULTS
Click an icon to download Adobe Reader

or PDF Plugin for Firefox

Mac & non IE or FF Browsers Click Here To Download Spot Charts

CLEVELAND, OHIO
Carbonated Beverages and Rock 'n Roll
By: Dwight Douglas, VP Marketing
Media Monitors - New York
(White Plains, NY) May 27, 2013
- According to Arbitron, Cleveland, OH is the 30th largest radio market with a population of 1,760,100.
CITY FACTS
Cleveland got its name in 1796 from surveyors who named the area after their boss General Moses Cleaveland. The spelling of the city's name was later changed to "Cleveland" when, in 1831, an "a" was dropped so the name could fit a newspaper's masthead.
In the early days, Cleveland was home to numerous major steel producers and carmakers, including steam car builder White and electric car company Baker, as well as Republic Steel.
By 1920, Standard Oil founder John D. Rockefeller had made his fortune in Cleveland, which had become the fifth largest city in the country.
The city diversified its economy and is now home to corporate headquarters of American Aviation, American Greetings, Chesapeake and Ohio Railway, Citizens Bank, Eaton Corporation, Glidden paints, KeyBank, Osborn Engineering, Sherwin-Williams, Standard Oil, Stouffer's, Telos Systems and TRW, Inc.
To honor Rock 'n' Roll, Cleveland built The Rock and Roll Hall of Fame with $65 million of public money. To get Cleveland as the site, a petition drive was signed by 600,000 fans favoring Cleveland over Memphis along with a USA Today poll, which Cleveland won by 100,000 votes.
Cleveland's professional sports teams include the Cleveland Indians (MLB); Cleveland Browns (NFL); Cleveland Cavaliers (NBA); Cleveland City Stars (USL); and Lake Erie Monsters (American Hockey League).
Some of the famous people from Cleveland: actors Paul Newman, Hal Holbrook, Debra Winger, Halle Berry and Alan Ruck; congressman Dennis Kucinich; talk-show host Phil Donahue; comedian Drew Carey; inventor Thomas Edison; G-man Eliot Ness; football legends Chuck Noll and John Heisman (yes, the same) and the infamous convicted murderer, Sam Sheppard.
CLEVELAND SPOT TEN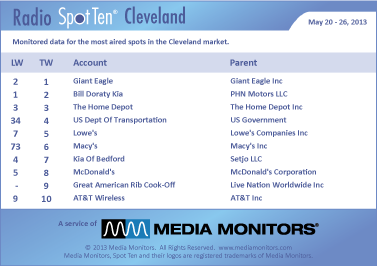 In Cleveland last week the #1 radio advertiser was GIANT EAGLE (Groceries) with 986 spots. BILL DORATY KIA came in #2 with 725 spots, while THE HOME DEPOT stayed at #3 airing 532 ads. The US DEPARTMENT OF TRANSPORATION drove from #34 to #4 with 528 spots. LOWE'S built something at #5 with 447 commercials and MACY'S soared from #73 to #6 with 417 spots. KIA OF BEDFORD was #7 with 402 spots, while MCDONALD'S delivered at #8 with 399 spots. GREAT AMERICAN RIB COOK-OFF (Live Nation) smoked it up at #9 with 354 ads, while AT&T WIRELESS connected at #10 with 351 spots.
CARBONATED BEVERAGE SPOT TEN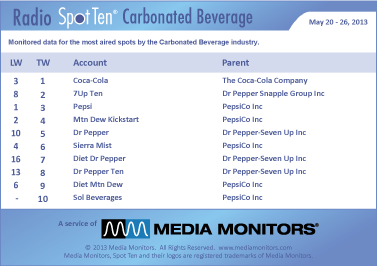 NATIONAL STATISTICS
- Bubbling up to #1 last week nationwide was COCA-COLA with 6,220 spots. Moving up from #8 to #2 was 7UP TEN with 3,088 spots, while PEPSI slid from #1 down to #3 with 2,653 ads. MOUNTAIN DEW KICKSTART came in #4 with 2,038 spots and DR. PEPPER was in at #5 with 1,199 commercials. SIERRA MIST managed to clear 958 spots and come in #6, while DIET DR. PEPPER popped from #16 to #7 running 876 spots. DR. PEPPER TEN hit #8 with 832 spots and DIET MOUNTAIN DEW dented the Spot Ten at #9 with 598 spots. Coming in #10 was SOL BEVERAGES with 464 spots. To put this into a corporate perspective, out of the top 25 carbonated beverage companies, here is how they rank: PEPSI products 7,208 spots, DR. PEPPER SNAPPLE products 6,592 and COCA-COLA products 6,271 spots.
NATIONAL SPOT TEN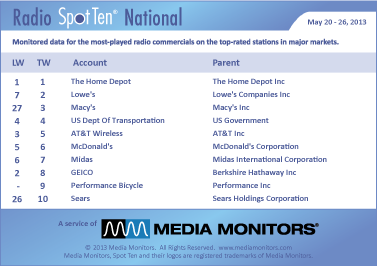 NATIONAL STATISTICS
- THE HOME DEPOT maintains #1 with 49,962 spots. LOWE'S made their move from #7 to #2 with 37,927 spots. MACY'S exploded from #27 up to #3 with 37,516 spots, while the US DEPARTMENT OF TRANSPORTATION stayed at #4 with 29,599 announcements. Dropping from #3 down to #5 was AT&T WIRELESS with 28,992 spots. Of note: GEICO fell from #2 down to #8 with 21,522 spots.
Posted: May 27, 2013


SPOT TRENDS
Last Twelve Months
Wendy's
based their position and slogan on "Old Fashioned hamburgers" and became an international chain of fast food restaurants building from one location in Columbus, Ohio. Founded by Dave Thomas & John T. Schuessler on November 15, 1969, Wendy's was named after one of Dave Thomas' daughters. The story really focuses on the achievements of Dave Thomas. Dave was born in Atlantic City in 1932 and was adopted at 6 weeks old. This shaped the way he viewed family, business and life. In the mid-1950s, Thomas met Kentucky Fried Chicken founder Col. Harland Sanders and worked with him on many projects to make KFC more profitable and better known. Some of the things Thomas suggested to Sanders that were later implemented were; KFC's signature chicken bucket (to keep the chicken crisp), reduce the number of items on the menu, focusing on a signature dish, and introducing the trademark sign featuring a revolving red-striped bucket of chicken. In the early 1960s, Thomas was sent to Columbus to help turn around four ailing KFC stores. By 1968 he had increased sales in the four fried chicken restaurants so much that he sold his share back to Sanders for more than $1.5 million. This was his seed money to open the first Wendy's about a year later. The first Wendy's franchise was sold in 1972. Wendy's went public in 1976 and that same year they opened their 500th store. Two years later in 1978 the 1,000th Wendy's opened. In 1979, Wendy's celebrated its 10th year in business and also opened its 1,500th restaurant. The new salad bar was introduced in 1981 and that same year Wendy's joined the NYSE. In 1985 they passed the 3,000th mark and moved into the global phase. In 1992, the Dave Thomas Foundation for Adoption started and became the main philanthropic cause at Wendy's. In 1993, Dave Thomas earned his GED and in 1994 Wendy's turned 25. In 1997, the 5,000th Wendy's opened. Dave became the face and the spokesperson for Wendy's featured in many humorous TV and Radio commercials. In 2002, Dave Thomas, founder of Wendy's, passed away, presenting not only an emotional loss for the chain, but also a marketing dilemma. Wendy's marched on. In 2003, Wendy's started to accept Visa, MasterCard, Discover and American Express to add convenience for more customers. In 2004 Wendy's celebrated their 35th anniversary. In July 2005, new healthier yogurt and granola mixes were added to the menu as a part of their healthier image. In 2008, the company announced a merger with Triarc, the parent company of Arby's. The Wendy's system includes more than 6,500 franchise and Company-operated restaurants in the United States and 27 countries and U.S. territories worldwide. That is fairly amazing for a small hamburger shop created by a hard-working high school drop-out. According to their most recent annual report, Wendy's produced revenues of $2.51 billion with a net income of $5.57 million, which represented a 3% increase in sales for 2012. They have 44,000 employees.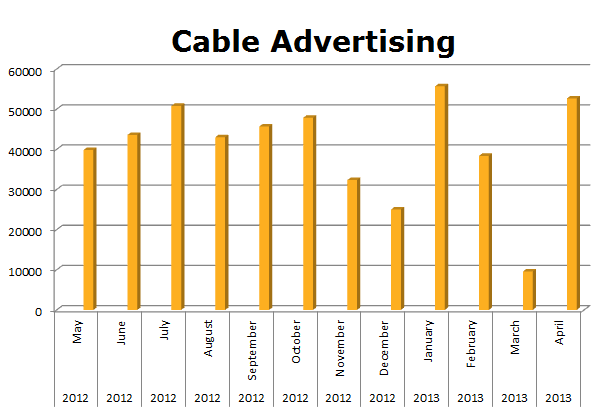 On Local Cable, Wendy's ran a total of 484,579 spots in the last 12 months. Their biggest month was January 2013, with 55,707 spots featuring the late owner's daughter Wendy.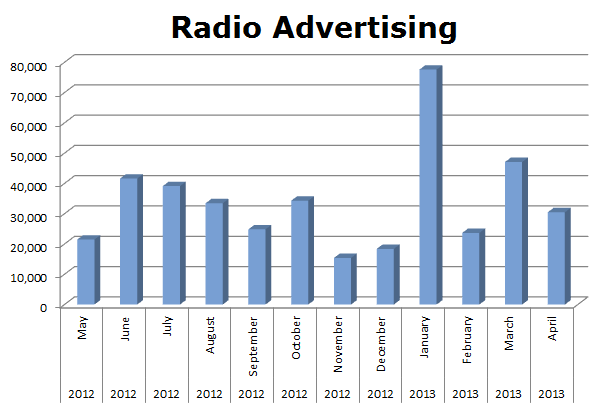 On the radio, Wendy's cleared 407,455 spots in the last 12 months with the largest run in January, as well, with 77,604 ads.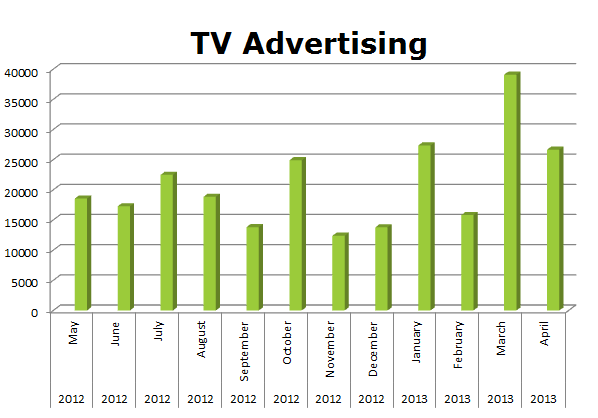 On Broadcast TV, Wendy's served up 250,941 spots with the largest portion landing in March 2013 with 39,087 ads.
POSTED: May 27, 2013
<! ----End Here -->

Universal vs. Disney
(Parks and Resorts)
Universal Studios Theme Parks and Resorts
is part of the theme park division of NBCUniversal, which is now part of Comcast. The division has its headquarters in Orlando, Florida. The first Universal theme park opened in Hollywood and was attached to the soundstages at the heart of Universal's movie empire. What once began as a simple backstage tour through the Universal lot in 1962 grew into a full-fledged theme park. It was the success of that venture that inspired Universal to eventually invest $250 million in 1990 to launch an east coast version of its theme park in Orlando. By 1996, Universal saw a need for expansion to challenge the growth of its rival theme park, Walt Disney World. This expansion included the opening of the Islands of Adventure theme park, the hotel resort Portofino Bay, and an entertainment district called CityWalk. By 2000, The Hard Rock Hotel was added and two years later The Royal Pacific Hotel opened to the public. The latest and greatest development for the Universal Studios Theme Park family was the opening of The Wizarding World of Harry Potter on June 18, 2010. With the help of Harry Potter, Universal Orlando had a 20% increase in attendance that year. It's Universal's 100th anniversary this year and they have added such attractions as the Despicable Me Minion Mayhem 3-D ride, the Amazing Adventures of Spider-Man® simulator ride in HIGH-DEF 3-D plus a special Universal's Cinematic Spectacular–100 Years of Movie Memories. According to the latest annual report, Universal's parent company, Comcast, produced revenues of $62.57 billion with a net income of $6.2 billion in 2012, which represented a 12% growth in sales. They have 129,000 employees.
Walt Disney Parks and Resorts
is a subsidiary of The Walt Disney Company that conceives, builds, and manages the company's theme parks and resorts as well as other family-oriented leisure enterprises. The Walt Disney Company got its start in 1923 in Kansas City, Missouri after Walt Disney created the short film, Alice's Wonderland. On October 16th of that year, Walt and brother Roy Disney, moved to Los Angeles and set up the Disney Brothers Cartoon Studio. In 1928, Disney introduced the world to its icon, Mickey Mouse. The Parks and Resorts division of the company traces back to 1952, when Walt Disney created and built Disneyland Park in Anaheim, California. Later in 1971, Walt Disney Attractions was founded in conjunction with the opening of the Magic Kingdom at the Walt Disney World Resort in Florida. The first of the Disney theme parks, Disneyland, grew to include Disney California Adventure Park, Downtown Disney, Disneyland Hotel, Disney's Grand Californian Hotel & Spa, and Disney's Paradise Pier Hotel. This is one of the major attractions in Southern California. The Walt Disney World Resort located in Lake Buena Vista, Florida is the largest, most visited vacation resort in the world. It is the home of the famed Magic Kingdom, Epcot, Disney's Hollywood Studios, and Disney's Animal Kingdom. Disney World also features Disney's Blizzard Beach and Typhoon Lagoon water parks. There are more than 20 hotels featured including Disney's Grand Floridian Resort & Spa and Disney's Contemporary Resort. Other locations include Tokyo Disney Resort, Disneyland Resort Paris and the Hong Kong Disneyland. Parks and Resorts also include Disney Cruise Line, eight Disney Vacation Club Resorts, and Adventures by Disney. Disney Theme Parks host more than 100 million guests every year. The parent company reported $42.28 billion in revenues in 2012 with a net income of $5.68 billion, which represented a 3.4% growth in sales. They have 166,000 employees.
MEDIA USAGE

Last 12 Months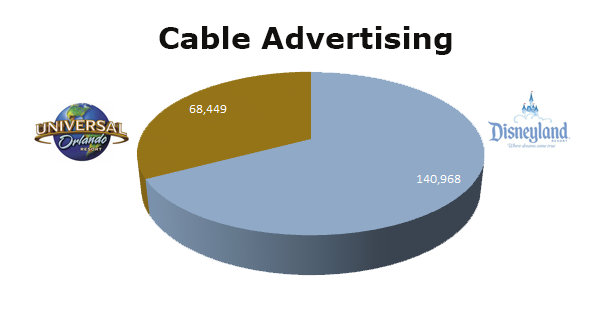 On Local cable, Disneyland is out in front of Universal Parks. Universal ran 68,449 spots in the last 12 months, as compared to Disney that cleared 140,968 ads. Universal's biggest month was May 2012 when they ran 11,826 spots, while Disney blew it out in January 2013 with 26,955 spots.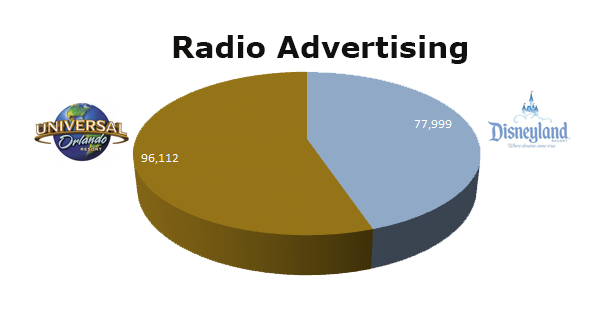 On the Radio, it's a bit closer with Universal Resorts running 96,112 spots in the last 12 months and Disneyland clearing 77,999 ads in the same period. Disney ran the most in January 2013 with 13,429 ads and Universal poured it on in June 2012 with 25,211 spots.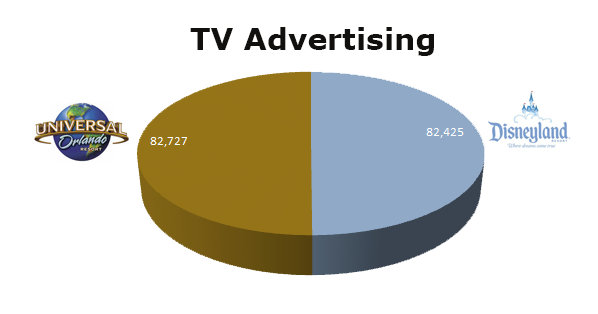 On Broadcast TV it was neck and neck with Universal Parks airing 82,727 spots in the last 12 months, while Disney properties ran 82,425 spots. The biggest month for Disney was January with 16,361 spots, while Universal ran the most in June of 2012 with 17,445 ads. Posted: May 27, 2013 <! ----End Here -->
Media Monitors
445 Hamilton Avenue, 7th Floor
White Plains, NY 10601 USA
1-800-67-MEDIA

For The Current Spots: