Weekly Spots
POSTED: May 20, 2013

MEDIA MONITORS RESEARCH SPOT TEN RESULTS
Click an icon to download Adobe Reader

or PDF Plugin for Firefox

Mac & non IE or FF Browsers Click Here To Download Spot Charts

Living on Tulsa Time
Tulsa, Oklahoma and Public Service
By: Dwight Douglas, VP Marketing
Media Monitors - New York
(White Plains, NY)
May 20, 2013 – According to Arbitron, Tulsa, OK is the 66th largest radio market with a population of 781,400.
CITY FACTS
Tulsa, in the midst of Indian Territory, was originally created as part of the Indian Removal Act of 1830 (relocation) of the Choctaw, Cherokee, Muscogee (Creek), Chickasaw, and Seminole peoples.
In 1846, Lewis Perryman built a log cabin trading post near what is now 33rd Street and South Rockford Avenue. Perryman, who was part Creek, established a business foothold in the rugged frontier until the Civil War. The reconstruction period after the war contributed to the growth of the area.
In 1905, Tulsa began to build houses, businesses and water systems to prepare for the arrival of the people who would harvest the reward of the discovery of oil. During this time period, Tulsa became known as the Oil Capital of the World.
After World War II, offshore drilling operations affected the petroleum industry, so Tulsa moved into the aircraft and aerospace industry. To date, there are more than 300 aviation-related companies in Tulsa.
Universities include: University of Tulsa, Oral Roberts University, Rogers State University, Tulsa Community College and Oklahoma State University houses three campuses in the city.
Some of the business headquarters are: AAON, BOK Financial Corporation, Camille's Sidewalk Café, Dollar Thrifty Automotive Group, ONEOK, The Williams Companies, Quik Trip, Lowrance Electronics and Mazzio's pizza chain.
Famous people from Tulsa: actors Gary Busey, Bill Hader, Tony Randall, Jennifer Jones and Alfrie Woodard; director Blake Edwards; the late radio legend Paul Harvey; musicians Garth Brooks, J.J.Cale, Leon Russell and Dwight Twilley; and NBC TV personality Hoda Kotb.
TULSA SPOT TEN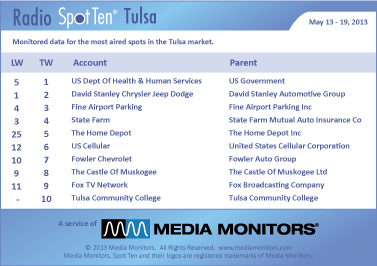 In Tulsa Town last week the #1 radio advertiser was the US DEPARTMENT OF HEALTH & HUMAN SERVICES with 436 spots. In at #2, DAVID STANLEY CHRYSLER JEEP DODGE airing 427 ads, while FINE AIRPORT PARKING slotted into #3 with 415 commercials. STATE FARM found #4 with 398 spots and THE HOME DEPOT grew from #25 to #5 with 370 spots. US CELLULAR leaped from #12 to #6 with 354 ads, while FOWLER CHEVROLET cruised into #7 with 348 spots. THE CASTLE OF MUSKOGEE moved into #8 with 347 spots and FOX TV NETWORK nestled into #9 with 334 spots. And coming in #10 was the TULSA COMMUNITY COLLEGE with 330 spots.
PUBLIC SERVICES AND ORGANIZATIONS SPOT TEN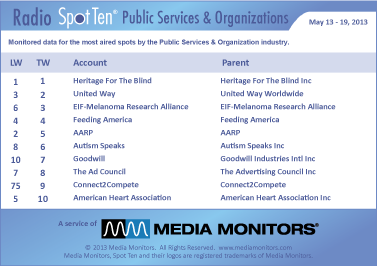 NATIONAL STATISTICS
- In this category we look at Public Service and Organizations that run ads on the radio. The #1 group was the HERITAGE FOR THE BLIND with 5,476 spots. The UNITED WAY took #2 with 2,799 announcements, while EIF-MELANOMA RESEARCH ALLIANCE was #3 airing 2,098 spots. FEEDING AMERICA was solid at #4 with 1,783 ads and the AARP retired at #5 with 1,572 spots. AUTISM SPEAKS was #6 with 1,566 spots and the GOOGWILL was #7 with 1,521 spots. THE AD COUNCIL captured #8 with 1,503 announcements, while CONNECT2COMPETE soared from #75 to #9 with 1,487 spots. Coming at #10 was the AMERICAN HEART ASSOCIATION with 1,464 spots.
NATIONAL SPOT TEN
NATIONAL STATISTICS
- The sleeping giant has awakened once again. THE HOME DEPOT is back into #1 with 37,891 spots followed by GEICO at #2 with 33,438 spots. AT&T WIRELESS landed at #3 with 28,561 spots, while the US DEPARTMENT OF TRANSPORTATION jumped from #59 to #4 with 27,790 ads about car seats for kids and seat belts for adults. MCDONALD'S stayed at #5 with 27,321 spots.
Posted: May 20, 2013


SPOT TRENDS
Last Twelve Months
PetSmart, Inc.
(NASDAQ: PETM) is a retail chain of specialty pet supplies and services such as grooming and dog training, PetsHotel dog and cat boarding facilities and Doggie Day Care. The name PetSmart is a paronomasia (pun). It can mean, Pet Smart and Pets' Mart. The company was founded by Jim Dougherty and Janice Dougherty on August 11, 1986 and is headquartered in Phoenix, AZ. They were originally called PetFood Warehouse until 1989, when they changed the name to PETsMART. PetSmart continued to grow and in 1993 went public. In 1994, PetSmart formed PetSmart Charities, Inc., a nonprofit organization that's dedicated to ending euthanasia and finding homes for homeless pets. Petsmart.com made its debut in 1996. In August 2005, the company announced that it was rebranding its name from PETsMART to PetSmart. This move, which de-emphasized "Mart" and emphasized "Smart", was designed to emphasize its evolution from a pet supply store to a solutions-oriented company. As of May 2010, PetSmart had more than 1,160 stores and about 165 locations with PetsHotels and Doggie Day Camps. Many PetSmarts also contain Banfield Pet Hospital veterinary offices. PetSmart also produces its own brands, such as, Grreat Choice, Sophisticat, Exquisicat and Authority. They also carry Groomax, grooming tools for both dogs and cats, (including brushes, combs, nail trimmers, shampoos, and conditioners) in their stores. PetSmart sells fish tanks, stands, and aquarium decorations under the Top Fin name. Top Fin also makes gravel, filters, heaters and other accessories, including starter kits that include several basic components. Bird products are created under the Top Wing label, and include most items needed for birds, including cages, bowls, perches, and other products. PetSmart also has a small animal brand, named All Living Things. According to their latest annual report, PetSmart produced revenues of $6.76 billion with a net income of $389.53 million, which represented sales growth of 10.5% in fiscal year 2013. PetSmart has 52,000 employees.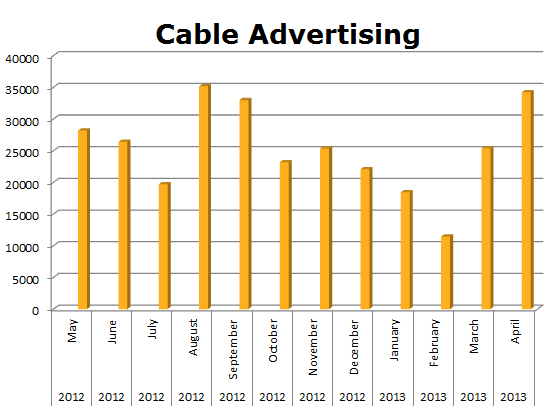 On Local Cable, PetSmart ran 302,537 spots in the last 12 months. Their high point was August 2012 when they cleared 35,167 spots. Overall, 75.18% of all their spots ran on Cable.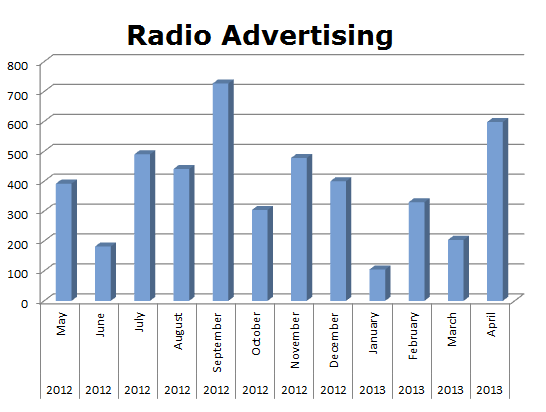 On the Radio, PetSmart ran only 4,651 spots in the last 12 months. Their biggest month was September 2012 with 727 spots nationwide and their smallest month was January 2013 when only 105 spots ran.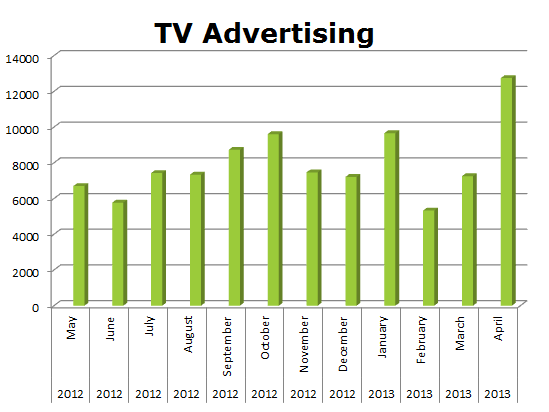 On Broadcast TV, PetSmart ran 95,225 spots in the last 12 months. The biggest month on TV was last month, April 2013 with 12,744 spots.
POSTED: May 20, 2013
<! ----End Here -->

Domino's vs. Pizza Hut
Domino's Pizza, Inc.
(NYSE: DPZ) is the second largest franchised pizza chain in the U.S.A. In 1960, the Monaghan brothers borrowed $500 to take over "Dominick's Pizza," in Ypsilanti, Michigan which was jointly run until James traded his share for a used Volkswagen Beetle. Tom revitalized the image by changing the name to Domino's Pizza in 1965. In 1989 the history of Domino's Pizza was to change when the Deep Dish pizza was introduced; for the first time in twenty five years the company was being forced to react to market demand. The same year they had to adjust to change, they opened their five-thousandth store. In 1992 they introduced their first non-pizza item; from the Domino Pizza dough, they created bread sticks. For many years the company had advertised that if the delivery of their pizzas took longer than thirty minutes, the pizza would be delivered free. In 1993 Domino's Pizza discontinued this policy and stated that if a customer was unhappy they could have a new pizza or a refund. By 1994, Domino's Pizza introduced chicken wings and the same year they expanded to the African continent starting with a store in Egypt. In 1996, Domino's Pizza website was launched and the company declared global sales of nearly $3 billion. By 1997 they had also had an internal modern facelift as their stores were all brightened up and the company introduced a new logo. Domino's Pizza continued to grow exponentially and in 1997 they opened seven stores in one day on 5 different continents. In 1998, after 38 years of ownership, Tom Monaghan retired and sold Domino's pizza for nearly 1 billion dollars to Bain Capital. And in 2004, after 44 years as a privately held company, Domino's began trading common stock on the New York Stock Exchange under the ticker symbol "DPZ". According to their latest annual report, Domino's created revenues of $1.68 billion with a net income of $112.39 million, which represented a 1.6% growth in sales in 2012. They have 10,000 employees.
Pizza Hut, Inc.
is the largest pizza franchise in the world and a wholly owned subsidiary of Yum! Brands, Inc., the world's largest restaurant company. Pizza Hut was founded in 1958 by Dan and Frank Carney in Wichita, Kansas. It was there that the brothers, along with partner, John Bender, opened the first Pizza Hut restaurant and gave away free pizza as a way to gain community interest. The first Pizza Hut franchise opened in 1959 in Topeka, Kansas and by 1964, Pizza Hut had established their unique and recognizable building appearance and layout for all additional franchises. By 1972, Pizza Hut had 314 stores nationwide and in 1978 the company was acquired by PepsiCo. In 2001, KFC, Taco Bell, and Pizza Hut joined Long John Silver's and A&W Restaurants and became what is now Yum! Brands. Pizza Hut has a variety of signature menu items that have led to the company's massive success, including the Stuffed Crust Pizza, Thin 'N Crispy, Dippin' Strips Pizza, The Edge Pizza, as well as pasta dishes known as Tuscani Pasta. The company's first advertisement used the tag-line "Putt Putt to Pizza Hut" and then used the main slogan "Gather 'round the good stuff" until 1997. Short-lived was the motto, "Now You're Eating!" used from 2008 to 2009, and lately they have been using "America's Favorite Pizza", "Pizzas all day every day" and "Pizza Hut makes it great." According to their parent company Yum! Brands' website, there are more than 6,200 Pizza Hut restaurants in the United States and more than 6,500 restaurants in 97 countries and territories around the world. Last year, Yum! Brands produced revenues of $13.63 billion with a net income of $1.6 billion, which represented an 8% growth in sales in 2012. They have 523,000 employees.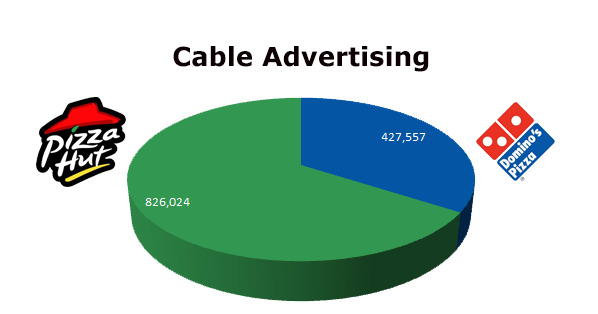 On Local Cable, Pizza Hut almost doubled Domino's in the last 12 months. Pizza Hut ran 826,024 spots, while Domino's Pizza cleared 427,557 ads. Domino's biggest month was March 2013 with 46,914 spots and Pizza Hut hit their ceiling in June of 2012 with 85,695 spots.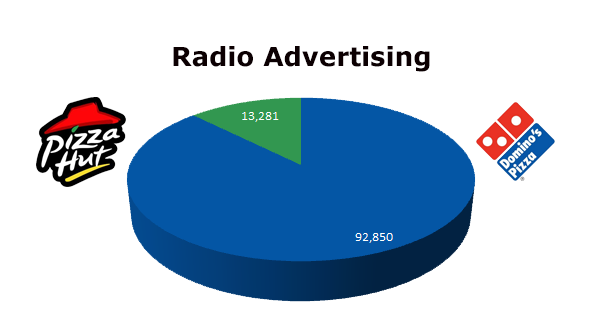 On the Radio, Domino's ran 92,850 spots, while Pizza Hut only ran 13,281 spots in the last 12 months. Pizza Hut's high mark was April 2013 with 1,642 spots against Domino's largest month June 2012 when they ran 17,029 spots.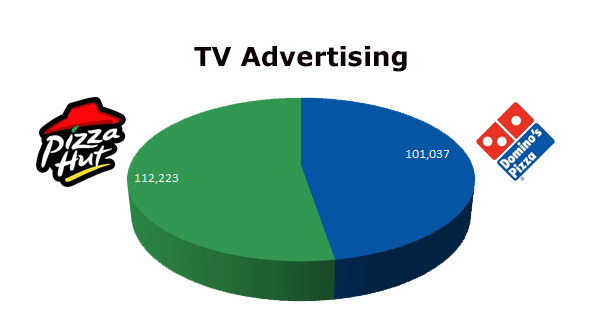 On Broadcast TV, it's a closer battle with Pizza Hut running 112,223 spots in the last 12 months as compared to Domino's Pizza's 101,037 spots. Pizza Hut ran the most in January 2013 with 14,923 spots. Posted: May 20, 2013 <! ----End Here -->
Media Monitors
445 Hamilton Avenue, 7th Floor
White Plains, NY 10601 USA
1-800-67-MEDIA

For The Current Spots: