Weekly Spots
POSTED: May 6, 2013

MEDIA MONITORS RESEARCH SPOT TEN RESULTS
Click an icon to download Adobe Reader

or PDF Plugin for Firefox

Mac & non IE or FF Browsers Click Here To Download Spot Charts

The City of Dreams
Columbia & Security and Fire Safety
By: Dwight Douglas, VP Marketing
Media Monitors - New York
(White Plains, NY) May 6, 2013
- According to Arbitron, Columbia, SC is the 88th largest radio market with a population of 564,000. One of Columbia's nicknames is "City of Dreams."
CITY FACTS
Columbia is the primary city of the Midlands region of South Carolina and lies at the confluence of two rivers, the Saluda and the Broad, which merge at Columbia to form the Congaree River.
There was considerable argument over the name for the new city. One legislator insisted on the name Washington, but Columbia, a poetic reference to Christopher Columbus, won out by a vote of 11-7 in the state Senate.
Columbia was a "designed city" based on the belief that the dangerous and pesky mosquito could not fly more than 60 feet without dying of starvation along the way. So, the streets were either 100 or 150 feet wide. They still have wide streets.
Columbia received its first charter as a town in 1805. By 1816, there were 250 homes in the town and a population over 1,000. Columbia had no paved streets until 1908, when 17 blocks of Main Street were surfaced. On February 17, 1865, during the Civil War, much of Columbia was destroyed by Union troops under the command of General William Tecumseh Sherman.
Columbia has grown from being a textile center to more high tech achievements: major employers include the South Carolina state government, Palmetto Health hospital system, Blue Cross Blue Shield of SC, Palmetto GBA, and the University of South Carolina. Fort Jackson, the U.S. Army's largest and most active initial entry training installation is located in Columbia. The city also houses major offices of Humana/TriCare, United Parcel Service, Square D, CMC Steel, Spirax Sarco, Michelin, International Paper, Pirelli Cables, Honeywell, Westinghouse Electric, Harsco Track Tech, Trane, Intertape Polymer Group, Union Switch & Signal, Solectron, and Bose Corporation Technology.
Major Universities include: the University of South Carolina, Carnegie Foundation of the Advancement of Teaching, Allen University, Benedict College, Columbia College, Columbia International University, Lutheran Theological Southern Seminary, Midlands Technical College, Remington College and South Carolina School of Leadership.
Famous people from Columbia: actresses Allison Munn and Mary-Louise Parker; NFL's Richard Seymour; NBA's Jermaine O'Neal; rock band Crossfade and Hootie & the Blowfish, which was fronted by now country singer Darius Rucker.
COLUMBIA SPOT TEN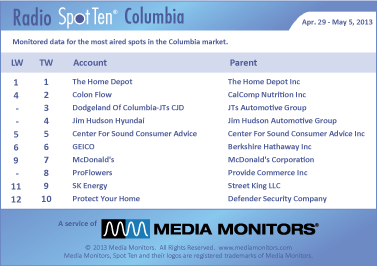 In Columbia last week the #1 radio advertiser was THE HOME DEPOT with 634 spots. COLON FLOW found its way to #2 with 441 spots, while DODGELAND OF COLUMBIA (JTs Automotive Group) grabs #2 with 429 ads. JIM HUDSON HYUNDAI parked at #4 with 364 commercials and CENTER FOR SOUND CONSUMER ADVICE was steady at #5 airing 351 spots. GEICO stays at #6 with 329 spots, while MCDONALD'S was #7 with 323 spots. PROFLOWERS bloomed at #8 running 304 ads, while SK ENGERY moves #11 to #9 with 285 spots. PROTECT YOUR HOME (Security Systems) locked up #10 with 265 spots.
SECURITY & FIRE SAFETY SYSTEMS SPOT TEN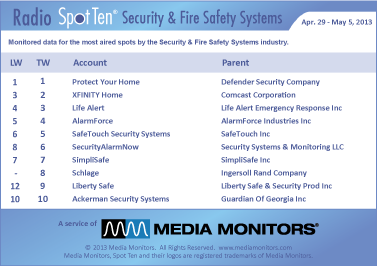 NATIONAL STATISTICS
- The #1 company in this category was PROTECT YOUR HOME with 5,056 spots. XFINITY HOME was #2 with 2,572 commercials, while LIFE ALERT lands at #3 with 2,175 spots. ALARMFORCE rang in at #4 with 1,176 spots and SAFETOUCH SECURITY SYSTEMS stood at #5 airing 561 spots. SECURITYALARMNOW nudged into #6 with 431 ads, while SIMPLISAFE secured #7 with 402 spots. SCHLAGE locked up #8 running 297 spots and LIBERTY SAFE was #9 with 259 spots. ACKERMAN SECURITY SYSTEMS was #10 with 232 spots.
NATIONAL SPOT TEN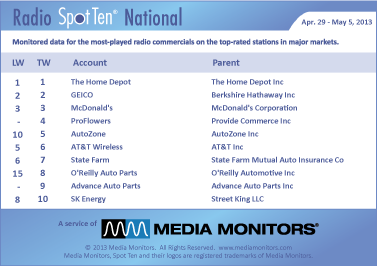 NATIONAL STATISTICS
- THE HOME DEPOT continued its reign at #1 with 56,939 spots nationwide. GEICO hangs in at #2 with 39,033 ads, while MCDONALD'S remained at #3 with 29,136 spots. PROFLOWERS delivered 26,330 spots at #4 and AUTOZONE moves from #10 to #5 airing 26,079 spots.
Posted: May 6, 2013


SPOT TRENDS
Last Twelve Months
USAA
started in 1922 in San Antonio, Texas, when 25 Army officers came together and decided to insure each other's automobiles. Major Walter Moore purchased the first policy for $114.74 and became the first member. USAA ended the 1920s with a net profit of $144,000 before dividends. USAA's membership doubled from 15,000 to 30,000, despite the Great Depression and they published their first Annual Report in 1932. By 1932, 60% of all eligible U.S. military officers were members. Between 1941 and 1945 (World War II) USAA's membership, policies in force and assets grew, despite the cessation of new automobile products and decrease in driving due to wartime restrictions on gasoline, spare parts and tires. After the war, USAA began writing policies in Europe, which led to record membership growth (43%). In 1961, USAA's bylaws were changed to read: "Once a member, always a member", which meant that USAA membership no longer had to be relinquished when an officer resigned his commission or left the service. In 1962, USAA began providing homeowners insurance. And the next year, USAA Life Company was formed. USAA had 700,727 members at the conclusion of 1969 and their net profit, before dividends, was $23,820,000. They blasted into the 1970s with USAA Fund Management Company to provide mutual fund services. At that point, five of six active-duty officers were USAA members. In 1976, USAA opened its new headquarters office in San Antonio, Texas. Located on 232 acres, the new office featured the company's first employee fitness center and company store. By 1977, USAA reached $1 billion in assets. In 1978, they opened USAA Federal Savings Bank. In the 1990s, USAA formed a task force to serve members and families affected by the Gulf War, making it easier to conduct USAA business when affected by military action. In 1997, USAA offered adoption assistance benefits to employees and by the end of the 90s, they had 3.6 million members. After Sept. 11, 2001, USAA was the only insurer invited to participate in the Department of Defense's Survivor Assistance Center near the Pentagon. USAA deployed special member services teams to Lower Manhattan. USAA provided special deployment assistance to members called to respond to the fight on terrorism. And in 2002, USAA won the J.D. Power & Associates' Chairman's Award. In 2008, when most financial services companies posted record losses and the S&P 500 Index total return dropped by 37%, USAA earned $423 million in net income and generated positive investment income. And in 2011, Forrester Research ranked USAA Bank highest among all brands from all industry categories in "The Customer Experience Index." According to their latest report, they have 9.4 million members and 39.2 million policies in the field as of 2012. USAA has created revenues of $20.729 billion with a net income of $2.832 billion. Their net worth as a company is $22.136 billion. They have more than 24,700 employees.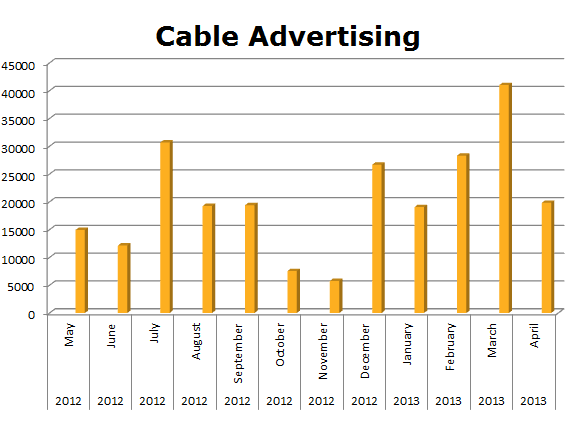 51.8% of all the spots USAA ran; ran on Local Cable to the tune of 244,625 units in the last 12 months. Their biggest month was March 2013 when they cleared 41,011 ads.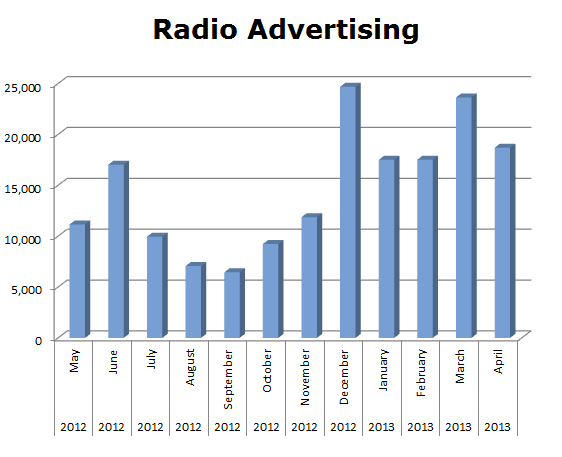 On the Radio, USAA had 174,767 spots in the last 12 months. They peaked in December 2012 when they ran 24,679 spots.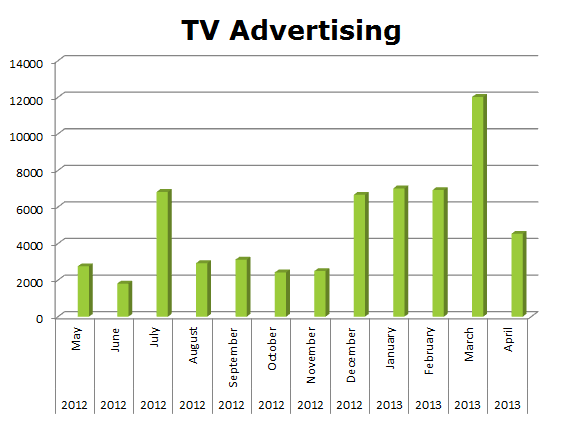 On Broadcast TV, USAA ran 59,502 spots in the last 12 months with the biggest month being March 2013 when they ran 12,016 spots.
POSTED: May 6, 2013
<! ----End Here -->

Weight Watchers vs. SENSA
Weight Watchers International, Inc.
(NYSE: WTW) is a global-branded consumer company and the world's leading provider of weight management services. In the more than 45 years since its founding, the company has built its meetings business by helping millions of people around the world lose weight through sensible and sustainable food plans, exercise, behavior modification and group support. Weight Watchers was founded in 1963 by a Brooklyn homemaker, Jean Nidetch. Nidetch struggled with her weight for years and tried almost every dieting fad with no results. She decided to form a support group of her friends where they would get together and confess their various obsessions and downfalls with food; this support group turned into a weekly gathering of friends encouraging each other and sharing ideas and advice. Realizing that this weekly support was a key factor in providing motivation and encouragement for successful and long-term weight loss, Jean began to hold meetings at other people's homes as well. This proved to be so successful that in 1963 Weight Watchers was incorporated, and hosted its first proper meeting in Queens, New York. Hundreds of people turned out for this first meeting, and as people realized that the concept did actually work, they began to learn more about the theory behind Weight Watchers and then held their own classes across the globe. In contrast to other diets that might provide a list of foods that must be, or should never be, eaten, Weight Watchers has no directly comparable requirements on its primary plan. Participants lose weight by creating a calorie deficit on their PointsPlus system, which provides a framework for creating that deficit. From 1978 until 1999, Weight Watchers was owned by the H. J. Heinz Company, which continues to produce packaged foods bearing the Weight Watchers brand. Weight Watchers was acquired in a leveraged buyout in 1999 by Artal Luxembourg and went public in 2001. Artal continues to own over 50% of the shares of Weight Watchers as of 2010. In 2010, consumers spent over $4 billion on Weight Watchers branded products and services. Each week, approximately 1.2 million members attend over 45,000 Weight Watchers meetings around the world, which are run by more than 12,000 leaders. According to their annual report, Weight Watchers created revenues of $1.83 billion with a net income of $257.43 million, which represented a .4% increase in sales in 2012. They have 27,000 employees.
Sensa
has been on the market since 2007, but it was not Dr. Hirsch's first weight loss product. In the early 1990's, Dr. Hirsch recruited 3,193 dieters to carry inhalers filled with aromatic ingredients, which they were to inhale whenever they felt hungry. They were told to follow their usual diet and exercise habits, and they were given a new inhaler each month. At the end of six months, the average participant in the study had lost 30 pounds. The aromatherapy ingredients used in this study became SlimScents, which are now marketed separately from Dr. Hirsch, a neurologist. Dr. Hirsch's second product involved both scent and taste. In 2005, he gave 1,436 diet patients a product he called Tastant crystals. At the end of six months, the average weight loss was 30.5 pounds—slightly more than for SlimScents. Tastant Crystals are now marketed as Sensa. Sensa commercials run on cable TV and are also offered on from the company website. A one-month supply of the crystals costs $59, with discounts for buying three and six months of the crystals in a single order. Sensa has garnered lots of media attention due to its unusual weight loss method in which users sprinkle their food with flavorless crystals called Tastants that prevent them from overeating. Sensa is unique in that it's based entirely on the science of smell, so there are no stimulants, pills or drugs in Sensa that work against your body's natural impulses. When one "googles" Sensa, one finds as much controversy as commerce information about the company and the system, but what one cannot find is any financial information on the company.
MEDIA USAGE

Last 12 Months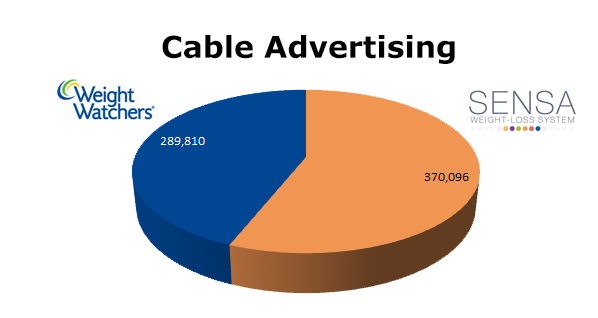 Weight Watchers ran 289,810 spots in the last 12 months compared to Sensa that ran 370,096 ads in the same range. Weight Watchers ran the most in the month of January 2013 at 72,047 spots, while Sensa ran the most in August 2012 at 48,895 ads.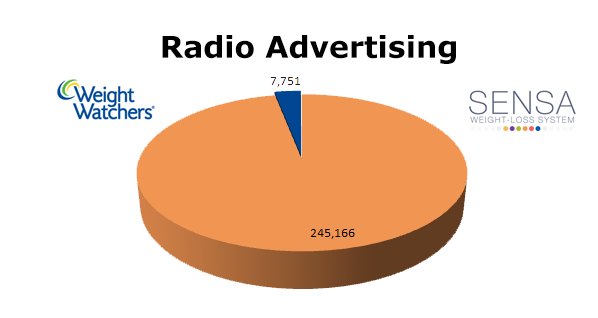 On the Radio, Sensa totally out-spent Weight Watchers. Weight Watchers ran 7,751 spots in the last 12 months, while Sensa cleared 245,166 ads. Sensa's biggest month was January 2013 with 31,330. Weight Watchers biggest month was January 2013 with 1,813 spots.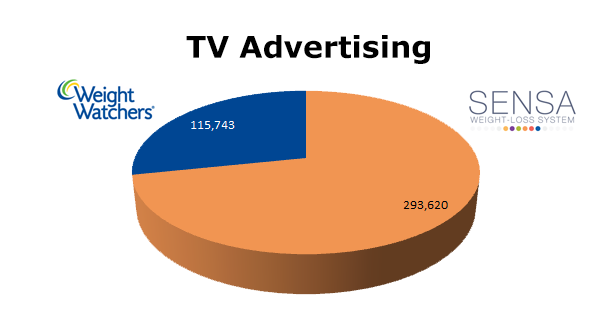 On Broadcast TV, Weight Watchers ran 115,743 ads in the last 12 months, while Sensa more than doubled them with 293,620 spots. Weight Watchers biggest month was January 2013 with 25,015 ads, while Sensa cleared the most in June 2012 with 51,930 spots. Posted: May 6, 2013 <! ----End Here -->
Media Monitors
445 Hamilton Avenue, 7th Floor
White Plains, NY 10601 USA
1-800-67-MEDIA

For The Current Spots: