Weekly Spots
POSTED: April 29, 2013

MEDIA MONITORS RESEARCH SPOT TEN RESULTS
Click an icon to download Adobe Reader

or PDF Plugin for Firefox

Mac & non IE or FF Browsers Click Here To Download Spot Charts

"I left my heart in …"
Lotteries and San Francisco
By: Dwight Douglas, VP Marketing
Media Monitors - New York
(White Plains, NY) April 29, 2013
– According to Arbitron, San Francisco, CA is the 4th largest radio market with a population of 6,264,600.
CITY FACTS
In 1776, the Spanish established a fort at the Golden Gate and a mission named for Francis of Assisi. The California Gold Rush in 1848 propelled the city into a period of rapid growth.
Some of the Bay Area's famous landmarks include the Golden Gate Bridge, cable cars, Chinatown and Alcatraz Prison.
The San Francisco 49ers of the National Football League (NFL) is the longest-tenured major professional sports franchise in the city. The 49ers won five Super Bowl titles in the 1980s and 1990s. And across the bay the infamous Oakland Raiders live and work.
The other professional sports teams: in baseball, the Giants, the team that moved from New York; Oakland's baseball team, the Athletics, moved from Kansas City - originally from Philadelphia; the NBA team the Golden State Warriors; and NHL hockey, San Francisco shares the San Jose Sharks.
Some historic colleges are located in the Bay Area: The University of California, San Francisco is part of the University of California system but focuses on graduate education in health and biomedical sciences. The University of California, Hastings College of the Law, founded in Civic Center in 1878, is the oldest law school in California. Founded in 1855, the University of San Francisco, a private Jesuit university located on Lone Mountain, is the oldest institution of higher education in San Francisco and one of the oldest universities established west of the Mississippi River. Also across the bay is the University of California, Berkeley used as the backdrop for many motion pictures.
Famous San Franciscans: OJ Simpson, Clint Eastwood, Lisa Bonet, Benjamin Bratt, Danny Glover, Dom and Joe DiMaggio, Keith Hernandez and of course the legend Jerry Garcia.
SAN FRANSISCO SPOT TEN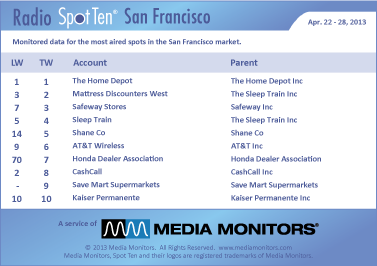 #1 radio advertiser in the city by the bay was THE HOME DEPOT with 1,042 spots. MATTRESS DISCOUNTERS WEST landed at #2 airing 963 ads, while SAFEWAY STORES parked at #3 with 841 commercials. SLEEP TRAIN chugged into #4 with 790 spots and SHANE COMPANY sparkled at #5 with 738 spots. AT&T WIRELESS connected at #6 with 732 spots, while the HONDA DEALER ASSOCIATION leaped from #70 to #7 with 681 ads. CASHCALL claimed #8 with 617 spots and SAVE MART SUPERMARKETS managed #9 with 602 spots. Staying at #10 last week was KAISER PERMANENTE with 527 spots.
LOTTERIES SPOT TEN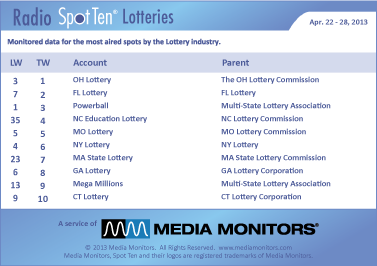 NATIONAL STATISTICS
- Lotteries in America* never close and the #1 lottery last week was the OHIO LOTTERY with 3,120 spots. FLORIDA LOTTERY landed at #2 with 2,315 spots, while the national
POWERBALL
dropped from #1 to #3 with 1,922 ads. The NORTH CAROLINA EDUCATION LOTTERY jumped #35 up to #4 with 854 spots and the MISSOURI LOTTERY was solid at #5 airing 791 spots. The NEW YORK LOTTERY hit #6 with 592 ads, while the MASSACHUESETTES LOTTERY lunged from #23 to #7 with 518 spots. The GEORGIA LOTTERY was #8 with 466 spots and the national
MEGA MILLIONS
moved into #9 with 440 spots. Coming in #19, the nutmeg state's CONNECTICUT LOTTERY with 348 spots. *Note that state lotteries generally only advertise in the states where they operate, but do run ads to promote Powerball and Mega Millions where available.
NATIONAL SPOT TEN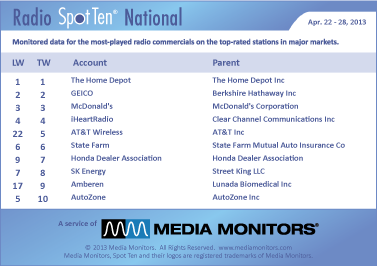 NATIONAL STATISTICS
- THE HOME DEPOT remains at #1 airing 62,545 spots. GEICO stays at #2 with 30,351 spots, while MCDONALD'S keeps its grip on #3 with 26,744 ads. IHEARTRADIO was solid at #4 running 23,838 spots. AT&T WIRELESS moves from #22 up to #5 with 23,811 commercials.
Posted: April 29, 2013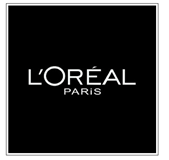 SPOT TRENDS
Last Twelve Months
L'Oréal
, one of the largest companies in France, is the world's largest manufacturer of high-quality cosmetics and perfumes. The most notable L'Oréal brand names are Garnier, L'Oréal Paris, Maybelline, Redken, Matrix, Lancôme, Biotherm, Helena Rubenstein, Kiehl's, Giorgio Armani, Ralph Lauren, Cacharel, Viktor & Rolf, Diesel and YSL Beaute. Its total sales are billions ahead of those of its closest competitor, Unilever, and more than double those of Revlon and Shiseido. They boast a world-wide distribution network as well as the industry's highest research-and-development budget and the largest cosmetology laboratory in the world. L'Oréal's story begins in turn-of-the-century Paris, at a time when women of the demi-monde dyed their hair, their choice restricted to fiery red or coal black. In 1907, Eugène Schueller, a young chemist, began to concoct the first synthetic hair dyes by night in his kitchen and sell them to hair salons in the morning under the brand name Auréole. His strategy was successful; within two years he established the Société Françoise des Teintures Inoffensives pour Cheveux, which soon afterward became L'Oréal. In 1912, the company extended its sales to Austria, Holland and Italy and by 1920 its products were available in a total of 17 countries, including the United States, Brazil, Chile, Peru, Ecuador, Bolivia, and the Soviet Union, as well as the Far East. In 1933, Schueller commissioned famous artists of the time to design posters and also launched his own women's magazine, Votre Beauté. Dop, the first mass-market shampoo, was promoted through children's hair-lathering competitions at the highly popular French circuses and by 1938 L'Oréal was advertising its hair products with radio jingles. As L'Oréal entered the mid-1990s, the company found itself engaged in a battle with rivals Proctor & Gamble and Unilever for worldwide domination of the mass cosmetic and fragrance markets. L'Oréal seemed determined to remain the leader, hiking its advertising budget by as much as 50 percent for some products, and creating a whole new image for most of its color cosmetics. According to their annual report, they registered 611 patents and have a research team of 3,817 people. They have 27 brands in 130 countries. This international giant made $28.33 billion in revenues in 2012, which was up 5.5%. They have 72,600 employees.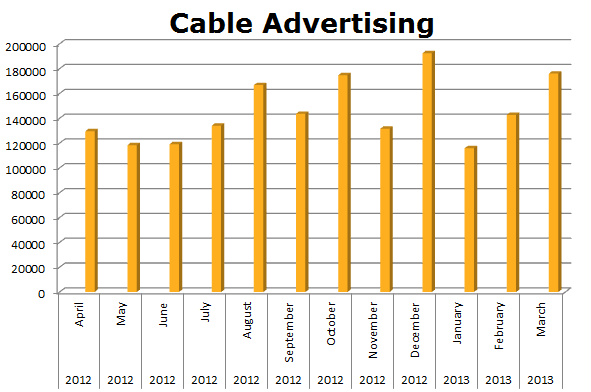 On Local Cable, L'Oréal ran 1,745,094 spots in the last 12 months, with their greatest schedule running in December 2012 when they cleared 192,421 ads. 53% of all their ads ran on Cable.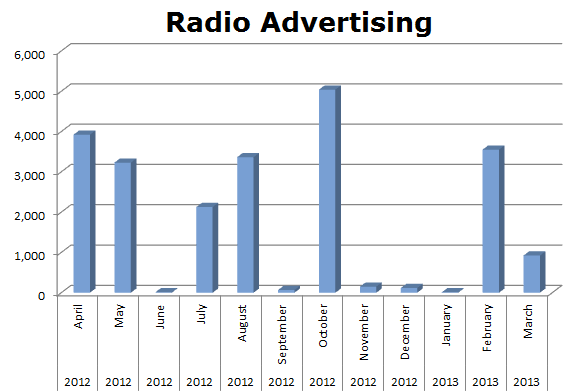 On the Radio, L'Oréal was up and down. Their total for the last 12 months was only 22,518 spots. Their biggest month was October 2012 when they ran 5,041 spots.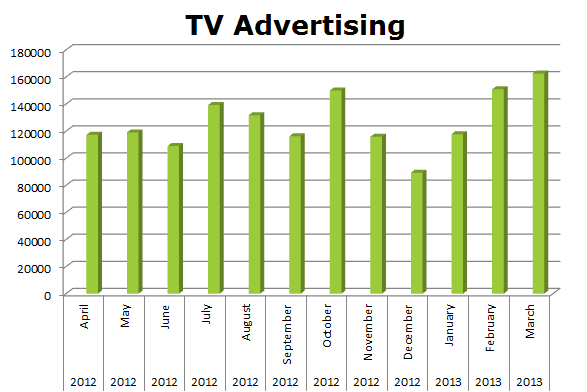 On Broadcast TV, L'Oréal ran 1,518,722 spots in the last 12 months. Last month, March 2013 was their biggest month with 162,539 spots, which bested February 2012 with 150,869 and October 2012 when they cleared 149,973 ads.
POSTED: April 29, 2013
<! ----End Here -->

Time Warner Cable vs. Comcast Cable
Time Warner Cable
was formed in 1989 through the merger of Time Inc.'s cable television company, American Television and Communications Corp., and Warner Cable, a division of Warner Communications. After being a part of Time Warner, Inc for 20 years, Time Warner Cable is now no longer affiliated with them as of March 2009. Time Warner Cable operates in 28 states and is headquartered in the Time Warner building in New York City. Like Comcast Xfinity, Time Warner has its own bundle of services that are offered to customers. Time Warner's Triple Play offers Digital Cable and Road Runner High Speed Internet, as well as Digital Home Phone with unlimited nationwide calling. In late 2005, Time Warner Cable and several other cable companies formed a venture with Sprint Nextel. This joint venture enables TWC customers to receive a full suite of products, linking in-home and out-of-home entertainment, information, and communications services. All of this was included in the new "Triple Play On The Go", similar to the Triple Play but an addition of new services through Sprint Nextel. In the summer of 2006, Time Warner Cable and Comcast completed a deal to purchase nearly all of Adelphia Communications Corporation assets for $17 billion. Time Warner Cable gained 3.3 million of Adelphia's subscribers, a 29 percent increase, while Comcast took about 1.7 million subscribers in the buy-out. As Comcast and Time Warner were working out the details of stock, they agreed to exchange subscribers to consolidate in certain markets. For example, in LA Time Warner gained the market, but in Philadelphia, Comcast took the market. According to their latest annual report, Time Warner Cable had revenues of $21.39 billion with profits of $2.16 billion, which represented an 8.7% increase in 2012 sales. They have 51,000 employees.
Comcast
was originally formed as American Cable Systems in 1963 by Ralph J. Roberts, Daniel Aaron, and Julian A. Brodsky. They started with their first cable system in Tupelo, Mississippi. The company was incorporated in Pennsylvania in 1969, under the new name Comcast Corporation. The name "Comcast" is a portmanteau of the words "Communication" and "Broadcast". Fully - or partially - owned Comcast programming includes: Comcast Newsmakers, CN8, Comcast SportsNet, SportsNet New York, MLB Network, Comcast Sports Southeast/Charter Sports Southeast, E! Entertainment, Style Network, G4, Versus, The Golf Channel, AZN Television, and FEARnet. Comcast also has a variety network known as Comcast Network, available exclusively to Comcast and Cablevision subscribers. Xfinity is the name for the re-branded triple play services in Comcast's largest markets, which include the company's digital cable, cable Internet access, and cable telephone services. Smaller markets currently retain the Comcast branding for all services until they have been upgraded to full digital services. The name changes for each of the triple play services are as follows: Comcast Digital Cable is now called "Xfinity TV", Comcast Digital Voice is now called "Xfinity Voice", and Comcast High Speed Internet is now called "Xfinity Internet". A major push involving the new Xfinity branding took place during the 2010 Winter Olympic Games coverage on NBC, which was in the early stages of a merger with Comcast. The joint venture with General Electric to form NBCUniversal was completed January 28, 2011. According to Comcast, the name Xfinity stands for infinite content choices and cross-platform features. Comcast Business Class services remain under the "Comcast" name. According to their annual report, the parent company Comcast delivered revenues of $62.57 billion with a net income of $6.20 billion, which represented 12% sales growth in 2012. They have 129,000 employees.
MEDIA USAGE

Last 12 Months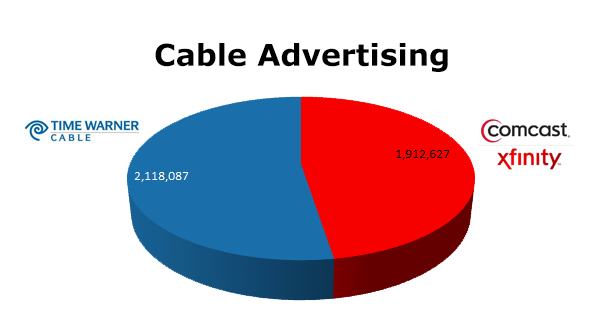 On Local Cable, both cable giants use cable to sell cable. Time Warner ran 2,118,087 spots in the last 12 months, compared to Comcast that cleared 1,912,627 ads. The biggest month for Time Warner was December with 161,696 spots, while Comcast ran the most in December 2012 as well with 196,326 spots.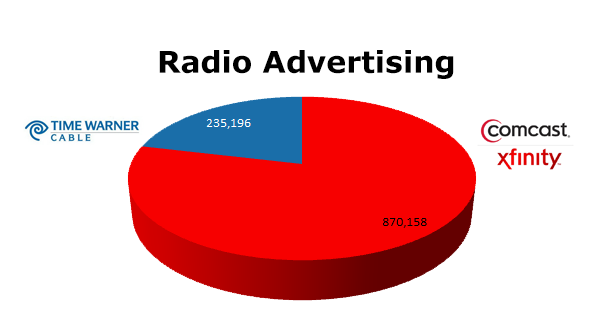 On the Radio, Comcast was way out in front with 870,158 spots in the last 12 months compared to Time Warner that ran 235,196 ads. Comcast's biggest month was August 2012 with 83,567 spots, while Time Warner ran the most in February 2013 when they cleared 30,968 spots.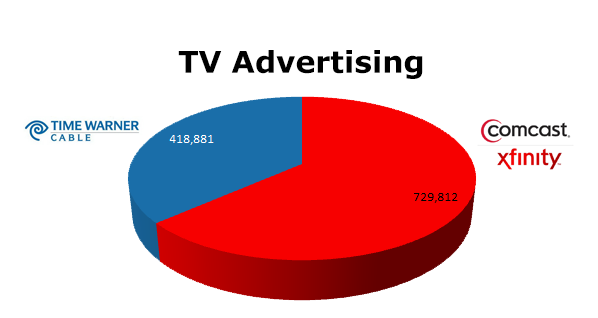 On Broadcast TV, Comcast almost doubles Time Warner with 729,812 spots in the last 12 months. Time Warner ran 418,881 spots on TV. Time Warner's biggest month was January 2013 with 45,101 spots, while Comcast ran the most in August 2012 at 70,266 spots. Posted: April 29, 2013 <! ----End Here -->
Media Monitors
445 Hamilton Avenue, 7th Floor
White Plains, NY 10601 USA
1-800-67-MEDIA

For The Current Spots: