Weekly Spots
POSTED: April 22, 2013

MEDIA MONITORS RESEARCH SPOT TEN RESULTS
Click an icon to download Adobe Reader

or PDF Plugin for Firefox

Mac & non IE or FF Browsers Click Here To Download Spot Charts

TAMPA BAY, ST PETE & CLEARWATER
Tampa and Telecoms
By: Dwight Douglas, VP Marketing
Media Monitors - New York
(White Plains, NY) April 22, 2013
Ė According to Arbitron, Tampa, FL is the 18th largest radio market with a population of 2,475,100.
CITY FACTS
The Tampa Bay area was once home to various Native American cultures, including the Tocobaga and the Calusa. The word "Tampa" may mean "sticks of fire" in the language of the Calusa. Map makers were using the term Bay or Bahia Tampa as early as 1695.
In 1821, the United States purchased Florida from Spain, partly to reduce Indian raids, and partly to eliminate a refuge for escaped slaves from neighboring Southern states. One of the first U.S. actions in its new territory was a raid which destroyed Angola, a settlement built by escaped slaves and free blacks on the eastern shore of Tampa Bay.
Some of the companies headquartered in Tampa include OSI Restaurant Partners, WellCare Health Plans, Inc., TECO Energy, Walter Energy and Raymond James Financial. Also, MacDill Air Force Base remains a major employer in the area.
Tampaís major professional sports teams are: the NFLís Tampa Bay Buccaneers, the NHLís Tampa Bay Lightning and Major League Baseballís Tampa Bay Rays (formerly the Devil Rays).
University of South Florida is located in Tampa along with the University of Tampa. The University of Tampa Spartans are the oldest active sports organization in the city, having begun play in 1933.
Some famous faces born in Tampa FL include: Brittney Snow, actress; Steve Garvey, MLB great; Fred McGriff, baseball slugger; Evelyn Brent, actress; Tony LaRussa, retired St. Louis Cardinal manager; Nat Adderley, musician and Les Blank, filmmaker.
TAMPA SPOT TEN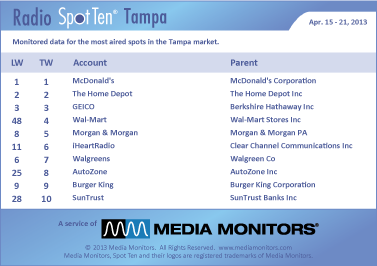 In the other city by the bay the #1 radio advertiser was MCDONALDíS with 824 spots. Coming in #2 was THE HOME DEPOT with 737 ads, while GEICO was steady at #3 airing 698 spots. WAL-MART moved from #48 to #4 with 567 spots and MORGAN & MORGAN (Legal Services) held court at #5 with 455 spots. IHEARTRADIO leaped from #11 to #6 with 452 commercials, while WALGREENS was #7 with 451 spots. AUTOZONE zoomed from #25 up to #8 with 414 ads and BURGER KING was steady at #9 running 406 spots. SUN TRUST landed at #10 with 404 spots.
TELCOM BUNDLES SERVICES SPOT TEN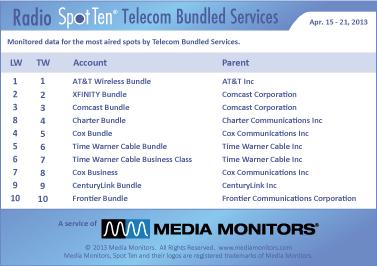 NATIONAL STATISTICS
- The leader of the pack in this category was AT&T WIRELESS BUNDLE with 12,689 spots. XFINITY BUNDLE (Comcast) was 9,334 spots, while the unbranded COMCAST BUNDLE stayed at #3 with 2,906 spots. CHARTER BUNDLE landed at #4 with 1,976 ads, while the COX BUNDLE was #5 airing 1,903 spots. TIME WARNER CABLE BUNDLE took #5 with 1,130 ads and their commercial offering; TIME WARNER CABLE BUSINESS CLASS captured #7 with 896 commercials. COX BUSINESS ran 745 times to click into #8, while CENTURYLINK BUNDLE was solid at #9 with 664 ads. Coming in #10 was FRONTIER BUNDLE with 586 spots.
NATIONAL SPOT TEN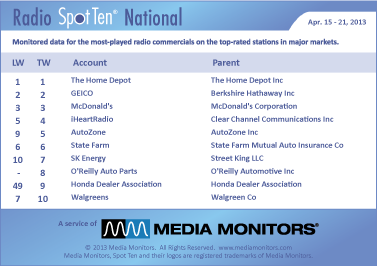 NATIONAL STATISTICS
- As spring slowly makes the world a greener place, THE HOME DEPOT ran 66,392 making them clearly #1 nationally. GEICO remained #2 with 37,685 spots and MCDONALDíS stayed at #3 airing 28,411 spots. IHEARTRADIO was the 4th biggest radio advertiser last week with 23,183 spots. AUTOZONE was #5 with 22,447 spots.
Posted: April 22, 2013


SPOT TRENDS
Last Twelve Months
MetroPCS Communications, Inc.
(NYSE: PCS) was formed in 1994 by Roger Linquist and Malcolm Lorang as General Wireless, Inc. for the purpose of bidding on, acquiring and operating broadband PCS licenses. It is now a mobile phone service provider with the fifth largest mobile telecommunication network in the country. In July 2004, MetroPCS Communications and MetroPCS completed a restructuring under which MetroPCS became a wholly-owned subsidiary of MetroPCS Communications. MetroPCSí business constitutes substantially all of the business of MetroPCS Communications and the Company continues to conduct business under the MetroPCS brand. The company went public on April 7, 2007 at $23 per share. MetroPCS is based out of Richardson, Texas and its regional coverage started out in the Miami, Atlanta, Sacramento and San Francisco metropolitan areas. The companyís coverage is consistently growing and is now available in northern Florida, Los Angeles, New York City, Philadelphia, Boston, San Diego, Seattle and Las Vegas, among other locales. MetroPCS operates under the tagline ďWireless for AllĒ providing predictability, reliability, and affordability for its customers. This week is important to shareholders of MetroPCS due to a proposed merger with T-Mobile (owned by Deutsche Telekom, AG). The deal will create a combined customer base of more than 40 million subscribers. In the latest annual report, MetroPCS produced revenues of $5.1 billion with net incomes of $391.81 million, which was a 5.2% increase in 2012 sales. They have 3,700 employees.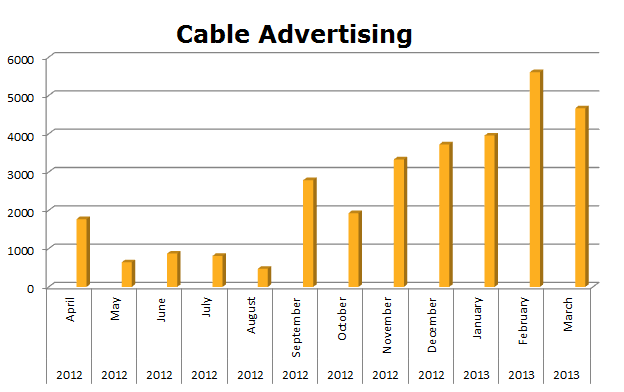 On Local Cable, MetroPCS ran 30,560 spots in the last 12 months. Their hottest month was February 2013 when they cleared 5,609 ads.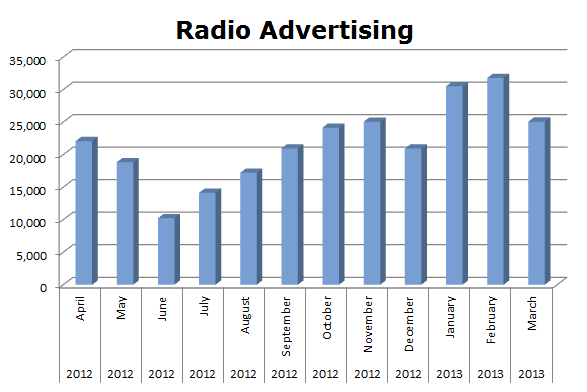 MetroPCS ran almost 70% of all their spots on Radio. In the last 12 months, they bought 260,880 spots with the biggest month being February when they ran 31,773 spots.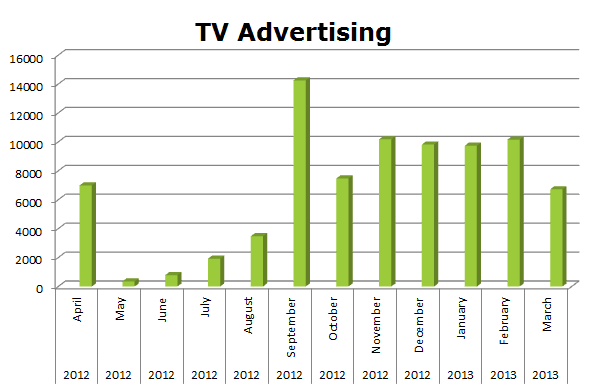 On Broadcast TV, MetroPCS cleared 81,862 spots in the last 12 months and peaked in September 2012 with 14,247 spots.
POSTED: April 22, 2013
<! ----End Here -->

Rooms To Go vs. Bobís Discount Furniture
Rooms To Go Inc.
was founded by Jeffrey Seaman and his father, Morty Seaman, after being let go by, of all companies, Seamanís Furniture. Seamanís furniture was started by the grandfather, Julius Seaman, in Woodbury, New York in 1933. In1990, after being bought out, the father and son were sent away. In 1991, Jeffrey Seaman had decided that it was time to establish his own business. He envisioned a different merchandising approach and was anxious to combine his past experience in the furniture business with a new concept for a retail operation. He studied The Limited and The Gap and decided that his new store should be uniform, colorful, interesting and open. The opening slogan said it all, "Buy a piece, save a little. Buy the room, save a lot!" Innovative advertising was produced in-house to reflect the company's goals. Seaman deplored the strategy of fake sales (marking up prices, then advertising that furniture was marked down for sale) that he believed gave the industry a credibility problem, so they coined the motto, ďno fake sales, no phony discounts, no delivery fairy tale--and assistance, not persistence, from the sales staff." The chain grew fast in the early 90s and by 1996, Rooms To Go had mushroomed into Florida's fastest-growing furniture retailer, and Seaman felt that the company had saturated that market. A new distribution center was opened in Atlanta to support the 25 new stores opening in Atlanta, Charlotte, Chattanooga and Nashville. Through licensing agreements with individuals or businesses, the company was soon selling its furniture in Turkey, Costa Rica, Honduras, Guatemala, Columbia and the Bahamas. Fort Lauderdale was chosen as the new testing ground for a spinoff concept that would exclusively handle children's furniture. The first of the youth specialty stores, called Rooms To Go Kids, was opened in the Atlanta suburb of Marietta, Georgia. In 1997, the first Rooms To Go Kids store opened in Tokyo. Rooms To Go is in 10 states and Puerto Rico and has more than 106 locations and 7,000 employees.
Bob's Discount Furniture
is a privately owned regional chain of furniture stores, primarily in Manchester, Connecticut. They opened their door in 1991. In 1976, future company co-founder Bob Kaufman was injured in a motorcycle accident; Bob discovered the benefits of a waterbed for recuperation. The experience inspired Kaufman to become involved with waterbed sales, and during the 1980s, he had rented space in 24 New England stores for selling waterbeds. By 1990, waterbed sales had dwindled, so Kaufman partnered with Gene Rosenberg (owner of Wholesale Furniture, where Kaufman had rented space for waterbed sales) and they acquired a building in Newington, Connecticut to open the first Bobís. As time progressed, the company expanded to additional locations, often acquiring buildings that had been vacated by tenants that had become bankrupt during recession. By 1997, the company operated a dozen stores in Connecticut and two in western Massachusetts. The ability of the company to grow during its early years in spite of unfavorable economic conditions has been partially attributed to the company's extensive use of commercials. In early 2005, the investment firm Saunders Karp & Megrue acquired 70 percent ownership of Bob's Discount Furniture; subsequently, Saunders Karp & Megrue was acquired by Apax Partners Worldwide. In November 2006, Edmond (Ted) English, former president and CEO of TJX Companies, became the CEO of Bob's Discount Furniture, replacing Stan Adelstein, who became chairman. In addition to being known for its distinctive advertisements, the company is also known for offering amenities at many of its stores, which may include in-store home theaters, video arcades, and complimentary refreshments. Many of the stores have a back room where people can get items that are considered imperfect; this area is playfully called The Pit. With 43 stores located throughout New England, New Jersey, New York, Maryland and Virginia and they have more than 2,500 employees.
MEDIA USAGE

Last 12 Months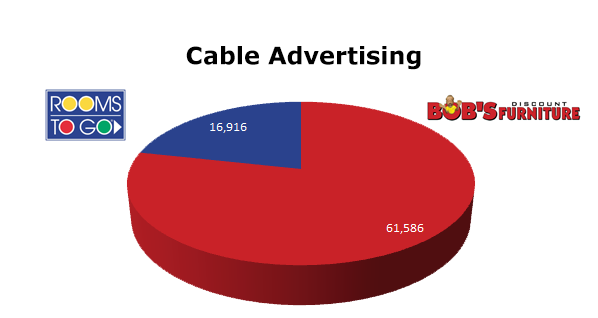 On Cable TV Bobís Furniture is way out ahead of Rooms To Go. Bobís ran 61,586 ads in the last 12 months, while Rooms To Go aired 16,916 in the same span. Bobís biggest month was January 2013 with 5,858 spots, while Rooms To Go peaked in October with 3,323 spots.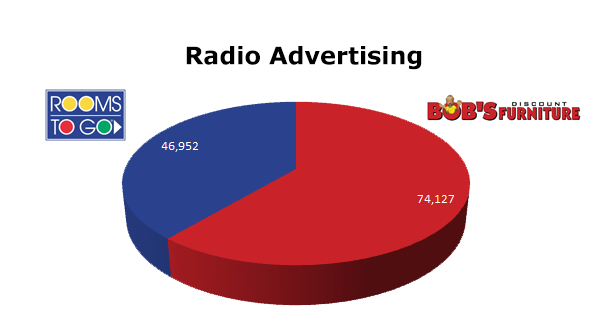 On the Radio, Bobís Furniture ran 74,127 spots in the last 12 months, while Rooms To Go cleared 46,952 ads. Rooms To Go played the most in October with 9,756 spots and Bobís was very consistent with more than 5,000 every month. The biggest month for Bobís was January 2013 when they ran 6,921 spots.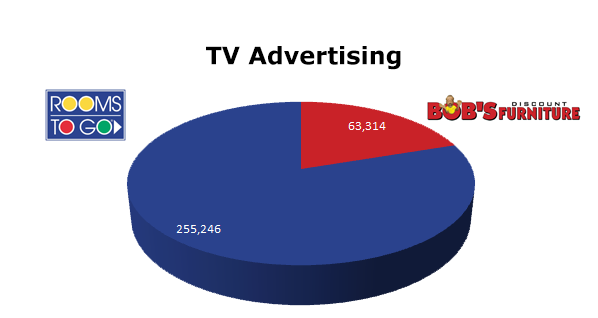 On Broadcast TV, Rooms To Go topped Bobís Furniture. Rooms To Go ran 255,246 spots in the last 12 months, while Bobís cleared 63,314 spots. Rooms To Go hit their high mark in January 2013 with 32,530 ads and Bobís ran the most in the same month with 6,900 spots. Posted: April 22, 2013 <! ----End Here -->
Media Monitors
445 Hamilton Avenue, 7th Floor
White Plains, NY 10601 USA
1-800-67-MEDIA

For The Current Spots: