Weekly Spots
POSTED: April 15, 2013

MEDIA MONITORS RESEARCH SPOT TEN RESULTS
Click an icon to download Adobe Reader

or PDF Plugin for Firefox

Mac & non IE or FF Browsers Click Here To Download Spot Charts

"The Capital District"
Albany, New York and Investments
By: Dwight Douglas, VP Marketing
Media Monitors - New York
(White Plains, NY)
April 15, 2013 – According to Arbitron, the Albany-Schenectady-Troy, NY area is the 65th largest radio market with a population of 797,800.
CITY FACTS
Albany is the capital of the state of New York and was settled by Englishman Henry Hudson, while exploring for the Dutch East India Company on the Halve Maen (or Half Moon). He reached the area in 1609. In 1614, the Dutch company constructed Fort Nassau.
On October 26, 1825 the Erie Canal was completed, forming a continuous water route from the Great Lakes to New York City.
The Governor Nelson A. Rockefeller Empire State Plaza, a complex of several state government buildings in downtown Albany was built between 1959 and 1976 at a total cost of $1.7 billion. One of the buildings looks like a flying-saucer.
Perhaps a connection to the city's Dutch past, The Tulip Festival, or the Tulip Fest as locals call it, takes place each year in Albany's Washington Park. This traditional Albany event marks the beginning of spring in early May.
Albany is another important minor league town for sports: Minor league professional teams include Albany River Rats (AHL affiliate of the Carolina Hurricanes), Albany Conquest (af2 arena football), Albany Patroons (CBA and USBL basketball), Chance of a Lifetime Basketball Academy (National Pro-Am basketball franchise) and the Tri-City Valley Cats (New York-Penn League "short A" baseball, affiliate of the Houston Astros, based in nearby Troy).
Famous people from Albany: singer Nikki Cleary, the late 60-Minutes commentator Andy Rooney; actor William Devane; writer Gregory Maguire (WICKED); and the 21st President of the United States, the less than famous Chester Arthur.
ALBANY SPOT TEN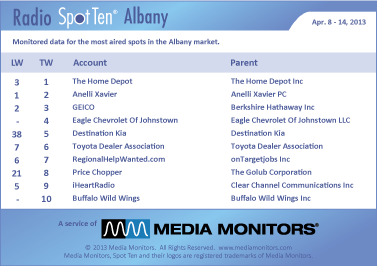 In the state capitol of New York, the #1 radio advertiser last week was THE HOME DEPOT with 1,014 spots. ANELLI XAVIER (Legal Services) was #2 airing 1,007 spots, while GEICO landed at #3 with 605 spots. EAGLE CHEVROLET OF JOHNSTOWN was #4 with 489 spots. DESTINATION KIA soared from #38 up to #5 with 470 spots, while the TOYOTA DEALER ASSOCIATION took #6 running 435 commercials. REGIONALHELPWANTED.COM claimed #7 with 384 ads and PRICE CHOPPER chopped its way from #21 to #8 with 351 spots. IHEARTRADIO was #9 with 336 spots and BUFFALO WILD WINGS came in #10 with 310 spots.
INVESTMENT OPPORTUNITY SPOT TEN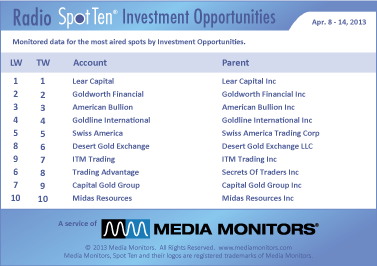 NATIONAL STATISTICS
- Coming in #1 nationwide was LEAR CAPITAL with 3,058 spots. GOLDWORTH FINANCIAL was solid at #2 with 1,412 spots, while AMERICAN BULLION stayed at #3 with 491 ads. SWISS AMERICA was #5 airing 340 commercials and DESERT GOLD EXCHANGE was #6 with 218 spots. ITM TRADING took #7 with 215 spots and TRADING ADVANTAGE was in at #8 with 211 spots. CAPITAL GOLD GROUP was #9 running 168 spots, while MIDAS RESOURCES was steady at #10 with 125 spots.
NATIONAL SPOT TEN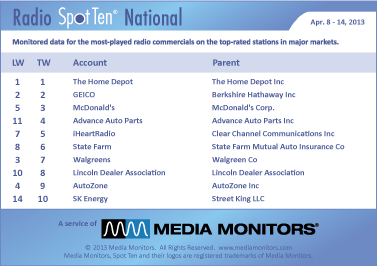 NATIONAL STATISTICS
- THE HOME DEPOT stays on top with 69,911 spots. Remaining at #2 was GEICO with 45,266 spots, while MCDONLD'S moves from #5 to #3 airing 31,768 spots. ADVANCED AUTO PARTS jumps from #11 to #4 with 25,188 spots and IHEARTRADIO takes #5 running 23,162 spots.
Posted: April 15, 2013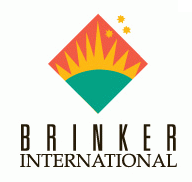 SPOT TRENDS
Last Twelve Months
Brinker International, Inc.
is best known for its ownership of Chili's Grill & Bar, Maggiano's Little Italy, and Romano's Macaroni Grill. The company traces its roots to the first Chili's Grill & Bar that opened in Dallas in March 1975 by restaurateur Larry Levine. By the early 1980's, 22 more Chili's restaurants were opened and the restaurant chain was taken over by Norman E. Brinker, who began his career working for the Jack-In-The-Box fast food chain. Brinker's resume also included the founding of Steak & Ale as well as introducing the salad bar concept, an innovation that soon swept the entire restaurant industry. In 1984, Brinker took Chili's public and the 23 Chili's restaurants were generating $40 million in sales. Throughout the mid-1980's, Brinker and his associates expanded Chili's steadily and introduced new menu options, like ribs and fajitas, that remain staples of the chain today. By the late 1980s, Brinker was ready to branch out into new restaurants and in February 1989, acquired Grady's Goodtimes, owned by the Regas family out of Knoxville, Tennessee. The chain went through a few name changes throughout the years, but was known at this point as Regas, later called Grady's American Grill. Nine months later, Chili's acquired the rights to the Romano's Macaroni Grill concept for $41 million. The restaurant's atmosphere and menu were based off of the Italian family style of dining. Romano's also introduced new innovations such as glass walls through which diners could see their meals being prepared by the chefs. By this time, Chili's company had grown to include 215 restaurants and had introduced a new franchising program for its chains. In May 1991, Chili's changed it's company name to Brinker International, Inc. Its main restaurant chains of Chili's, Regas Grill, and Romano's Macaroni Grill reported $438 million in revenue. Also at this time, Brinker set his sights on international expansion in Canada and Mexico. By the mid 1990s, Brinker opened one new restaurant a week and saw great success with the Macaroni Grill chain. This success prompted him to open Spageddie's, a low-priced, casual pasta restaurant in Plano, Texas. He also tested another restaurant called Kona Ranch Steakhouse in Oklahoma City. By late 1992, Brinker announced plans for further expansion after signing an agreement with Pac-Am Food Concepts, based in Hong Kong, to franchise 25 Chili's restaurants in the Far East over the next 15 years. In February 1994, Brinker acquired the On the Border restaurant chain. It was sold in 2010 to OTB Acquisitions LLC, an affiliate of Golden Gate Capital Partners. In July 1995, the company announced a partnership with Lettuce Entertain You Enterprises, a restaurant developer in the Chicago area. This allowed Brinker to acquire three of Lettuce's Maggiano's Little Italy restaurants and five of its Corner Bakeries. By the end of the year, Brinker International sold Grady's American Grill and Spageddie's to Quality Dining, Inc. In 2008, Brinker International sold a majority stake in the Romano's Macaroni Grill to Golden Gate Capital Partners for $131 million, however they still remain a minority stakeholder in the restaurant chain. According to most recent annual reports, Brinker International created revenues of $2.82 billion with a net income of $151.23 million, which represented a 2.1% increase in sales in 2012. They have 58,068 employees.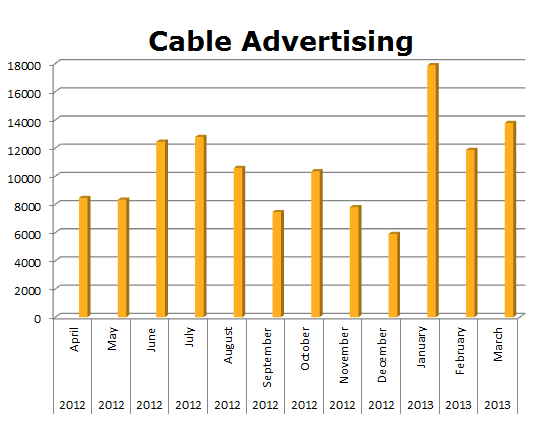 On Local Cable, Brinker ran 127,654 spots in the last 12 months. Their biggest month was January 2013 when they ran 17,873 spots.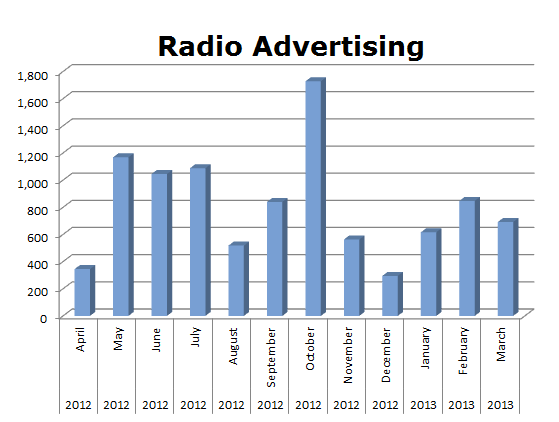 Brinker International is not a big user of radio. In the last 12 months they ran 9,745 spots. Their biggest month was October 2012 with 1,728 ads.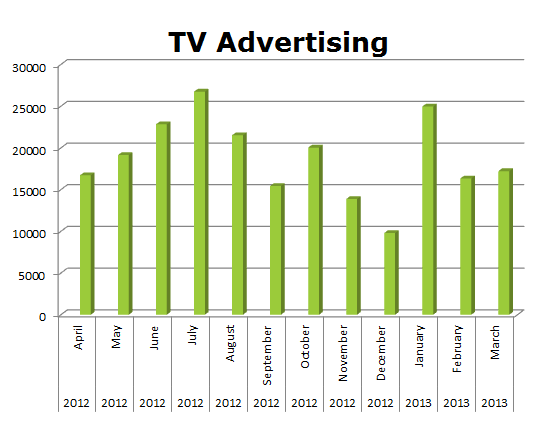 On Broadcast TV, Brinker International ran 224,635 spots in the last 12 months. Their biggest monthly run was in July 2012 with 26,745 ads.
POSTED: April 15, 2013
<! ----End Here -->

Pfizer vs. GlaxoSmithKline
Pfizer
(NYSE: PFE) is a global pharmaceutical company and was started by German-American cousins, Charles Pfizer and Charles Erhardt in Brooklyn, New York in 1849. The company's origin was as a fine chemical business, called Charles Pfizer and Company, where they produced the successful antiparasitic called santonin. It wasn't until the 1880's that the company truly took off with its development of citric acid, which became the launching pad for Pfizer's later achievements. Following World War I and the shortage of calcium citrate, used to make citric acid, Pfizer chemists came up with a way to manufacture the citric acid from the fermentation of sugar. As a result, Pfizer developed expertise in fermentation technology and used these skills toward the mass production of penicillin during World War II. In the late 1940s, Pfizer decided to search for new antibiotics with greater profit potential. The discovery and commercialization of Terramycin (oxytetracycline) by Pfizer in 1950 moved the company from a manufacturer of fine chemicals to a research-based pharmaceutical company. To augment its research in fermentation technology, Pfizer began a program to discover drugs through chemical synthesis. Pfizer also established an animal health division in 1959. During the 1980s and 1990s Pfizer underwent a period of growth sustained by the discovery and marketing of Zoloft, Lipitor, Norvasc, Zithromax, Aricept, Diflucan, and Viagra. Pfizer has recently grown by mergers, including those with Warner–Lambert in 2000, with Pharmacia in 2003, and with Wyeth in 2009. According to their annual report, Pfizer shows revenues of $58.99 billion with a net income of $9.49 billion. They have 91,500 employees.
GlaxoSmithKline
(NYSE: GSK) is a global pharmaceutical, biologics, vaccines, and consumer healthcare company. It is the third largest pharmaceutical company, in terms of revenue, and its products treat a range of major disease areas including asthma, cancer, virus control, infections, mental health, diabetes, and digestive conditions. In addition, the company has a consumer health care division that produces the Sensodyne, Horlicks, and Gaviscon brands. GlaxoSmithKline came together as a result of a number of mergers and acquisitions made throughout its history. In 1880, Burroughs Wellcome & Company was founded in London by Henry Wellcome and Silas Burroughs. In 1904, Glaxo was founded in New Zealand as a baby food manufacturer, later becoming Glaxo Laboratories. By 1978, Glaxo Laboratories became a major player in the U.S. market after its acquisition of Meyer Laboratories and by 1995 Glaxo and Burroughs Wellcome merged to form Glaxo Wellcome. By 1989, SmithKline merged with Beecham and formed SmithKline Beecham plc. At the turn of the century, in 2000, Glaxo Wellcome and SmithKline Beecham merged and formed the current company GlaxoSmithKline. Even before the formation of GlaxoSmithKline, each of the companies had their own milestones in the industry. In 1924, the vitamin D preparation, Ostelin, became Glaxo's first pharmaceutical product. In 1948, Vitamin B12 was isolated by Glaxo scientists for the treatment of pernicious anemia and Streptomycin for TB treatment was produced. By the 1950s Smith Kline and French introduced Thorazine, an anti-psychotic drug that revolutionized the treatment of mental illness, followed by the first time-released medicine, Dexedrine. In 1972, scientists at Beecham Research Laboratories discovered amoxicillin and launched Amoxil, to become a widely-used antibiotic. In 1987, The AIDS treatment Retrovir (zidovudine) was launched by Wellcome. Today, the company manufactures more than 70 products including the well-known brands like Advair, Levitra, Paxil, Vesicare, Wellbutrin, and Zantac. Together they share around 5% of the world's pharmaceutical market. According to latest annual report, GSK produced revenues of $26.43 billion with net income of $4.57 billion. They have 99,488 employees.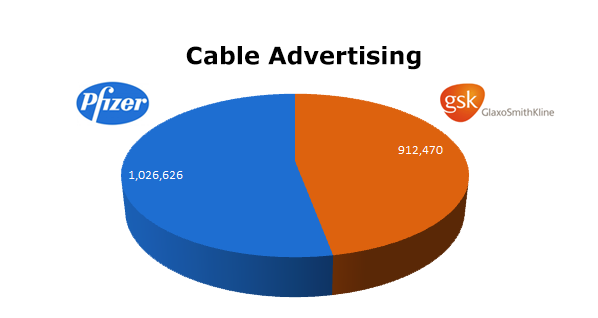 On Local Cable, Pfizer ran 1,026,626 spots in the last 12 months, while GSK ran 912,470 commercials. Pfizer's hottest month was January 2013 when they cleared 121,127 spots. GlaxoSmithKline reached their highest monthly count in December 2012 with 131,624 ads.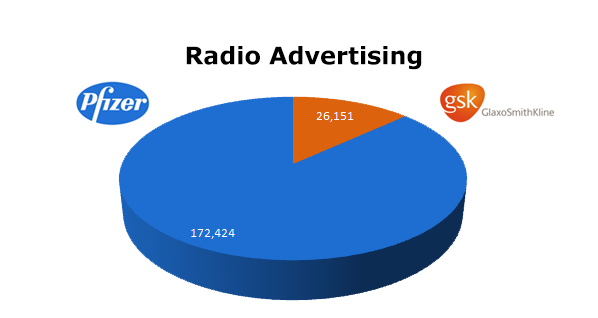 On the Radio, Pfizer certainly focused more spots with 172,424 ads in the last 12 months compared to GSK running 26,151 spots in the same period. Pfizer ran the most spots in February with 28,881 spots, while GlaxoSmithKline ran hottest in June 2012 with 8,382 spots.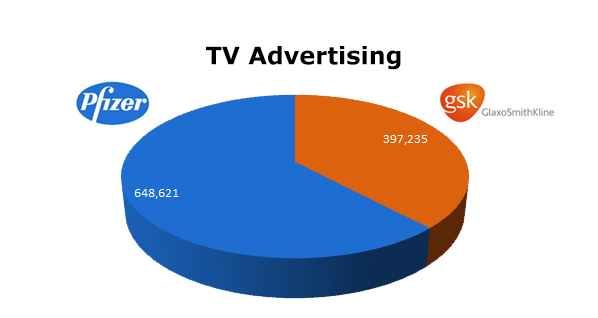 On Broadcast TV, Pfizer ran 40% more spots than GSK. Pfizer ran 648,621 spots in the last 12 months, whereas GlaxoSmtihKline cleared 397,235 spots. Pfizer's biggest month was January 2013 with 83,972 spots, while GSK ran the most in December 2012 with 48,551 ads. Posted: April 15, 2013 <! ----End Here -->
Media Monitors
445 Hamilton Avenue, 7th Floor
White Plains, NY 10601 USA
1-800-67-MEDIA

For The Current Spots: