Weekly Spots
POSTED: April 8, 2013

MEDIA MONITORS RESEARCH SPOT TEN RESULTS
Click an icon to download Adobe Reader

or PDF Plugin for Firefox

Mac & non IE or FF Browsers Click Here To Download Spot Charts

THE STEEL CITY
Pittsburgh and Book & Music Retailers
By: Dwight Douglas, VP Marketing
Media Monitors - New York
(White Plains, NY) April 8, 2013
– According to Arbitron, Pittsburgh, PA is the 25th largest radio market with a population of 2,004,900.
CITY FACTS
Pittsburgh was named in 1758 by Gen. John Forbes in honor of a British statesman Sir William Pitt. It was incorporated as a borough in 1794.
Steel production began by 1875, when Andrew Carnegie founded the J. Edgar Thomson Steel Works in Braddock, which eventually evolved into the Carnegie Steel Company.
Pittsburgh is a headquarter kind of town: Alcoa, Inc., Allegheny Technologies, American Eagle Outfitters, Dicks Sporting Goods, GNC Corporation, H. J. Heinz, Mellon Financial, PNC Financial, PPG Industries and WESCO are just some of the top companies that call the 'burgh home.
Museums include the Andy Warhol Museum, the Carnegie Museum of Art and the Frick Art & Historical Museum.
They have many universities: University of Pittsburgh, Carnegie-Mellon, Duquesne University, Point Park University, and Robert Morris University.
Famous people who grew up around the city: Andy Warhol, Charles Bronson, Jeff Goldblum, Barbara Feldon, Gene Kelly, Kurt Angle, Michael Keaton, Ahmad Jamal, and Dennis Miller.
Pittsburgh is home to the first commercial radio station in the United States, KDKA, which went on the air in 1920. Pittsburgh also claims the first non-commercial television station WQED, which produced the highly successful children's TV show: Mister Rogers' Neighborhood.
The Pittsburgh area has also produced more professional quarterbacks than any other region: Johnny Unitas, Dan Marino, Marc Bulger, George Blanda, Jim Kelly, Joe Montana and of course, Joe Namath.
Pittsburgh has been called the "City of Champions" for its success in sports: The Pittsburgh Steelers have played in 8 Super Bowls and have 6 championships. MLB's Pirates have won five World Series and NHL's Pittsburgh Penguins have won the Stanley Cup twice. Pittsburgh has no NBA team.
PITTSBURGH SPOT TEN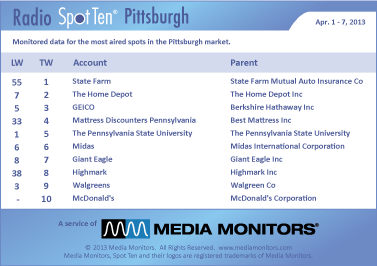 In Pittsburgh last week the #1 radio advertiser was STATE FARM with 706 spots. THE HOME DEPOT landed at #2 with 602 spots, while GEICO was #3 airing 589 spots. MATTRESS DISCOUNTERS PENNSYLVANIA took the #4 spot with 498 ads and THE PENNSYLVANIA STATE UNIVERSITY took #5 with 487 commercials. MIDAS was #6 running 370 spots, while GIANT EAGLE was #7 with 363 ads. HIGHMARK swept in at #8 with 357 spots and WALGREENS captured the #9 slot with 336 ads. Coming in at #10 was MCDONALD'S with 333 spots.
LIVE THEATER SPOT TEN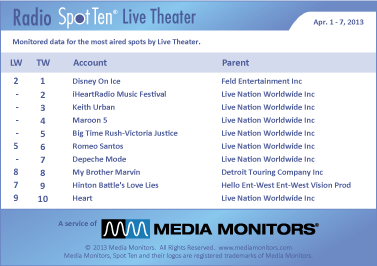 NATIONAL STATISTICS
- It was quite amazing for DISNEY ON ICE to be #1 last week in this category airing 2,249 spots nationwide. The IHEARTRADIO MUSIC FESTIVAL landed at #2 with 1,701 spots, while KEITH URBAN leveled off at #3 with 1,662 ads. MAROON 5 checked in at #4 with 1,578 spots and BIG TIME RUSH-VICTORIA JUSTICE flew into #5 with 1,032 spots. ROMEO SANTOS stepped into #6 with 933 spots, while DEPECHE MODE was steady at #7 airing 797 commercials. MY BROTHER MARVIN rested at #8 with 755 commercials and HINTON BATTLE'S LOVE LIES took #9 with 616 spots. HEART was #10 with 601 spots.
NATIONAL SPOT TEN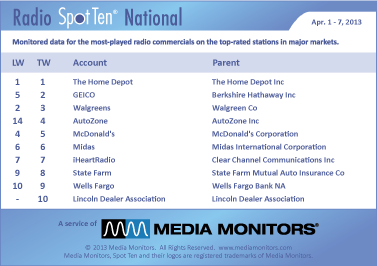 NATIONAL STATISTICS
- THE HOME DEPOT is again #1 with 51,303 spots last week nationally. GEICO tracks up from #5 to #2 with 44,913 ads, while WALGREENS was #3 with 29,320 commercials. AUTOZONE was #4 with 29,078 ads. And dropping from #4 to #5 was MCDONALD'S with 27,872 spots.
Posted: April 8, 2013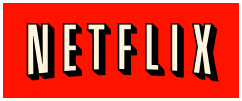 SPOT TRENDS
Last Twelve Months
Netflix, Inc.
is a service that is dedicated to flat rate DVD-by-mail and Blu-Ray video-by-mail rental as well as on-demand video streaming. The company was started in 1997 by Reed Hastings and Marc Randolph in Scotts Valley, California. Hastings' inspiration for starting the company came after renting the movie Apollo 13 and incurring $40 in late fees, well over the actual cost of the video itself. The Netflix website launched in April of 1998 on a pay-per-rental basis and by the following year it had adopted its monthly subscription model with no late fees, no due dates, no shipping fees, and no per-title rental fees. In 2000, Netflix came up with an algorithm, known as CineMatch, which compares rental patterns among its customers and looks for similarities in taste in order to recommend titles to people whose profiles are similar. It can also be programmed to combine the attributes of two users, such as a married couple, and recommend titles that they both might like. The information collected from the CineMatch system is also shared with movie studios to help them plan marketing campaigns. On May 22, 2002 Netflix went public selling 5,500,000 shares at $15 per share. Two years later the company posted its first profitable year since its inception. In 2002, they had 670,000 subscribers. As of 2009, Netflix had 100,000 different DVD titles to choose from and had surpassed the 10 million members mark. In addition to watching movies on ones television or computer, Netflix is compatible with the Mac brand of devices (iPod, iPad, iPhone, and Apple TV), gaming consoles (Sony Playstation 3, Microsoft Xbox 360, and Nintendo Wii), and TiVo among others. Netflix is the world's leading Internet television network with more than 33 million members in 40 countries enjoying more than one billion hours of TV shows and movies per month, including original series. In the 2012 SEC Form 10-K, Netflix reported revenues of $3.609 billion with a net income of $17.152 million, which was down from $226,126 million in 2011. As of December 31, 2012, they had 2,045 full-time employees and 384 part-time and temporary employees.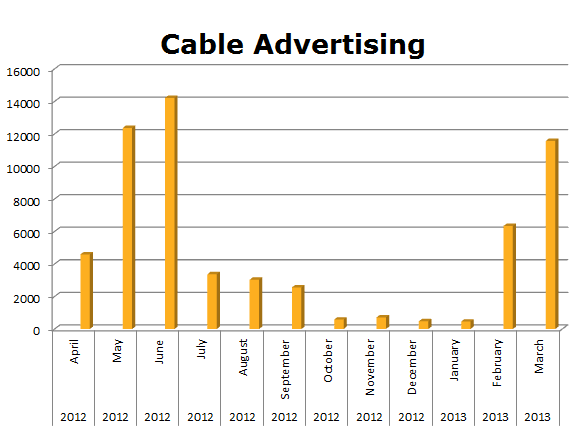 On Local Cable, Netflix ran 60,278 spots in the last 12 months. Their peak was in June 2012 with 14,217 ads.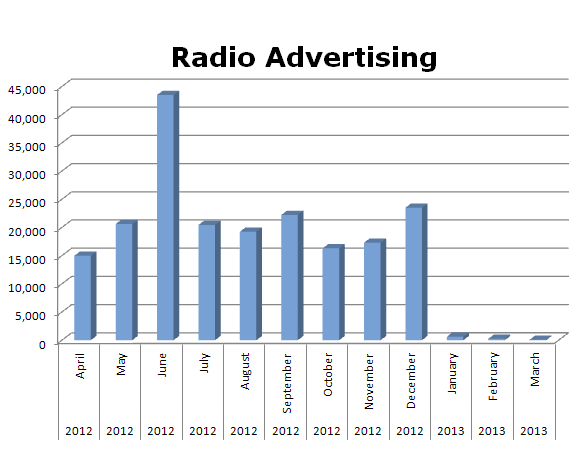 On the Radio, Netflix cleared 199,003 spots in the last 12 months. In fact, 53.19% of all their spots ran on radio. Their hottest month was June 2012 when they ran 43,495 ads.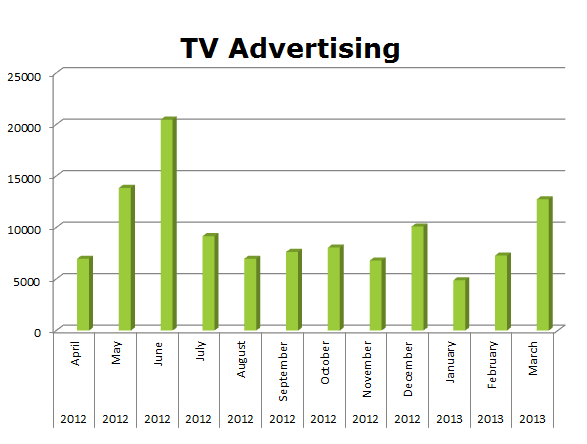 On Broadcast TV, Netflix ran 114,886 spots in the last 12 months. Again, June was their high watermark with 20,472 spots.
POSTED: April 8, 2013
<! ----End Here -->

Kroger vs. Safeway
KROGER
was started in 1883 by Barney Kroger. He invested his life savings of $372 to open a grocery store at 66 Pearl Street in downtown Cincinnati. The son of a merchant, Kroger ran his business with a simple motto: "Be particular. Never sell anything you would not want yourself." Some of the other stores under the Kroger umbrella include: Loaf 'N Jug, Dillon's, Baker's, Ralph's, City Market, King Soopers, Smith's Food & Drug Stores, Fry's Marketplace, Fry's Mercado, Smith's Marketplace, V&F Coffee and Office Products, Food 4 Less, Fresh Fare, QFC – Quality Food Centers, Cala Foods, Bell Markets, Fred Meyer. In the early 1900s, most grocers bought their bread from independent bakeries. But Kroger always baked its own bread attempting to reduce the price for their customers while still making money. Mr. Kroger became the first grocer in the country to establish his own bakeries. He was also the first to sell meats and groceries under one roof. Kroger now operates 41 food processing facilities that collectively make thousands of products ranging from bread, cookies, milk, soda pop, ice cream and peanut butter. Nearly half of the 14,400 private-label items found in the company's stores today are made at one of these manufacturing plants. These "corporate brands" today account for an impressive 26% of the grocery dollar sales at Kroger, providing the company with a huge strategic advantage. Acquisitions have played a key role in Kroger's growth over the years. In 1983, 100 years after the company's founding, Kroger merged with Dillon Companies Inc. in Kansas to become a coast-to-coast operator of food, drug and convenience stores. The biggest merger in Kroger's history came in 1999, when the company teamed up with Fred Meyer, Inc. in a $13 billion deal that created a supermarket chain with the broadest geographic coverage and widest variety of formats in the food retailing industry. The merger also enabled Kroger to generate huge economies of scale in purchasing, manufacturing, information systems and logistics. In an era when many larger mergers failed, the success of the Kroger-Fred Meyer merger stands out. According to their web site, they have 2,424 Stores in 31 States and of those facilities, The Kroger Co. owns the buildings in 45% of their stores. They also own 791 convenience stores and 348 jewelry stores. According to their 2012 annual report, Kroger produced revenues of $96.75 billion with a net income of $1.5 billion, which produced a 7.1% increase in sales. They have 339,000 employees.
SAFEWAY
, the second largest supermarket chain in North America, started in 1915. M.B. Skaggs, an ambitious young man based in the small town of American Falls, Idaho purchased a tiny grocery store from his father. M.B.'s business strategy, to give his customers value and to expand by keeping a narrow profit margin, proved spectacularly successful. By 1926 he was operating 428 Skaggs stores in 10 states. M.B. almost doubled the size of his business that year when he merged his company with 322 Safeway outlets (formerly known as Selig stores). Two years later M.B. listed Safeway on the New York Stock Exchange. M.B. did not let the difficulties of the Great Depression dilute his pioneering focus on value for customers. In the 1930's Safeway introduced produce pricing by the pound, open dating on perishables to assure freshness, nutritional labeling, and even some of the first parking lots. Safeway Stores are located throughout the western and central United States under names such as: Safeway, Carrs, Dominick's, Pak'n Save, Randall's, Tom Thumb, Vons and Pavilions. "Safeway Select" is the company's signature private label that offers an upscale range of products. In 2006, Safeway Stores introduced a new line of organically grown and processed products named "O Organics". As of December 29, 2012, Safeway operated 1,641 stores in the West, Southwest, Rocky Mountain, Midwest and Mid-Atlantic regions of the U.S. According to 2012 reports, Safeway produced revenues of $44.2 billion with a net income of $566.2 million, which according to their annual report represented a 1.3% increase in sales. They have 178,000 employees.
MEDIA USAGE

Last 12 Months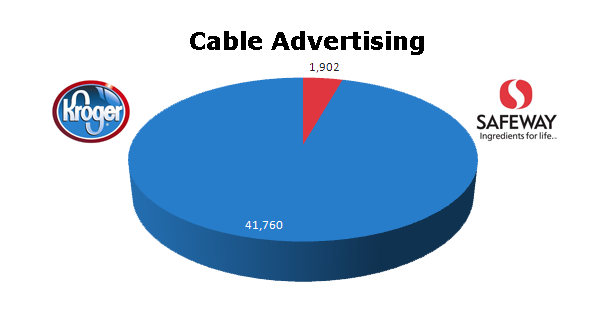 On Local Cable, Kroger is the king with 41,460 spots aired in the last 12 months, as compared to Safeway with only 1,902 ads, which is only 4.55% of what Kroger ran. Kroger's hottest month was August 2012 when they cleared 4,783 spots. Safeway ran the most spots in the month of December 2012 with only 482 spots.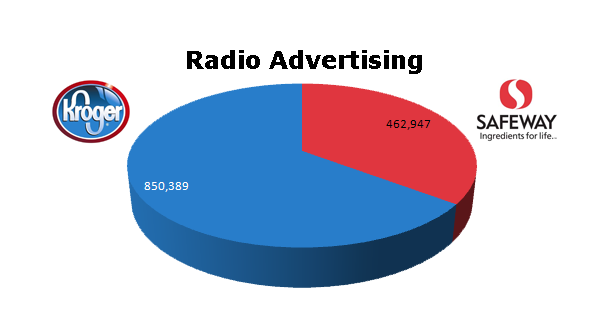 On the Radio, Kroger takes the lead as well with 850,389 spots against Safeway's 462,947 spots in the last 12 months. Kroger ran the most in December 2012 with 90,772 ads, while Safeway ran the most in last month, March 2013, when they cleared 48,387 spots.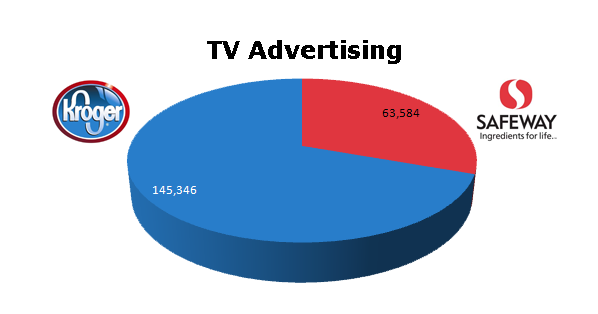 On Broadcast TV, Kroger ran 145,346 spots in the last 12 months, while Safeway played 63,584 times in the same period. Kroger ran hottest in December 2012 with 19,512 ads and Safeway beefed up in the same month with 12,969 spots. Posted: April 8, 2013 <! ----End Here -->
Media Monitors
445 Hamilton Avenue, 7th Floor
White Plains, NY 10601 USA
1-800-67-MEDIA

For The Current Spots: