Weekly Spots
POSTED: April 1, 2013

MEDIA MONITORS RESEARCH SPOT TEN RESULTS
Click an icon to download Adobe Reader

or PDF Plugin for Firefox

Mac & non IE or FF Browsers Click Here To Download Spot Charts

Riverside-San Bernardino, California
Riverside-San Bernardino & Footwear
By: Dwight Douglas, VP Marketing
Media Monitors - New York
(White Plains, NY) April 1, 2013
– According to Arbitron, the Riverside-San Bernardino, CA market is ranked 26th with a population of 1,986,600.
CITY FACTS
The City of San Bernardino, California, occupies much of the San Bernardino Valley, which indigenous tribe's people originally referred to as "The Valley of the Cupped Hand of God." Riverside California, was founded in 1870, and named for its location beside the Santa Ana River. It became the county seat when Riverside County California, was established in 1893. Many people lump these two cities into the Los Angeles market, but they are indeed a market themselves.
The California Southern Railroad established, through San Bernardino, a rail link between Los Angeles and the rest of the nation in 1883.
In 1873 Eliza Tibbets convinced William Saunders, Superintendent of the fledgling Bureau of Agriculture, to test a new citrus plant at her ranch in Riverside. This seedless navel orange from Bahia, Brazil revolutionized the industry.
In 1906 University of California established in Riverside its Citrus Experiment Station, the beginnings of the University of California, Riverside.
In San Bernardino, World War II brought what would become Norton Air Force Base. In 1994, Norton Air Force Base closed to become the San Bernardino International Airport.
In 1940 the McDonald Brothers founded McDonald's, along with its innovative restaurant concept, in San Bernardino. Today, there is a McDonald's Museum there.
In Sports, San Bernardino hosts the Inland Empire 66ers of San Bernardino baseball club of the California League, which is the Los Angeles Angels Single A affiliate.
Famous people from San Bernardino include: actor Gene Hackman, NFL's Charles Johnson, Craig Newsome and J.T. Thomas; and costume designer Edith Head. From Riverside, there hail scores of great athletes including MLB's Dusty Baker and Barry Bonds, NBA's Reggie Miller, poker players Allen Cunningham and Phil Ivey and crazy radio personality Don Imus.
RIVERSIDE - SAN BERNARDINO SPOT TEN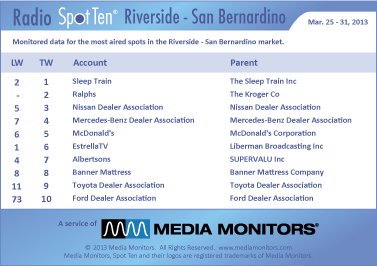 In Riverside – San Bernardino last week the #1 radio advertiser was SLEEP TRAIN with 379 spots. RALPHS landed at #2 with 367 spots, while the NISSAN DEALER ASSOCIATION was #3 airing 261 spots. MERCEDES-BENZ DEALER ASSOCIATION drove into #4 with 239 ads and MCDONALD'S took #5 with 236 commercials. ESTRELLA TV was #6 running 228 spots, while ALBERTSONS was #7 with 216 ads. BANNER MATTRESS slept at #8 with 216 spots and the TOYOTA DEALER ASSOCIATION parked at #9 with 194 ads. Coming in #10 was the FORD DEALER ASSOCIATION with 182 spots.
FOOTWEAR SPOT TEN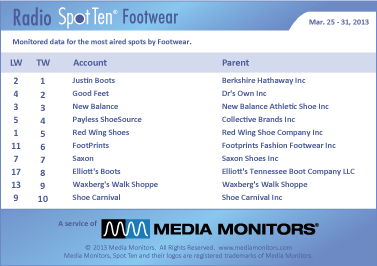 NATIONAL STATISTICS
- It was quite a feat for JUSTIN BOOTS to be #1 last week in this category airing 1,054 spots nationwide. GOOD FEET stood at #2 with 754 spots, while NEW BALANCE leveled off at #3 with 475 ads. PAYLESS SHOESOURCE checked in at #4 with 462 spots and RED WING SHOES flew into #5 with 107 spots. FOOTPRINTS stepped into #6 with 93 spots, while SAXON was steady at #7 airing 90 commercials. ELLIOTT'S BOOTS rested at #8 with 80 commercials and WAXBERG'S WALK SHOPPE took #9 with 69 spots. SHOE CARNIVAL was #10 with 67 spots.
NATIONAL SPOT TEN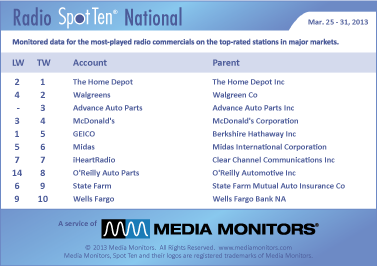 NATIONAL STATISTICS
- THE HOME DEPOT is back to #1, and that is no April Fools' joke, with 35,398 spots last week nationally. WALGREENS tracks up from #4 to #2 with 30,247 ads, while ADVANCE AUTO PARTS was #3 with 26,362 commercials. MCDONALD'S was #4 with 26,105 ads. And dropping from #1 to #5 was GEICO.
Posted: April 1, 2013


SPOT TRENDS
Last Twelve Months
United Healthcare
was started as Charter Med Incorporated in 1974 by a group of physicians and other health care professionals who wanted to expand health coverage options for consumers. In 1977, United HealthCare Corporation was created to reorganize the company and became the parent company of Charter Med Incorporated. United HealthCare introduced such health care innovations as pharmacy/drug formularies, hospital admission pre-certification processes, physician office software to manage and control costs, mental health/chemical dependency intermediaries (behavioral health) and an insurance wrap as one feature on top of traditional HMO products. By 1979 United HealthCare Corporation introduced the first network-based health plan for seniors and participated in the earliest experiments with offering private-market alternatives for Medicare. The company took the leap in 1984 and became a publicly traded company, specializing in technology and service systems for health care. In 1995 they acquired The MetraHealth Companies Inc. for $1.65 billion. MetraHealth was formed by combining the group health care operations of The Travelers Insurance Company and Metropolitan Life Insurance Company. And in 1998, United HealthCare Corporation changed its name to UnitedHealth Group. In 2002, UnitedHealth Group acquired AmeriChoice to serve the most vulnerable populations in public programs. Later that year, UnitedHealth Group merged its legacy Medicaid business into AmeriChoice, with its strong management and holistic approach to serving this market. UnitedHealth Group is a diversified health and well-being company offering an array of integrated products and services. According to their annual report, they produced revenues of $110.62 billion with a net income of $5.53 billion, which represented an 8.6% increase in sales for the year. They have 133,000 employees.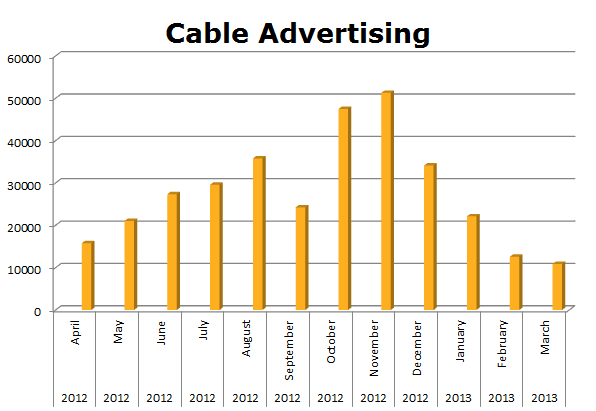 On Local Cable, UnitedHealth Group ran 332,186 spots in the last 12 months. Their heaviest month was November 2012 when they cleared 51,290 spots.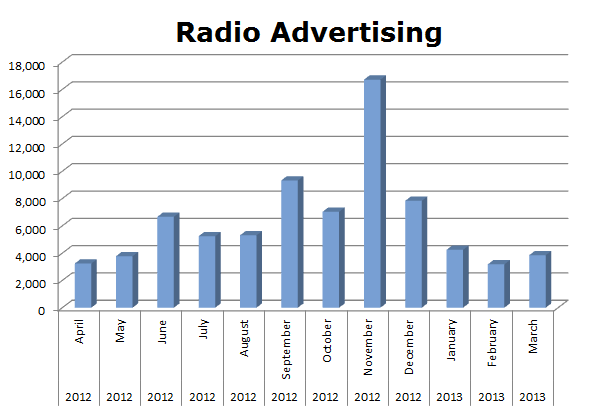 On the Radio, UnitedHealth Group ran 76,388 spots in the last 12 months with the hottest month being November 2012 with 16,712 spots.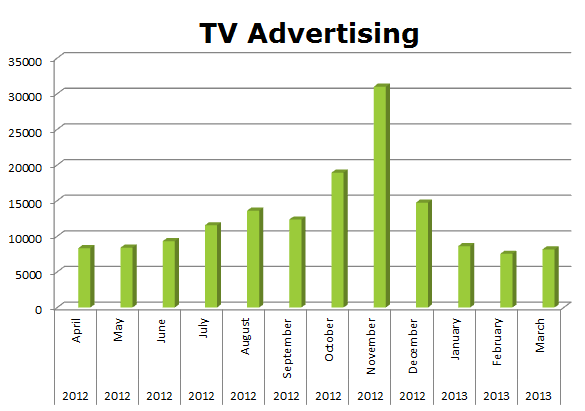 On Broadcast TV UnitedHealth Care cleared 152,479 spots in the last 12 months with the most being run in November 2012 with 30,984 spots.
POSTED: April 1, 2013
<! ----End Here -->

Honda vs. Toyota
Honda Motor Company, Ltd.
(NYSE: HMC) is a Japanese multinational corporation known for the manufacturing of automobiles and motorcycles. In October 1946, Soichiro Honda established the Honda Technical Research Institute in Hamamatsu, Japan, to develop and produce small 2-cycle motorbike engines. Two years later, the company was founded upon the engineering of Honda's first motorcycle, the Honda Cub. On June 11, 1959, American Honda Motor Company was established in Los Angeles, California as the first overseas subsidiary. By 1964, Honda Motor Company was the world's largest manufacturer of motorcycles. By the late 1960s, Honda began to diversify into making cars and trucks as well as power equipment. In 1969, American Honda began selling its first automobile, the Honda N600; however major success came later in 1973 with the introduction of the Honda Civic. Because of the oil crisis of the late 1970s, Japanese compact cars, especially the Civic, found a worldwide market with sales reaching the 1 million mark in 1976. Also in 1976, the Honda Accord model was introduced and by 1982, the Accord was manufactured in the U.S and found popularity with middle-class Americans who wanted high-quality, reliable, and affordable cars. With the success of the Accord, Honda developed their luxury brand, Acura, in 1986. Between the years of 1990-1992, the Honda Accord became the most popular, best-selling car in the United States. By the end of the last century, the Honda Insight was launched as America's first gasoline electric hybrid automobile with an EPA rating of 70 miles per gallon. Today, Honda is the sixth largest automobile manufacturer in the world, the fourth largest in the United States, and the second largest Japanese car manufacturer, surpassing Nissan in 2001. In the aftermath of the hurricane and destruction in Japan, which is still affecting business today, Honda sales in 2012 declined 11.1% according to their latest annual report. They have 120,600 employees.
Toyota Motor Corporation
(NYSE: TM) is also a multinational automaker whose headquarters are in Japan. The company was founded by Kiichiro Toyoda in 1937 as a spinoff from his father's loom and weaving company to create automobiles. Three years earlier, in 1934, it created its first product, the Type A engine, and, in 1936, its first passenger car, the Toyota AA. Following WWII, Toyota began focusing on the small car market to avoid competition with American car manufacturers and their first small car prototype was made in 1947. In 1950, company executives Eiji Yoyoda and Shoichi Saito, visited the United States and the Ford Motor Company factories to learn the latest automobile technology. Following this trip, Toyota introduced the first four-wheel drive Land Cruiser in 1951 as well as the Toyopet Crown, Toyopet Master and Toyopet Corona small-sized vehicles in 1955. Two years later, the Crown prototype was exported to the U.S. and Toyota Motor Sales, USA was formed. In 1966, the Toyota Corolla went on sale in Japan and quickly became Japan's most popular family car and led the market for compact cars. By the 1980s, Toyota had surpassed the United States in their combined automobile production and ranked only second to General Motors in total number of cars produced. In 1984, Toyota entered into a joint manufacturing venture with General Motors called New United Motor Manufacturing, Inc (NUMMI) and by 1988, Toyota Motor Management, USA, Inc. began production of Toyota models. One year later, Toyota's luxury brand, Lexus, was launched in the U.S. After gaining success with their compact and mid size cars, Toyota began to branch out to producing larger, more luxury vehicles in the 1990s. In October 1997, Toyota launched their first hybrid car, the Toyota Prius. By March 1998, demand was already exceeding supply and the Prius is now the top selling hybrid vehicle in America. At decade's end, Toyota had produced 100 million vehicles domestically. By 2000, Toyota's total world-wide production exceeded 5 million vehicles. In 2002, Toyota began to produce a new brand of cars called Scion that was targeted to Generation Y in the North American Market. According to their most recent annual report, Toyota's net revenues increased by 1.6% from 2011 to 2012. They have 69,148 employees.
MEDIA USAGE

Last 12 Months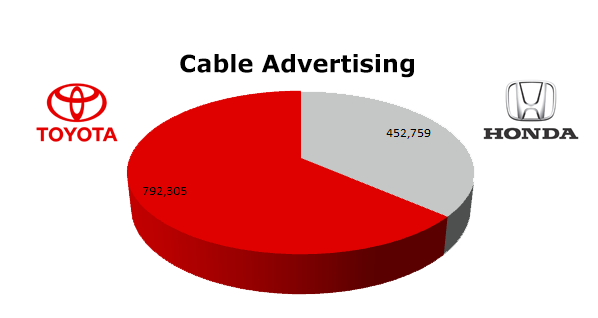 On Local Cable, Toyota is out in front of Honda, which aired 57.14% as many spots as Toyota. Toyota ran 792,305 spots in the last 12 months, while Honda cleared 452,759 spots. Toyota's biggest month was July 2012 with 79,869, while Honda's biggest month was December 2012 with 58,996 spots.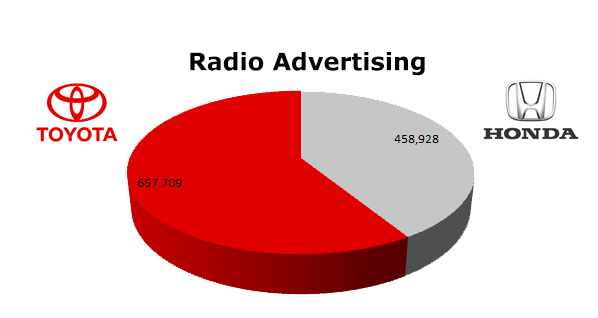 On the Radio, Toyota ran 657,709 spots in the last 12 months against Honda's 458,928 ads. Toyota ran the most in December 2012 with 67,485 spots, while Honda ran hottest in the same month with 70,581 spots.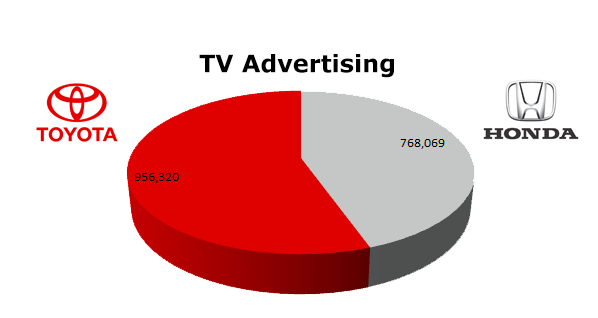 On Broadcast TV, Toyota had the edge with 956,320 spots and Honda ran 768,069 in the last 12 months. Honda's hottest month was December 2012 with 98,355 spots and Toyota ran the most spots in May 2012 with 92,660 ads. Posted: April 1, 2013 <! ----End Here -->
Media Monitors
445 Hamilton Avenue, 7th Floor
White Plains, NY 10601 USA
1-800-67-MEDIA

For The Current Spots: