Weekly Spots
POSTED: March 25, 2013

MEDIA MONITORS RESEARCH SPOT TEN RESULTS
Click an icon to download Adobe Reader

or PDF Plugin for Firefox

Mac & non IE or FF Browsers Click Here To Download Spot Charts

New York, New York
NYC and TRADE ASSOCIATIONS
By: Dwight Douglas, VP Marketing
Media Monitors - New York
(White Plains, NY) March 25, 2013
– According to Arbitron, New York, NY is the largest radio market in the United States with a population of 15,867,400.
CITY FACTS
The City of New York, commonly called New York City, or NYC, has been the most populous city in the United States since 1790.
The city is made up of five boroughs: The Bronx, which is located in Bronx County; Brooklyn is Kings County, Manhattan is New York County; Queens is Queens County and the borough of Staten Island is Richmond County.
A leading global city, New York exerts a powerful influence over worldwide commerce, finance, culture, fashion and entertainment. As the host of United Nations headquarters, New York is also an important center for international affairs. This month in New York City they had their annual St. Patrick's Day parade down Fifth Avenue and there's nothing quite like the spectacle that is the Ringling Brothers Circus Walk to Madison Square Garden.
New York is one of only five metro areas to have two teams in every major sport. The city's two current Major League Baseball teams are the New York Yankees and the New York Mets, who compete against each other six times a year. The city is represented in the National Football League by the New York Jets and New York Giants. The New York Rangers are in the National Hockey League with the New Jersey Devils and New York Islanders playing nearby, making the New York area the richest hockey market in the world. The city's two NBA team is the New York Knicks and the Brooklyn Nets, while the city's Women's National Basketball Association team is the New York Liberty.
Universities include: City University of New York, which is the nation's third-largest public university system, the Fashion Institute of Technology, part of the State University of New York and famous private universities: Barnard College, Columbia University, Fordham University, New York University, The New School, and Yeshiva University. The city has dozens of other smaller private colleges and universities, including St. John's University, The Juilliard School and The School of Visual Arts.
Just a few of the many famous faces of New York: Aaliyah - R&B singer, dancer, fashion model and actress; Christina Aguilera – singer; Lauren Bacall – actress; Pat Benatar – singer; Matthew Broderick – actor, Anderson Cooper - CNN anchorman; P. Diddy - rap artist and fashion mogul; Lou Gehrig - baseball player; Rudolph Giuliani – former mayor of New York; Whoopi Goldberg - comedian and actress; Washington Irving – author; Billy Joel – singer; Jay-Z - rap artist; Alicia Keys - R&B singer; Calvin Klein - fashion designer; Ralph Lauren - fashion designer; Colin Powell – retired US Army General and Secretary of State; Martin Scorsese - filmmaker; Billy Crystal actor and from Brooklyn, Woody Allen - writer, actor and director.
NEW YORK SPOT TEN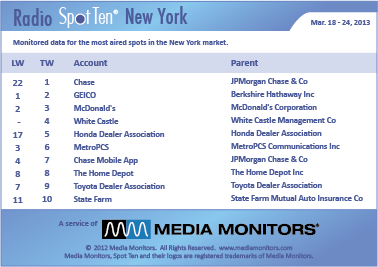 In the biggest city in America the #1 radio advertiser last week was CHASE bank with 911 spots. GEICO was #2, down from #1, with 872 commercials, while MCDONALD'S landed in #3 airing 810 commercials. WHITE CASTLE opened at #4 with 801 spots and the HONDA DEALER ASSOCIATION leaped from #17 to #5 with 740 ads. METROPCS connected at #6 with 710 spots, while the CHASE MOBILE APP took #7 with 656 spots. THE HOME DEPOT was solid at #8 with 652 spots and the TOYOTA DEALER ASSOCIATION parked at #9 with 631 spots. Coming in #10 in the Big Apple was STATE FARM with 503 spots.
TRADE ASSOCIATIONS SPOT TEN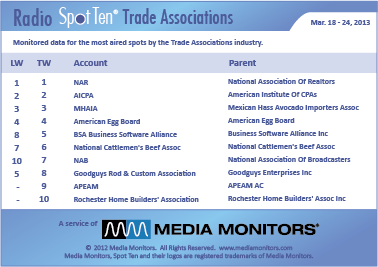 NATIONAL STATISTICS
- In this unique category the leader of the pack was the NAR (National Association of Realtors) with 7,436 spots. Coming in #2 was the AICPA (American Institute of CPAs) with 2,957 spots and the MHAIA (Mexican Hass Avocado Importers Association) was #3 with 1,188 spots. The AMERICAN EGG BOARD cracked into the Spot Ten at #4 with 1,056 spots, while the BSA - BUSINESS SOFTWARE ALLIANCE installed themselves at #5 with 553 spots. Corralled at #6, the NATIONAL CATTLEMEN'S BEEF ASSOCIATION with 549 commercials and the NAB (National Association of Broadcasters) moved from #10 to #7 with 399 spots. GOODGUYS ROD & CUSTOM ASSOCIATION parked at #8 with 379 commercials, while APEAM (Association to promote produce from Mexico) planted at #9 with 375 ads. The ROCHESTER HOME BUILDERS' ASSOCIATION rested at #10 with 279 spots.
NATIONAL SPOT TEN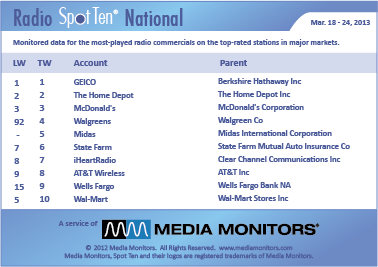 NATIONAL STATISTICS
- On the national level, GEICO remains at #1 with 43,006 spots. THE HOME DEPOT stays at #2 airing 38,209 ads and MCDONALD'S commands #3 for another week with 26,112 spots. WALGREENS made an amazing leap from #92 to #4 on the radio last week with 25,749 spots. Coming in #5 was MIDAS with 25,662 spots.
Posted: March 25, 2013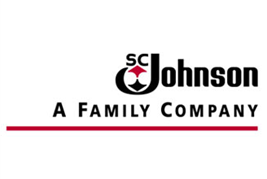 SPOT TRENDS
Last Twelve Months
SC Johnson & Son
has been around a long time. SC Johnson has grown from a small parquet flooring company in Racine, Wisconsin, to a thriving global enterprise with products in over 110 countries. For many years it was called Johnson Wax because they developed and primarily sold a paste wax floor care product. In 1914, SC Johnson established its first international company in Britain. In 1917, SC Johnson became one of the first companies in the United States to offer profit sharing for all employees. In 1934, despite the Great Depression, SC Johnson established a pension plan for employees. In the middle 1950s, SC Johnson launched: Raid®, Glade®, OFF!® and Pledge® brands, which went on to become trusted, household names. In 1968, SC Johnson opened what would become the world's largest private, urban entomology research center to combat bugs and the diseases they carry. By 1975, three years before the U.S. mandate, SC Johnson voluntarily and unilaterally eliminated chlorofluorocarbons (CFCs) from their aerosol products. In 1979, the company formalized its commitment to donate 5% of pre-tax profits to charitable causes. In 1992, SC Johnson acquired The Drackett Company, bringing Windex®, Vanish® and Drano® into their product lineup. And then in 1998, SC Johnson acquired the DowBrands business, adding Ziploc®, Saran™, Scrubbing Bubbles® and fantastik® to their counter of brands. In 1999, the commercial cleaning products and systems division separated from Johnson Wax and became a stand-alone company called Johnson Wax Professional. In 2002, it acquired DiverseyLever to become JohnsonDiversey Inc., and in 2009, the professional cleaning division became Diversey, Inc. The current Chairman and CEO, Dr. Herbert Fisk Johnson III, is the fifth generation of the Johnson family to lead the company. He succeeds his father, Samuel Curtis Johnson, Jr., who died in May 2004. The company has operations in more than 70 countries and SC Johnson products are sold in virtually every country. According to their web site the 127-year-old company generated $9 billion in sales, employs nearly 13,000 people globally and sells products in virtually every country around the world. Despite its large size, the company remains privately owned by the Johnson family, thus the logo SC Johnson – A Family Company.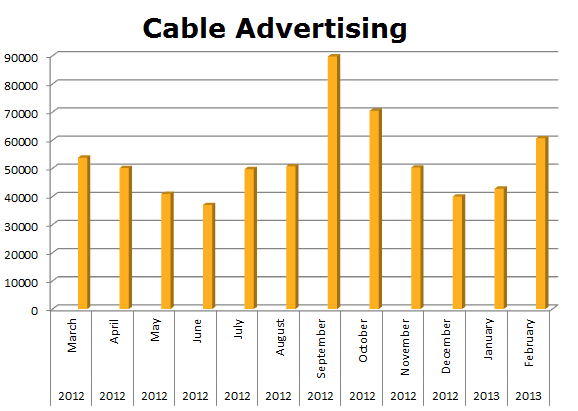 About 68.75% of all SC Johnson's spots ran on Local Cable. In the last 12 months they ran 636,154 spots. Their biggest month was September with 89,765 ads.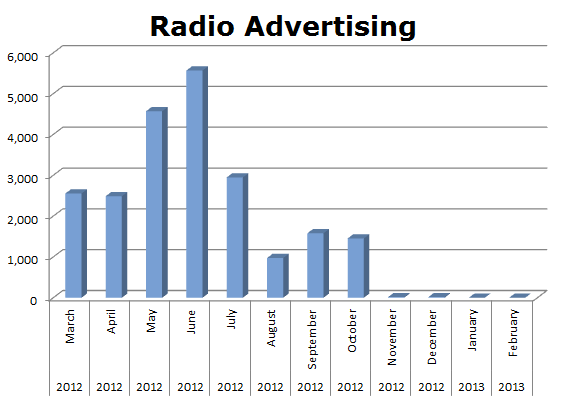 On Radio SC Johnson ran a total of 22,170 spots in the last 12 months with very few since November of 2012. Their biggest month was June when they cleared 5,567 spots.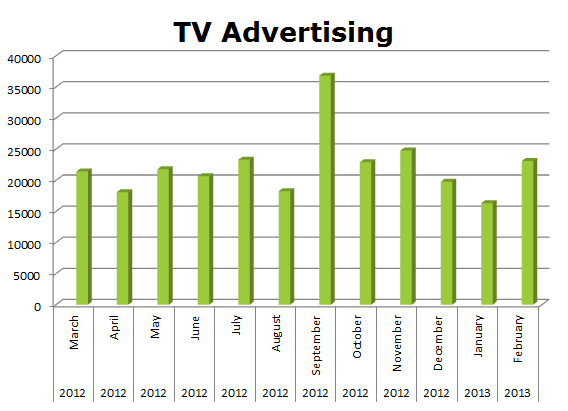 On Broadcast TV SC Johnson ran 267,013 spots in the last 12 months with their hottest month being September 2012 when they ran 36,815 ads.
POSTED: March 25, 2013
<! ----End Here -->

Staples vs. Office Depot
Staples Inc.
(NASDAQ: SPLS) is an office supply store, with over 2,000 stores worldwide in 27 countries. The idea for Staples was created in 1985, while founder Thomas G. Stemberg was working on a proposal for a different business. He needed a ribbon for his printer, but was unable to obtain one because his local dealer was closed for the Independence Day holiday. Frustrated by the reliance on small stores for critical supplies, Stemberg came up with a concept of combining the dynamic of a grocery store with the vision for an office supply superstore. Bain Capital under the leadership of its CEO Mitt Romney agreed to invest about $1 million into the new venture. Bain employees actually helped stock Staples' first store in Brighton, Mass., in 1986. Based in Framingham, Massachusetts, Staples has catalog and delivery businesses and serves customers around the world with names like: Officenet Staples, Bureau En Gros, Staples Advantage Mondoffice and Staples Office Centre. On September 4, 1996, Staples and Office Depot announced plans to merge. The Federal Trade Commission decided that the superpower would unfairly increase office supply prices despite competition from OfficeMax. Staples argued that chains such as Wal-Mart and Circuit City represented significant competition, but this argument did not work as the FTC denied the merger. According to Staples 2012 Form 10-K, they produced revenues of $24.38 billion with a net loss of $-160.73 million. They have 88,000 employees worldwide.
Office Depot
(NYSE: ODP) was founded by three partners: Stephen Dougherty, Pat Sher, and Jack Kopkin in 1986. Their vision was a warehouse-style store for office products where customers could purchase items in bulk for discounted prices. This concept lead the opening of the first Office Depot and the company opened its first store in Lauderdale Lakes, Florida in 1986. In late 1987, David I. Fuente assumed the post of Chairman and Chief Executive Officer of the fledging company, and took Office Depot public in 1988. Office Depot quickly expanded into key U.S. markets. By the end of 1990 Office Depot had 173 stores in 27 states. That same year, Office Depot announced its merger with The Office Club, Inc., becoming the largest office products retailer in North America. Early in 1992 the company acquired H.Q. Office International, Inc., which included the Great Canadian Office Supplies Warehouse chain in western Canada. Growing steadily, the Office Depot also opened new retail stores in Israel and Colombia under international licensing agreements. In 1998, Office Depot merged with Viking Office Products, a public company and the world's leading direct mail marketer of office products. The addition of Viking to the Office Depot organization not only vastly expanded Office Depot's international presence, but also made the company the leading provider of office products and services in the world. In early 2005 Office Depot launched a strategic marketing campaign which consisted of new advertising, brand positioning and the reintroduction of the company's famous 'Taking Care of Business' tagline. Office Depot next announced its multi-year agreement with NASCAR to become the sport's first-ever Official Office Products Partner. In an effort to survive against Staples, Office Depot announced in February 2013 that they plan to merge with Office Max. Full-year 2012 sales for Office Depot were down 7% from the previous year, while OfficeMax reported full-year sales down 2.8% compared with 2011. According to their latest annual report, Office Depot created revenues of $10.7 billion with a net loss of $-77.11 million. They have 38,000 employees.
MEDIA USAGE

Last 12 Months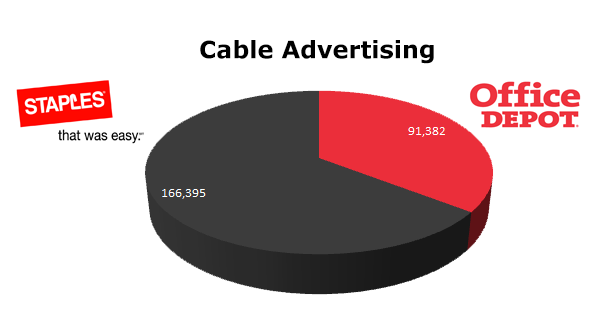 On Local Cable, Staples ran 166,395 spots in the last 12 months, as compared to Office Depot's flight of 91,382 spots in the same period. Staples biggest month was August 2012 when they ran 35,607 spots, while Office Depot was hottest in January 2013 when they cleared 44,954 ads.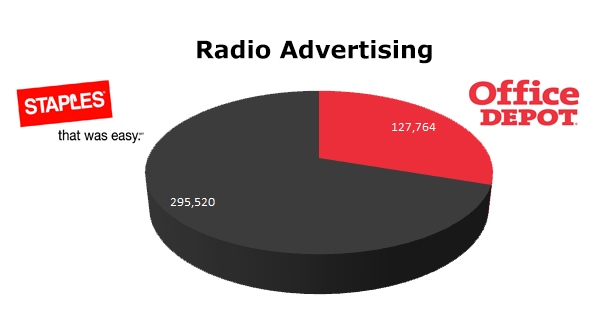 On the Radio, Staples was well out in front with 295,520 spots in the last 12 months, while Office Depot ran 127,764 spots. Staples ran the most spots in December 2012 with 53,074 spots and Office Depot cleared the most in August 2012 with 55,911 ads.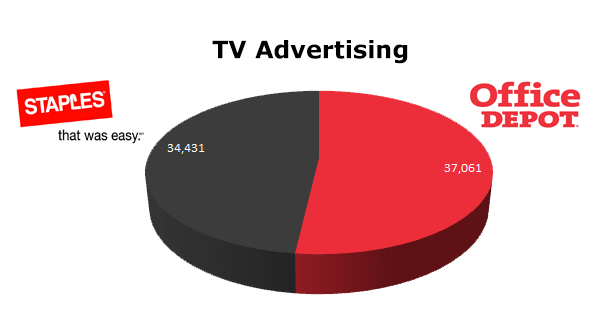 On Broadcast TV, both office supplies retailers used TV less than their other media. Staples ran 34,431 spots in the last 12 months, while Office Depot ran 37,061 spots in the same period. Office Depot ran no spots October to the end of 2012 and Staples was almost a non-advertiser in December and June 2012. Staples hottest month on TV was February 2013 with 4,502 spots and Office Depot's biggest month was August 2012 with 10,905 ads. Posted: March 25, 2013 <! ----End Here -->
Media Monitors
445 Hamilton Avenue, 7th Floor
White Plains, NY 10601 USA
1-800-67-MEDIA

For The Current Spots: