Weekly Spots
POSTED: March 18, 2013

MEDIA MONITORS RESEARCH SPOT TEN RESULTS
Click an icon to download Adobe Reader

or PDF Plugin for Firefox

Mac & non IE or FF Browsers Click Here To Download Spot Charts

CAPITAL OF THE SOUTH
Richmond and Restaurants
By: Dwight Douglas, VP Marketing
Media Monitors - New York
(White Plains, NY)
March 18, 2013 – According to Arbitron, Richmond, VA is the 55th largest radio market with a population of 988,500.
CITY FACTS
Richmond is where Civil War leaders Stonewall Jackson, Robert E. Lee and J. E. B. Stuart, "heroes" of the Confederacy called home.
After the Revolutionary War, Richmond emerged an important industrial center. It also became a crossroads of transportation and commerce, much of this tied to its role as a major hub in the transatlantic slave trade.
In 1929, Philip Morris, a British company, opened its first factory in Richmond. Textiles and tobacco propelled Richmond into the 20th Century.
The Diamond, a 12,134 seat ballpark on Boulevard, is home to the Richmond Flying Squirrels of the Class AA Eastern League (an affiliate of the San Francisco Giants).
For higher learning, Richmond area has many major institutions of higher education, including Virginia Commonwealth University (public), University of Richmond (private), Virginia Union University (private), Union Theological Seminary & Presbyterian School of Christian Education (private), and the Baptist Theological Seminary in Richmond (private).
Famous people from Richmond include: dancer, Bill "Bojangles" Robinson; tennis great, Arthur Ashe; former NFL star Tiki Barber; and actors: George C. Scott, Warren Beatty and Sandra Bullock. From Jazz, Richmond produced Charlie Byrd. TV star Katie Couric is from Richmond along with basketball great Alonzo Mourning. And writer Tom Wolfe also hailed from Richmond.
RICHMOND SPOT TEN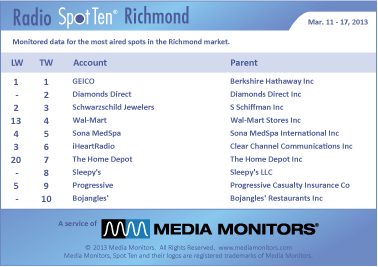 In the "Capital of the South" the #1 radio advertiser was GEICO airing 800 spots last week. DIAMONDS DIRECT was #2 with 563 spots, while SCHWARZSCHILD JEWELERS sparkled at #3 with 519 spots. WAL-MART leaped from #13 to #4 with 460 spots and SONA MEDSPA massaged their way into #5 with 401 ads. IHEARTRADIO was #6 with 289 commercials, while THE HOME DEPOT lumbered forward from #20 to #7 with 388 spots. SLEEPY'S woke-up in #8 with 353 spots and PROGRESSIVE took #9 with 351 spots. Coming in #10 was BOJANGLES' with 337 spots.
RESTAURANTS & NIGHTCLUBS SPOT TEN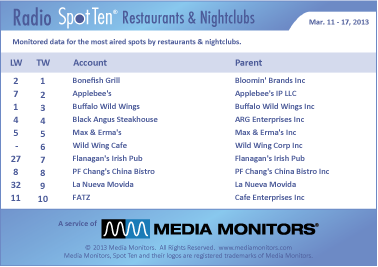 NATIONAL STATISTICS
- Today, we feature Restaurants and Nightclubs on the radio from last week. #1 advertiser was BONEFISH GRILL with 5,124 spots. APPLEBEE'S locked into #2 with 2,283 ads, while BUFFALO WILD WINGS dropped from #1 to #3 with 1,293 ads. BLACK ANGUS STEAKHOUSE was solid at #4 with 828 commercials and MAX & ERMA'S stayed at #5 with 742 spots. WILD WING CAFÉ landed at #6 with 682 spots. FLANAGAN'S IRSH PUB promoted St. Patrick's Day with 662 spots, which put them in lucky #7. PF CHANG'S CHINA BISTRO remained at #8 airing 625 spots and LA NUEVA MOVIDA soared from #32 to #9 with 591 spots. FATZ was #10 with 562 spots.
NATIONAL SPOT TEN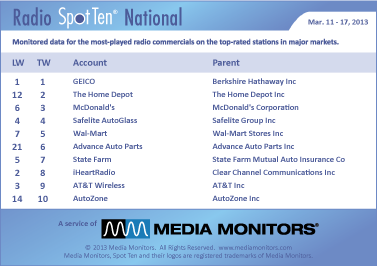 NATIONAL STATISTICS
- On the national level, GEICO stayed at #1 with 45,175 spots. THE HOME DEPOT came back from #12 to #2 with 35,699 spots. MCDONALD'S moved from #6 up to #3 with 29,333 ads, while SAFELITE AUTOGLASS was solid at #4 with 25,225 spots. WAL-MART is back in the top five with 24,965 spots.
Posted: March 18, 2013


SPOT TRENDS
Last Twelve Months
The Fox Broadcasting Company
, commonly referred to as Fox is a TV network owned by Fox Entertainment Group, part of Rupert Murdoch's News Corporation. The TV network is the youngest of all major networks and was launched on October 9, 1986. Fox has grown from an upstart part-time network to the highest-rated broadcast network in the coveted 18–49 demographic. The springboard for the network began in March 1985 when the News Corporation spent $250-million to bag 50 percent of TCF Holdings, the parent company of the 20th Century Fox movie studio. Then in May 1985, the News Corporation agreed to pay $1.55 billion to acquire independent television stations in six major U.S. cities from John Kluge's company, Metromedia. This gave the News Corporation a major-market network base. They continued their quest by buying up several smaller market TV groups, which helped them grow their network affiliate list faster. The speed in which Fox TV grew certainly surprised the other networks that have been around since the beginning of TV in America. Fox TV programming in the late 80s and early 90s wasn't that hot, but they did have a few shows that cut through like The X-Files, In Living Color, Ally McBeal, That 70s Show and Married with Children. They also made TV history by launching a whole night of animation TV shows including The Simpsons, King of the Hill and Family Guy based on the success of The Simpsons, now one of the longest running prime time shows with 22 seasons under Homer's tight belt. Fox TV lured part of the NFL away from CBS and developed a strong group of regional sports channels on cable. Fox Sports produces some 20,000 plus sporting events per year. Fox News, legendary for their political slant, uses the slogan "Fair and Balanced" although most critics would call them far right. The news channel has a solid ratings story for cable advertisers. The biggest show running on Fox TV currently is American Idol. Fox had a successful run with the show 24 (a CIA influenced drama) and last year finished up the medical drama House that NBC Universal created but passed on. House ran on Fox TV for eight years. Glee, the show with a Broadway musical-type of format, is in its 4th season. They came up with a clever marketing brand with My Network TV, where the logo affiliates get a complete logo package based on My(channel number) TV. There are currently 27 owned and operated stations Fox TV stations; 17 use the Fox branding and 10 work the MyNetworkTV positioning slogan. Currently there are 200 My(Channel Number)TV affiliates nationwide, however any station in the network can choose to use the branding or not. Unlike the Big Three, Fox does not air national morning or evening news programs. However, Fox News Channel, launched in 1996 is now available through virtually all cable and satellite providers in the United States and has a mix of news and opinion shows. According to the latest annual report, the News Corporation created revenues of $33.71 billion with a net income of $1.18 billion, which represented a .9% growth in sales for 2012. They have 48,000 employees.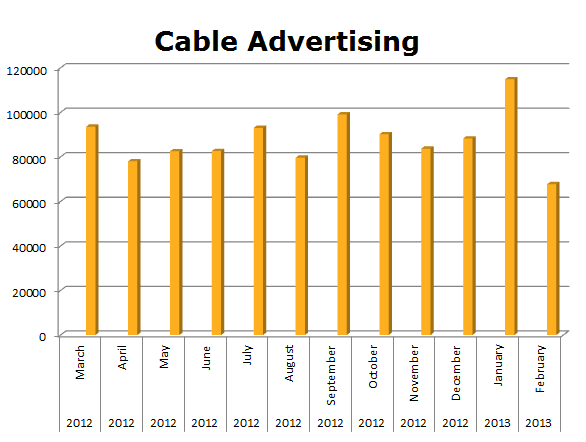 On Local Cable, Fox Broadcasting ran 1,053,073 spots in the last 12 months. Their biggest month was January 2013 when they cleared114,845 spots. 45.67% of all their spots ran on Cable.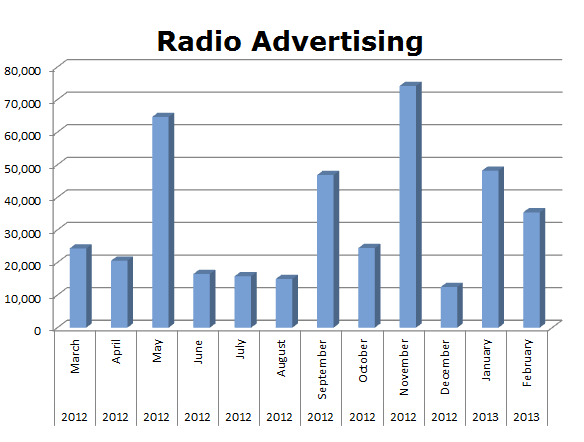 On the Radio, Fox TV ran 398,314 spots in the last 12 months. They ran hottest last November 2012 with 74,184 spots. Their other big month was May with 64,683; both to promote sweep months.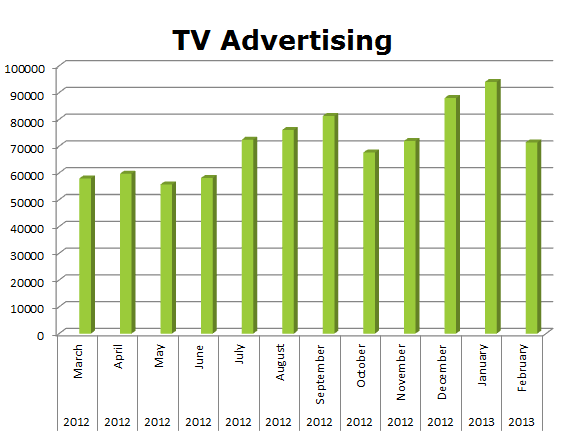 Fox Broadcasting TV ran 854,263 spots in the last 12 months on Broadcast TV with their biggest month being January 2013 when they cleared 94,009 spots.
POSTED: March 18, 2013
<! ----End Here -->

Universal vs. Columbia Pictures
Universal Studios
(sometimes called
Universal Pictures
or
Universal City Studios
), is a subsidiary of NBCUniversal (a Comcast company) and one of the six major movie studios based in America. Its production studios are located in Universal City, California. Distribution and other corporate offices are based in New York City. Universal Pictures is the second longest-lived Hollywood studio. By the late 1950s, the motion picture business was in trouble. After a period of complete shutdown, a moribund Universal agreed to sell its studio lot to MCA in 1958, for $11 million, renamed Revue Studios. Although MCA owned the studio lot, but not Universal Pictures, it was increasingly influential on Universal's product. The studio lot was subsequently upgraded and modernized, while MCA clients like Doris Day, Lana Turner, Cary Grant, and director Alfred Hitchcock were signed to Universal Pictures contracts. Though Universal's film unit did produce occasional hits, among them Airport, The Sting, American Graffiti, Earthquake, and a blockbuster that restored the company's fortunes, Jaws, Universal in the 1970s was primarily a television studio as weekly series production was the workhorse of the company. There would be other film hits like E.T. the Extra-Terrestrial, *batteries not included, Back to the Future, Jurassic Park, and The Blues Brothers, but the film business was still hit-and-miss for them. In the early 1970s, Universal teamed up with Paramount Pictures to form Cinema International Corporation, which distributed films by Paramount and Universal worldwide. It was replaced by United International Pictures in 1981, when Metro-Goldwyn-Mayer joined the fold. UIP began distributing films by start-up studio DreamWorks in 1997, and MGM subsequently dropped out of the venture in 2001, letting 20th Century Fox internationally distribute its films. In 1990, MCA created MCA/Universal Home Video Inc. to enter the lucrative videotape and later DVD sales Industry. According to the 2011 Annual Report, the parent company of NBCUniversal, Comcast Corporation made revenues of $55.84 billion with a net income of $4.16 billion. They have 126,000 employees.
Columbia Pictures
was founded in 1920 as the CBC Sales Film Corporation by Harry Cohn, Joe Brandt and Jack Cohn. Despite the obvious connection to the founders' surnames, some film industry insiders joked the initials CBC stood for "Corned Beef and Cabbage" because of the fact that Columbia started out as one of the so-called "Poverty Row" studios of Hollywood's Gower Street. The studio was known for making low-budget westerns, B-movies and serials. Gradually, however, Columbia built up its reputation with a number of high-profile films. In 1924 in an effort to strengthen its brand, the studio re-named itself Columbia Pictures, which was considered to be a more upscale brand. The Three Stooges also made Columbia their home in a series of 180 short subjects made during a period from the 1930s through the 1950s. In 1934, the Screen Gems division was initiated for a series of moderately successful cartoons to rival perennial favorites Mickey Mouse and Bugs Bunny. In the 1970s, the studio was brought up from near financial ruin by a number of hit films and TV shows but was still marred by the David Begelman check-forging scandal. In fact, it was Steven Spielberg's 1977 Close Encounters Of The Third Kind that saved Columbia from bankruptcy. Columbia Pictures was bought by Coca-Cola in 1982. Columbia's fortunes were mixed in the 1980s, as hits like Tootsie, The Karate Kid, and Ghostbusters were balanced by costly flops like Ishtar and Leonard Part 6. Five years later, under pressure from shareholders to focus on its core product, Coca-Cola abandoned the volatility of the film business and sold its entertainment holdings to Sony in 1989. As of 2004, the Columbia Pictures brand is part of Sony Pictures Entertainment. According to the latest public records, Columbia Pictures parent company SONY produced revenues of $69.53 billion with losses of $-4.88 billion. They have 162,700 employees at SONY.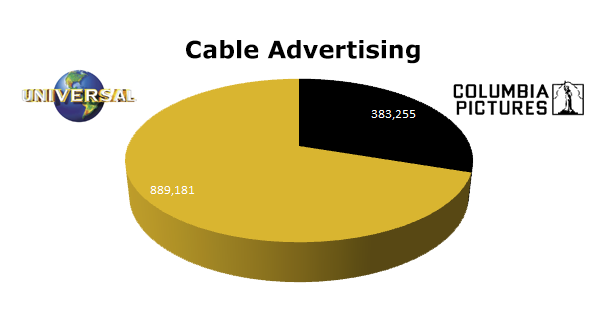 On Local Cable, Universal is way out in front of Columbia. Universal ran 889,181 spots in the last 12 months against Columbia's 383,255 ads. Universal's biggest month was May with 131,549 spots, while Columbia ran the most in July at 51,464 spots.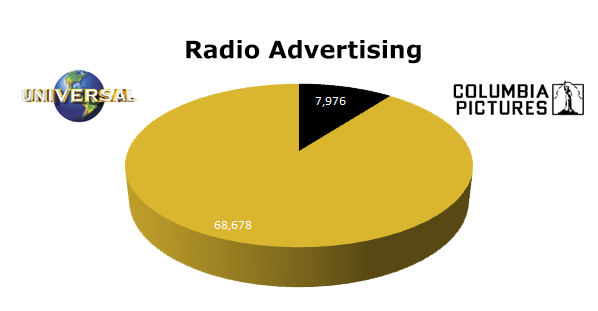 On the Radio, Universal once again tattoos Columbia. Universal cleared 68,678 spots, while Columbia cleared only 7,976 for the last 12 months. Universal's strongest month on radio was May with 11,386 spots and Columbia ran the most in March 2012 with 1,907 and the least in December with only 42 spots nationwide.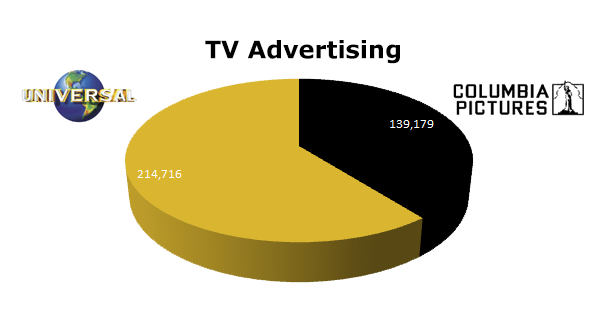 On Broadcast TV, Universal ran 214,716 spots, while Columbia aired 139,179 commercials. Universal ran the most in the month of May with 26,728 ads, while Columbia ran the most in July with 20,365 spots. Posted: March 18, 2013 <! ----End Here -->
Media Monitors
445 Hamilton Avenue, 7th Floor
White Plains, NY 10601 USA
1-800-67-MEDIA

For The Current Spots: