Weekly Spots
POSTED: March 11, 2013

MEDIA MONITORS RESEARCH SPOT TEN RESULTS
Click an icon to download Adobe Reader

or PDF Plugin for Firefox

Mac & non IE or FF Browsers Click Here To Download Spot Charts

Orioles, Ravens, Crabs and Lawyers
Baltimore, MD and Legal Services
By: Dwight Douglas, VP Marketing
Media Monitors - New York
(White Plains, NY) March 11, 2013
– According to Arbitron, Baltimore, MD is the 21st largest radio market with a population 2,341,300.
CITY FACTS
Founded in 1729, Baltimore has always been a major seaport for America and was once the second leading port of entry for immigrants to the United States.
On December 20, 1776 the Second Continental Congress moved to Baltimore from Philadelphia because of the threat of British troops making their way through New Jersey.
In 1782, Lexington Market opened and in 2002 it was renovated and serves the community to this day.
On September 7, 1797, the U.S. Navy ship, the U.S.S Constellation was put into service and can be seen at Harbor Place today.
The Baltimore Sun, a major newspaper for the Baltimore area today was first founded on May 17, 1837.
Baltimore has a long and storied sporting history encompassing many teams from many different eras. The Baltimore Orioles have represented Major League Baseball locally since 1954, but before that, they were the St. Louis Browns. The Cleveland Browns moved to Baltimore in 1996 and changed their name to the Ravens. They won the Super Bowl in 2001 and in 2013.
Baltimore is the home of numerous places of higher learning, both public and private: Notre Dame of Maryland University, The Johns Hopkins University, Loyola University Maryland, Morgan State University, University of Baltimore and the University of Maryland, Baltimore.
Some famous faces born in Baltimore include, John Astin, actor; DMX, rapper; David Hasselhoff, actor; John Waters, film maker; Anna Faris, actress; Spiro Agnew, former VP; and two of the greatest baseball players, Cal "Iron Man" Ripken, Jr. and Herman "Babe" Ruth; both are in the Hall of Fame in Cooperstown, NY. singer Freddie Fender; movie director Catherine Hardwicke (Twilight); singer/song writer Kris Kristofferson; NFL coach Tom Landry; actor Rachel McLish; and actor Nick Stahl.
BALTIMORE SPOT TEN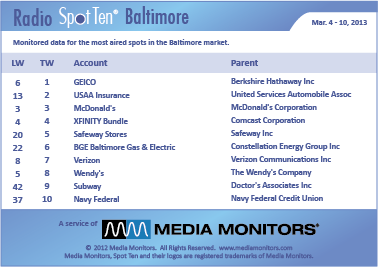 In Baltimore last week the #1 radio advertiser was GEICO airing 835 spots. USAA INSURANCE soared from #13 to #2 with 557 ads, while MCDONALD'S stayed at #3 with 468 commercials. XFINITY BUNDLE was solid at #4 with 410 spots and SAFEWAY STORES zipped from #20 to #5 with 401 spots. BGE BALTIMORE GAS & ELECTRIC juiced from #22 to #6 with 389 spots, while VERIZON landed at #7 airing 385 ads. WENDY'S was #8 running 381 spots and SUBWAY poured it on from #42 to #9 with 366 spots. NAVY FEDERAL docked at #10 with 323 spots.
LEGAL SERVICES SPOT TEN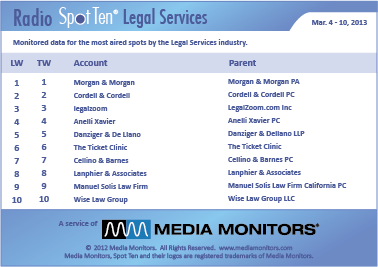 NATIONAL STATISTICS
- In the world of law suits and legal matters, more and more law firms are taking to the airwaves to find clients. Last week in the country the #1 legal advertiser on radio was MORGAN & MORGAN with 4,977 spots. CORDELL & CORDELL was #2 again with 1,895 ads, while LEGALZOOM (The web site) is solid at #3 running 1,690 spots. ANELI XAVIER was #4 with 1,055 spots and DANZIGER & DE LLANO landed at #5 with 986 spots. THE TICKET CLINIC captured #6 with 865 spots, while CELLINO & BARNES stayed at #7 with 817 spots. LANPHIER & ASSOCIATES ran 678 spots making them #8 and MANUEL SOLIS LAW FRIM took #9 with 628 spots. The WISE LAW grabbed #10 with 496 spots.
NATIONAL SPOT TEN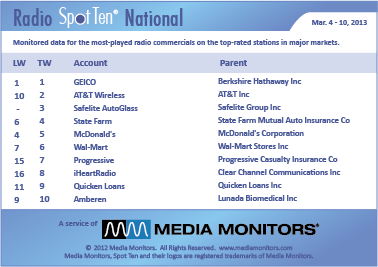 NATIONAL STATISTICS
- GEICO stayed on top with 48,918 spots. AT&T WIRELESS moved from #10 to #2 last week airing 29,054 spots. SAFELITE AUTOGLASS was back in the top five landing at #3 running 27,015 ads. STATE FARM found #4 with 26,802 spots and MCDONALD'S was #5 with 25,213 spots.
Posted: March 11, 2013


SPOT TRENDS
Last Twelve Months
Knowing that the frustrations she and her friends had finding good contractors were not unique, Angie Hicks in 1995 literally went door-to-door in Columbus, OH and recruited members and collected reports from friends and neighbors to help solve this problem. After the first year, armed with more than 1,000 members throughout Columbus, Angie had laid the foundation for what would become one of the fastest growing companies in the U.S. Angie Hicks holds an MBA from Harvard Business School and a bachelor's degree in economics from DePauw University, in Greencastle, IN. A working mother herself, Angie has ensured Angie's List continues to evolve to meet the ever-changing, dynamic needs of today's families and homeowners. Angie's List claims to publish only reliable and useful information to help its members find good contractors or service companies for everything from a major home renovation to emergency car repair to a clown for a kid's birthday party. Their web site claims more than 1.5 million households nationwide check Angie's List reviews and they collect ratings and reviews on more than 550 different services. Angie's List is listed on the NASDAQ under the symbol: ANGI. According to the 2012 annual report, Angie produced revenues of $155.8 million with a loss of -$52.89 million in 2011, but they claim a growth in sales of 73% last year. Total paid memberships were 1,787,394 as of December 31, 2012, up 66% over last year. They have 1,000 employees.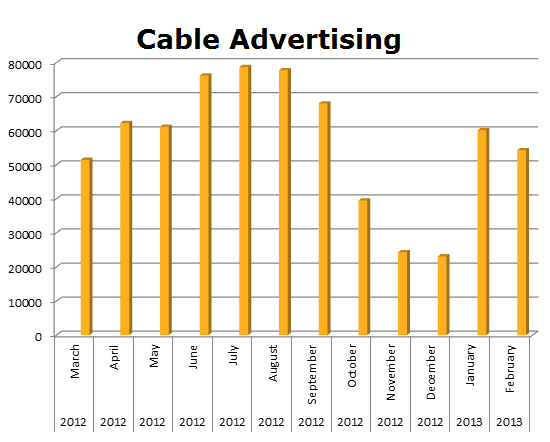 On Local Cable, Angie's List ran 676,981 spots in the last 12 months, which represented 87.96% of all the spots they ran on three media. Their hottest month was July when they ran 78,678 ads.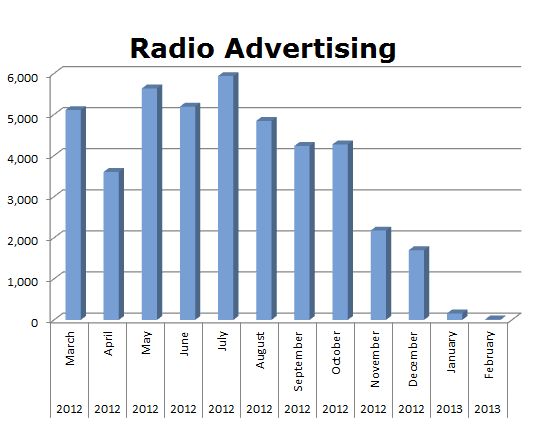 On the Radio, Angie's List cleared 49,831 spots in the last 12 months but has had a slow start this year so far. Their hottest month was July 2012 when they ran 5,936 spots.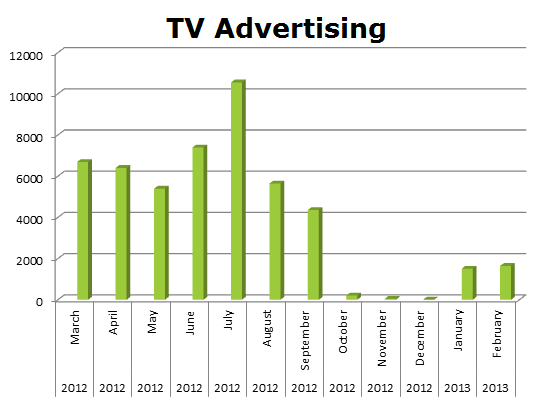 On Broadcast TV Angie's List ran 49,831 ads in the last 12 months with the peak month being July when they ran 10,549 spots.
POSTED: March 11, 2013
<! ----End Here -->

Allstate vs. State Farm
The Allstate Corporation
(NYSE: ALL) is the largest publically held personal lines insurer and the second largest overall insurer the United States. The company was founded in 1931 as a part of Sears, Roebuck & Co., went public in 1993, and became a completely independent company after Sears divested its shares in 1995. It is currently a Fortune 100 company with $133 billion in total assets. Allstate sponsors many sporting events including the Allstate Sugar Bowl, the Allstate 400 at the Brickyard NASCAR race, and the Olympics. The Allstate name is associated with reliability and financial strength and has turned its slogan "You're In Good Hands With Allstate" into one of the most widely recognized in business history. Since 2004, spokesperson Dennis Haysbert has modified the slogan asking, "That's Allstate's stand. Are you in good hands?" The company's most recent campaign features Dean Winters as the character of "Mayhem", who is seen causing various hazardous situations for drivers. Allstate also utilizes various forms of social media like YouTube, Facebook, and Twitter to bring more widespread attention to the company. Allstate Financial Services target the retiree market as well as the vast and often financially underserved segment of middle income consumers, who need loans. Their latest annual report shows they created revenues of $33.55 billion with a net income of $2.31 billion, which represented a 1.1% growth in sales for 2012. They have 36,000 employees.
State Farm
, headquartered in Bloomington, IL, insures more cars and homes than any other insurer in the United States since 1942 and is the leading insurer in Canada as well. It was founded in 1922 by retired farmer and insurance salesman George Jacob, "GL" Mecherle who cared about fairness and doing the right thing for the customer. State Farm Mutual Automobile Insurance Company is the parent of the State Farm family of companies. State Farm did not shy away from the media spotlight. Its famous jingle, "Like a Good Neighbor, State Farm is There", was written by American recording artist, Barry Manilow, in 1971 and has gone on to be covered most recently in 2011 by the band, Weezer. The company also lends its name to the State Farm Arena in Texas as well as sponsors the State Farm Classic, a stop on the Women's LPGA golf tour. Not unlike many other of its competitors, State Farm has received some public backlash for allegedly fighting the claims of its insured members. After 2005, Louisiana and Mississippi pursued criminal investigations of the company, finding that State Farm had wrongly denied claims stemming from Hurricane Katrina. Offering automobile, fire, health, and life insurance as well as bank and mutual funds, State Farm's latest annual report - 2011 - shows revenues of 35.6 billion with a net income of $1.088 billion. They have 66,000 employees.
MEDIA USAGE

Last 12 Months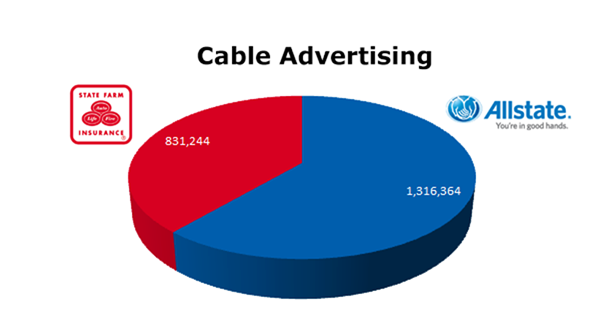 On Local Cable TV, Allstate ran 1,316,364 spots against State Farm's 831,244 ads. State Farm's biggest month was January 2013 when they cleared 146,781 ads, while Allstate ran the most in March of 2012 when they cleared 156,971 spots.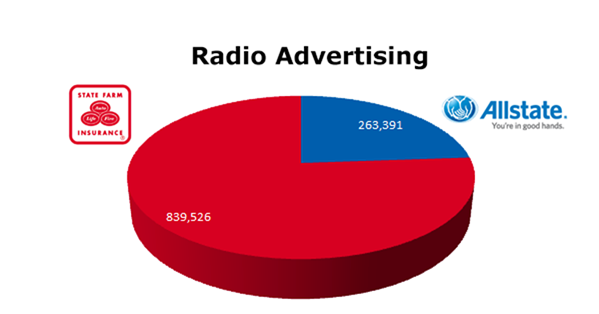 On the Radio, State Farm was way out in front with 839,526 spots, while All State ran 263,391 spots. The biggest month for State Farm was February 2013 with 83,193 and Allstate ran hottest in March 2012 with 46,903 ads.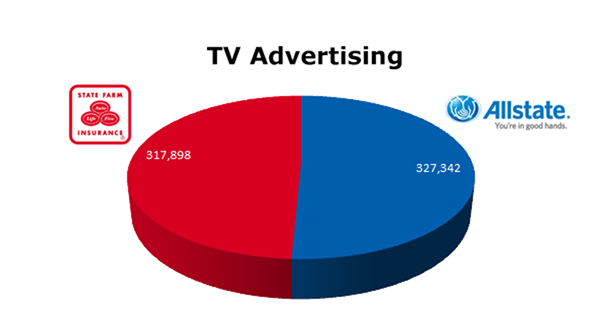 On Broadcast TV the race was very close. State Farm ran 317,898 spots in the last 12 months, while Allstate ran 327,342 ads. State Farm ran hottest in January 2013 with 35,545 spots and Allstate ran the most spots in January 2013 with 31,522 spots. Posted: March 11, 2013 <! ----End Here -->
Media Monitors
445 Hamilton Avenue, 7th Floor
White Plains, NY 10601 USA
1-800-67-MEDIA

For The Current Spots: