Weekly Spots
POSTED: March 4, 2013

MEDIA MONITORS RESEARCH SPOT TEN RESULTS
Click an icon to download Adobe Reader

or PDF Plugin for Firefox

Mac & non IE or FF Browsers Click Here To Download Spot Charts

St. Louis & Sports
By: Dwight Douglas, VP Marketing
Media Monitors - New York
(White Plains, NY) March 4, 2012
– According to Arbitron, St. Louis, MO is the 22nd largest radio market with a population of 2,308,100. It was the 21st market two years ago.
CITY FACTS
The city was named for King Louis IX of France. St Louis was acquired from France by the United States when President Thomas Jefferson signed the Louisiana Purchase in 1803.
Nikola Tesla made the first public demonstration of radio communication here in 1893. Two other events, the source of particular pride to St. Louisans, were the 1904 World's Fair and the 1904 Olympic Games (the first ever held in the United States
Eberhard Anheuser was only one of 50 breweries in St. Louis in 1870. Anheuser, a soap manufacturer, had taken over an insolvent brewing business in 1860 and turned it around. His son-in-law, Adolphus Busch spearheaded the company's global expansion and became St. Louis's merchant prince of beer, producing what they called "the king of beers."
The Ralston-Purina company (headed by the Danforth Family) is headquartered in the city. Some of their grain is used to make beer.
Professional sports in St. Louis include: NHL St. Louis Blues; MLB St. Louis Cardinals; and NFL St. Louis Rams.
Besides the Busch family, many famous people were born and raised in St. Louis, including, President U.S. Grant, and baseball players Yogi Berra, Stan Musial, Ozzie Smith and Lou Brock. From the literary world, T.S. Eliot and Mark Twain (Samuel Clemmons). From music, Chuck Berry, Ike and Tina Turner, Michael McDonald and Miles Davis were from St. Louis, while sports broadcasters Harry, Skip and Chip Caray, Jack and Joe Buck all started out in St. Louis. And although from Detroit, Charles Lindbergh worked and lived in St. Louis. The famous aviator named his plane "the Spirit of St. Louis" and in it, was the first person to fly across the Atlantic Ocean non-stop.
ST. LOUIS SPOT TEN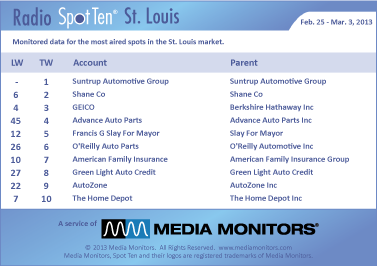 In the Gateway to the West last week, the #1 Radio advertiser was SUNTRUP AUTOMOTIVE GROUP with 1,037 spots. SHANE COMPANY shined at #2 with 629 ads, while GEICO geared up at #3 with 546 spots. ADVANCE AUTO PARTS powered up from #45 to #4 with 480 commercials and FRANCIS G SLAY FOR MAYOR made #5 with 478 spots. O'REILLY AUTO PARTS placed at #6 with 472 spots, while AMERICAN FAMILY INSURANCE landed at #7 airing 461 ads. GREEN LIGHT AUTO CREDIT captured #8, up from #27, with 401 spots and AUTOZONE zoomed from #22 to #9 with 388 spots. THE HOME DEPOT was #10 with 388 spots, as well.
SPORTING GOODS STORES SPOT TEN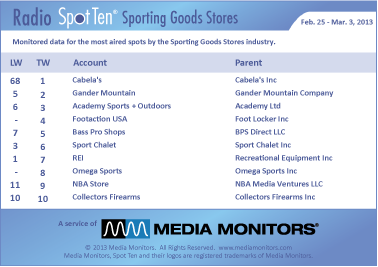 NATIONAL STATISTICS
- The #1 Sporting Goods retailer last week was CABELA'S with 1,461 spots. GANDER MOUNTAIN climbed to #2 with 1,353 spots, while ACADEMY SPORTS + OUTDOORS landed at #3 with 458 ads. FOOTACTION USA was #4 airing 423 spots and BASS PRO SHOPS hooked #5 with 313 spots. SPORT CHALET was #6 with 301 commercials, while REI was #7 with 258 spots. OMEGA SPORTS was #8 with 258 ads and NBA STORE secured #9 with 229 spots. COLLECTORS FIREARMS was #10 with 204 spots.
NATIONAL SPOT TEN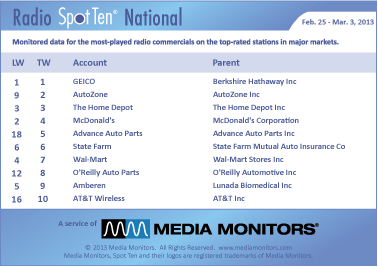 NATIONAL STATISTICS
- GEICO keeps on keeping on at #1 with 35,480 spots. AUTOZONE moves from #9 to #2 with 31,296 spots and THE HOME DEPOT was solid at #3 with 28,165 spots. MCDONALD'S was #4 with 27,384 ads and ADVANCE AUTO PARTS jumps into the Top Five with 25,272 spots.
Posted: March 4, 2013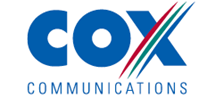 SPOT TRENDS
Last Twelve Months
Cox Communications
, a subsidiary of Cox Enterprises, Inc., was founded in 1898 by Ohio school teacher turned Governor, James M. Cox, and has gone on to become the third largest cable entertainment and broadband services provider in the country. James Cox served three terms as governor of Ohio and eventually ran in the 1920 U.S. presidential election as the Democratic nominee and was part of an historic radio broadcast. On November 2, 1920, station KDKA in Pittsburgh made the nation's first commercial broadcast of the results of the Harding-Cox presidential election. Harding won. Governor Cox laid the foundation for the Cox Enterprises media company by purchasing his first newspaper, The Dayton Evening News. In 1934, Cox entered the broadcasting arena and created Dayton's first radio station, WHIO. In 1948, Cox established the first television station in the southern United States, WSB-TV in Atlanta, as well as the first southern FM radio station, WSB-FM. In 1957, James Cox passed away and was succeeded as leader of his company by his son, James Cox Jr. By 1962, they were one of the first broadcasting companies to venture into cable television systems in Lewistown, Pennsylvania followed by additional ones in California, Oregon, and Washington. In 1982, Cox Broadcasting changed its name to Cox Communications, Inc. Three years later in 1985, Cox Communications merged with Cox Enterprises Inc. (newspapers) and it became the country's 13th largest media company. By the end of the decade the Cox Cable group had surpassed 1.5 million customers. By the early 1990s, Cox Enterprises consisted of four main operating companies: Cox Newspapers, Cox Cable Communications, Cox Broadcasting, and Manheim Auctions (the auto auctions business). The 90s were a decade of major growth for Cox Enterprises with the testing and development of cable-based personal communications services (PCS) in 1991, the acquisition of Rysher Entertainment in 1993, and the purchase of cable operations of the Times Mirror Company in 1995 making it the 5th largest cable company in the nation. In 1996, Cox Radio, Inc. became a publicly traded company generating $120 million. The same year Cox Interactive Media, Inc. was formed to produce and manage the company's interactive web products. By mid-1997, Cox Radio owned 49 stations, making it the ninth largest radio group in the country. It was also in 1997 that Cox Communications became the first cable provider to offer a three-product "bundle" of telephone, high-speed Internet and digital cable television over a single broadband network. By decade's end, Cox Enterprises, as a whole, brought in $6.1 billion. In 2004, Cox Enterprises bought back stock in Cox Communications which amounted to a $6.6 billion tender offer and for the second time Cox was taken private by Cox Enterprises. Today, Cox Enterprises is a leading communications, media and automotive services company. With revenues of nearly $15 billion and more than 50,000 employees, the company's major operating subsidiaries include Cox Communications, Inc. (cable television distribution, telephone, high-speed Internet access, wireless services, commercial telecommunications and advertising solutions); Manheim, Inc. (vehicle auctions, repair and certification services and web-based technology products); Cox Media Group, Inc. (television and radio stations, digital media, newspapers, advertising sales rep firms, Valpak and Cox Digital Solutions); and AutoTrader.com (online automotive advertising and Kelley Blue Book, vAuto, HomeNet Automotive and VinSolutions subsidiaries). Additionally, Cox operates Kudzu.com. Last month the company said in a statement, Cox Media Group announced its intent to sell radio stations in six markets as part of its broadcast portfolio realignment plan: "to focus on larger markets, cross-media collaboration, and heightened impact in fewer markets."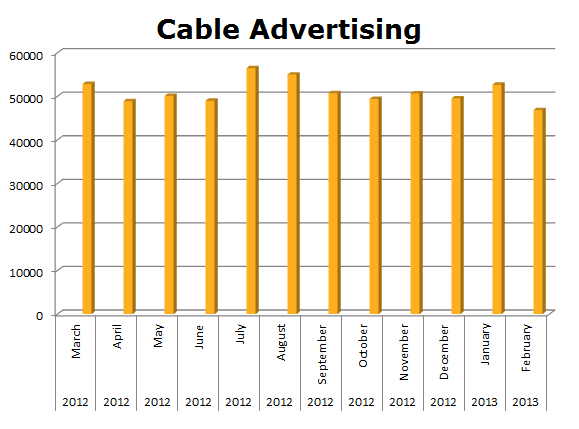 In Local Cable, Cox played 612,182 spots in the last 12 months. Their high mark in the year took place in July 2012 with 56,465 ads.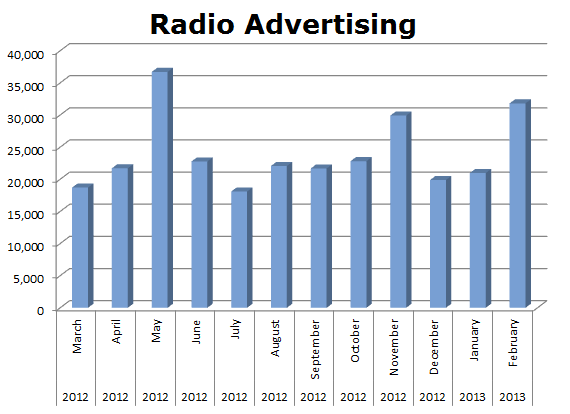 On the Radio, Cox Communication cleared 287,137 spots in the last 12 months. Their hottest month was May 2012 with 36,703 spots.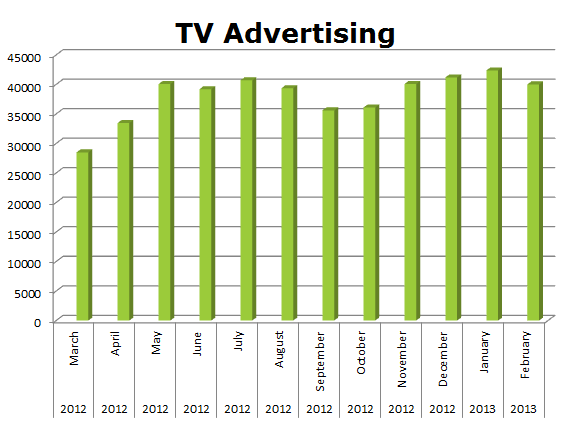 On Broadcast TV, Cox Communication ran 456,595 spots in the last 12 months. They were very consistent throughout the year with their high point coming in January 2013 with 42,377 spots aired.
POSTED: March 4, 2013
<! ----End Here -->

WELLS FARGO vs. CHASE
JPMorgan Chase & Co.
is one of the oldest financial services firms in the world. It has operations in 60 countries. It is a leader in financial services with assets of $2 trillion, and the largest market capitalization and third largest deposit base U.S. banking institution behind Wells Fargo and Bank of America. The rich history of JP Morgan is amazing. JPMorgan Chase, in its current structure, is the result of the combination of several large U.S. banking companies over the last decade including Chase Manhattan Bank, J.P. Morgan & Co., Bank One, Bear Stearns and Washington Mutual. Going back further, its predecessors include major banking firms among which are Chemical Bank, Manufacturers Hanover, First Chicago Bank, National Bank of Detroit, Texas Commerce Bank, Providian Financial and Great Western Bank. The heritage of the House of Morgan traces its roots back to the partnership of Drexel, Morgan & Co. which in 1895, was renamed J.P. Morgan & Co. Arguably the most influential financial institutions of its era, J.P. Morgan & Co. financed the formation of the United States Steel Corporation, which took over the business of Andrew Carnegie and others and was the world's first billion-dollar corporation. During the banking crisis and financial meltdown in 2008, JPMorgan Chase was in the middle of it with their purchase of Bear Stearns. The Federal Reserve Bank of New York provided an emergency loan to try to avert a sudden collapse of Bear Stearns. The company could not be saved and was sold to JP Morgan Chase for far below the perceived market value. The company, BearsStearns, no longer exists. According to the latest annual report, JPMorgan Chase & Co. produced revenues of $108.18 billion with net income of $21.28 billion. They have 260,000 employees.
Wells Fargo & Co
was founded in 1852 by Henry Wells and William Fargo. The new company offered banking (buying gold, and selling paper bank drafts as good as gold) - and express (rapid delivery of the gold and anything else valuable). Wells Fargo opened for business in the gold rush port of San Francisco and soon had agents in the other cities and mining camps of the West. By 1918, Wells Fargo was part of 10,000 communities across the country. That same year, the federal government took over the nation's express network during the First World War, as part of the "war effort", and Wells Fargo was left with just one bank in San Francisco. Throughout the 20th Century, Wells Fargo rebuilt from just one office in San Francisco. And in the 1960s, Wells Fargo became a northern California regional bank with branch offices everywhere. By the 1980s Wells Fargo was the seventh largest bank in the nation. By the 1990s, Wells Fargo was back into their original areas throughout the Western, Midwestern and Eastern states. But it was the financial crisis of 2008 that gave Wells Fargo their biggest expansion plan. In October of 2008, Wachovia agreed to be bought by Wells Fargo for about $14.8 billion in an all-stock transaction. Citigroup then announced that they would buy Wachovia for $2.1 billion. Citigroup protested Wachovia's agreement to sell itself to Wells Fargo and threatened legal action over the matter. However the deal with Wells Fargo overwhelmingly won shareholder approval since it valued Wachovia at about 7 times what Citigroup offered. There were many court maneuvers and negotiations that ended in Wells Fargo winning the deal. But, they then got bail-out money from the government to make the deal work and they paid it back. As part of the redemption of the preferred stock, Wells Fargo also paid principal and accrued dividends of $131.9 million, bringing the total dividends paid to the U.S. Treasury and U.S. taxpayers to $1.441 billion. Today, Wells Fargo has more than 10,000 bank branches and mortgage and consumer finance offices nationwide. They just went through the largest conversion of their Wachovia branches which now brings all 6,239 retail banking stores under one platform. According to their latest annual report (2011) they produced a net income of $15.86 billion. They have more than 270,000 employees.
MEDIA USAGE

Last 12 Months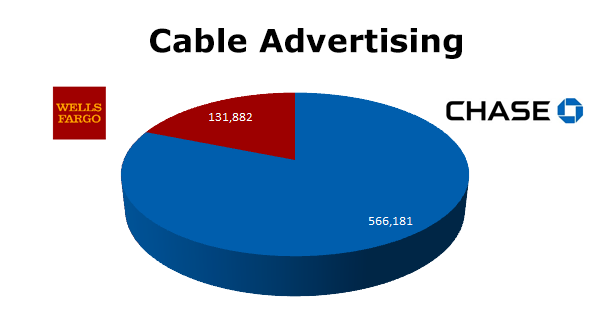 On Local Cable, Wells Fargo only aired 23.29% as many spots as Chase. Wells Fargo cleared 131,882 spots, while Chase blasted 566,181 ads in the last 12 months. Wells Fargo's biggest month on Cable was September with 31,316 spots and Chase ran hottest in August with 66,087 spots.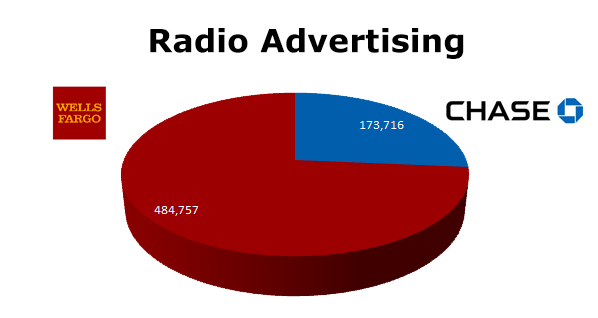 On the Radio, Wells Fargo takes the lead with 484,757 spots in the last 12 months. Chase ran 173,716 ads in the same period. Wells Fargo delivered the most spots in the month of September 2012 with 89,475 spots, while Chase hit their hit mark in October with 34,921 ads.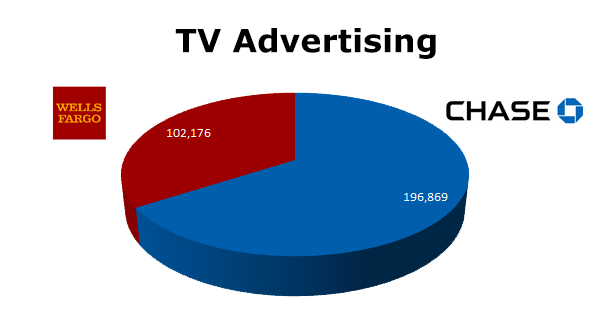 On Broadcast TV, Chase cleared 196,869 spots in the last 12 months, while Wells Fargo had 102,176 spots on TV. Wells Fargo biggest month was September 2012 when they ran 25,938 ads, while Chase topped out in the same month with 23,483 spots. Posted: March 4, 2013 <! ----End Here -->
Media Monitors
445 Hamilton Avenue, 7th Floor
White Plains, NY 10601 USA
1-800-67-MEDIA

For The Current Spots: