Weekly Spots
POSTED: February 25, 2013

MEDIA MONITORS RESEARCH SPOT TEN RESULTS
Click an icon to download Adobe Reader

or PDF Plugin for Firefox

Mac & non IE or FF Browsers Click Here To Download Spot Charts

Deep Down South in Texas
McAllen-Brownsville, Texas and Home Furnishings
By: Dwight Douglas, VP Marketing
Media Monitors - New York
(White Plains, NY) February 25, 2013
– According to Arbitron, McAllen-Brownsville-Harlingen, TX is the 57th largest radio market with a population of 965,300.
CITY FACTS
McAllen didn't really develop until the 1850s when John McAllen became manager of what is now called McAllen Ranch (previously called the Santa Anita Ranch). In 1861, McAllen married the widow who owned the land and began expanding the ranch, which eventually became McAllen.
Between 1910 and 1920, the town experienced a major population boom from just a few hundred to between 5,000 and 6,000 people. By 1930 the population had grown to 9,074 due to because oil exploration, and factories for the canning process, a winery, woodworking areas, and tortilla plants.
In 1940 there were 430 businesses. The McAllen-Hidalgo-Reynosa International Bridge was the second 'port of entry' from the United States into Mexico in 1954. McAllen is only 11 miles from Reynosa, Mexico.
McAllen is home to South Texas College with three of its five campuses located in the town. The other two campuses are situated in Weslaco and Rio Grande City.
The McAllen Convention Center hosts many basketball games played by the Rio Grande Valley Silverados basketball team. The Silverados are centered in McAllen and are a professional basketball team and member of the Continental Basketball Association.
Famous people from the McAllen area include: actor Valente Rodriguez; Hee Haw's Cathy Baker; Senator Lloyd "You're no Jack Kennedy" Bentsen; actor Thomas Haden Church; singer Freddie Fender; movie director Catherine Hardwicke (Twilight); singer/song writer Kris Kristofferson; NFL coach Tom Landry; actor Rachel McLish; and actor Nick Stahl.
MCALLEN-BROWNSVILLE SPOT TEN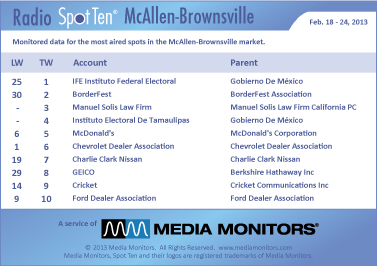 The #1 advertiser in McAllen-Brownsville last week was IFE INSTITUTO FEDERAL ELECTORAL (Mexican Unions) with 831 spots. BORDERFEST was #2 airing 620 ads, while MANUEL SOLIS LAW FIRM was on the docket at #3 with 368 spots. INSTITUTO ELECTORAL DE TAMALIPAS (Mexican Government) was #4 with 360 ads. MCDONALD'S was #5 with 352 commercials, while the CHEVROLET DEALER ASSOCIATION dropped from #1 to #6 last week clearing 351 spots. CHARLIE CLARK NISSAN nudged into #7 from #19 with 347 ads and GEICO was #8 with 284 spots. CRICKET hopped into #9 from #14 with 266 ads, while the FORD DEALER ASSOCIATION took #10 with 264 spots.
HOME FURNISHING SPOT TEN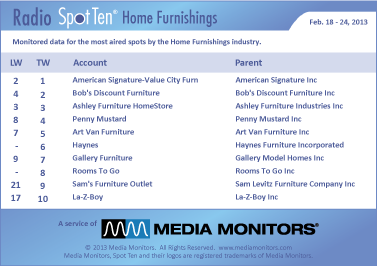 NATIONAL STATISTICS
- In this category last week, the #1 advertiser was AMERICAN SIGNATURE-VALUE CITY FURNITURE with 1,803 spots. BOB'S DISCOUNT FURNITURE sat down at #2 with 1,529 spots, while ASHLEY FURNITURE HOMESTORE was solid at #3 airing 1,118 ads. PENNY MUSTARD landed at #4 with 698 spots and ART VAN FURNITURE found #5 with 629 spots. HAYNES was #6 with 464 spots, while GALLERY FURNITURE was #7 airing 406 commercials. ROOMS TO GO got as high as #8 with 386 spots and SAM'S FURNITURE OUTLET zoomed from #21 to #9 with 329 spots. LA-Z-BOY relaxed at #10 with 323 spots.
NATIONAL SPOT TEN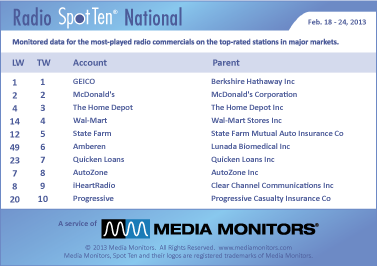 NATIONAL STATISTICS
- GEICO kept their major push with 58,955 spots making them #1 once again. MCDONALD'S stayed at #2 with 28,181 ads, while THE HOME DEPOT crept back into #3 with 27,024 spots. WAL-MART surged from #14 up to #4 with 22,332 commercials and STATE FARM captured #5 airing 21,301 spots.
Posted: February 25, 2013


SPOT TRENDS
Last Twelve Months
Sara Lee
has had a rich history, (no pun intended) that started with Nathan Cummings' 1939 purchase of the C.D. Kenny Company, a small wholesale distributor of sugar, coffee and tea in Baltimore. Sara Lee is also the brand name of a number of frozen and packaged foods, often known for the long-running slogan "Everybody doesn't like something, but nobody doesn't like Sara Lee." In 1946 the company joined the New York Stock Exchange and eight years later, they changed their name to Consolidated Foods Corporation. In 1956, Consolidated acquired Kitchens of Sara Lee and entered the retail food business through their other purchase of 34 Piggly Wiggly supermarkets. In 1962 they took control of Jonker Fris, a Dutch producer of canned goods, which launched the corporation's first full-scale overseas acquisition. Expansion continued in 1966, when Consolidated bought Oxford Chemical, the corporation's first non-food company, and E. Kahn's Sons Company, a meat processor and distributor. Consolidated Foods' sales topped the $1 billion mark the next year. Acquisitions continued with the purchases of Aris Gloves (later renamed Aris Isotoner) in 1969, Hillshire Farm and Rudy's Farm in 1971 and Erdal, a Dutch company later re-named Intradal, that focused on personal care products. In 1978, the corporation acquired Chef Pierre, a manufacturer and distributor of frozen prepared desserts, and made an initial investment in Douwe Egberts, a Dutch coffee and grocery company. This was followed the next year with several acquisitions, including Hanes, a hosiery manufacturer; Superior Tea and Coffee Company, in the foodservice industry; and Gallo Salame, Inc., manufacturer of Italian dry sausage products. By the 1980s, Consolidated Foods' annual sales reached $5 billion. In 1984, they acquired Jimmy Dean Meats, as well as Nicholas Kiwi Limited, an Australian-based manufacturer and marketer of personal, household, shoe and car care products and home medicines. In 1985, the corporation changed its name to Sara Lee Corporation to reflect the consumer marketing orientation of the company and the high-quality, well-known branded products it marketed throughout the world. They kept rolling when Sara Lee acquired Wechsler Coffee, Chock full o'Nuts and Continental Coffee. Two years later, Sara Lee acquired Hills Bros., MJB and Chase & Sanborn, the retail coffee brands from Nestlé USA and Café Pilão, the No. 1 coffee company in Brazil. In 2001, Sara Lee acquired St. Louis-based The Earthgrains Company, the No. 2 player in the U.S. bakery market 2002 featured the debut of the Senseo coffeemaker by Douwe Egberts and Philips Electronics in the Netherlands. In the same year, Douwe Egberts introduced the Cafitesse line of liquid coffee systems, Sara Lee's proprietary liquid coffee concentrate system. In 2003, Douwe Egberts coffee celebrated its 250th anniversary. On January 28, 2011, Sara Lee announced the company would be split into two units. The company moved its North American operations (including Jimmy Dean, Ball Park and Hillshire Farm) into the Hillshire Brands corporate name, while the international beverage and bakery businesses (including Douwe Egberts, Senseo, Pickwick, Maison du Café, L'OR, Café Pilão, and Marcilla) would constitute a separate unit named D.E Master Blenders 1753. According to their most recent annual report 2011, Sara Lee produced revenues of $8.681 billion with net income of $1.287 billion. They have 21,000 employees.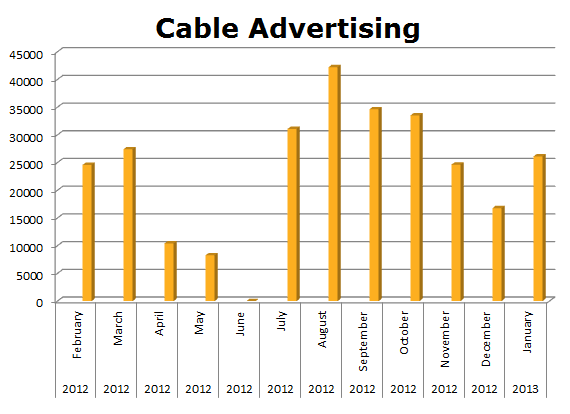 On Local Cable, Sara Lee ran 279,577 ads in the last 12 months. Their biggest month was August with 42,214 ads. 72.2% of all their spots ran on Cable.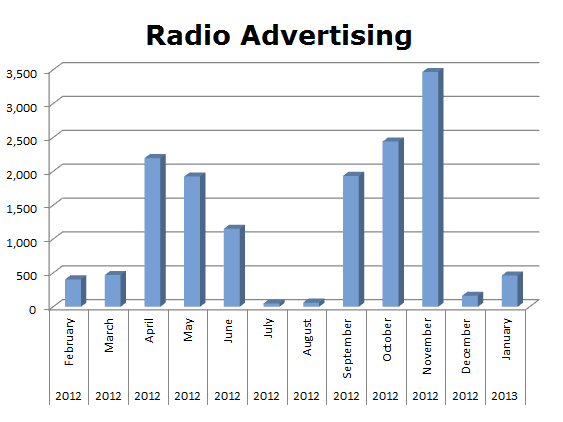 On the Radio, Sara Lee cleared only 14,716 spots in the last 12 months. Their hottest month was November when they ran 3,467 spots.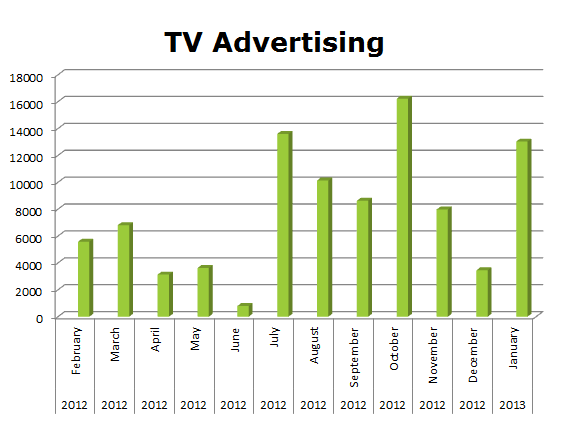 On Broadcast TV, Sara Lee ran 92,939 commercials in the last 12 months with their peak coming in October 2012 with 16,218 spots.
POSTED: February 25, 2013
<! ----End Here -->

HP (Hewlett-Packard) vs. Apple
HP
is a technology company that operates in more than 170 countries around the world. They provide infrastructure and business offerings that span from handheld devices to some of the world's most powerful supercomputer installations. Their consumer line covers a wide range of products and services from digital photography to digital entertainment, and from computing to home printing. Hewlett-Packard began when Stanford University classmates Bill Hewlett and Dave Packard decided to form a partnership in 1939. The company's first product, built in a Palo Alto garage, was an audio oscillator - an electronic test instrument used by sound engineers. One of HP's first customers was Walt Disney Studios, which purchased eight oscillators to develop and test an innovative sound system for the movie Fantasia. In 1942, they pioneered the concept of health insurance for all their employees. In 1943, HP entered the microwave field, setting the stage for future leadership in signal generators. In 1951, HP invented the 524A high-speed frequency counter, greatly reducing the time required to measure high frequencies. Frequency counters and related products would account for billions in future revenue for HP. By 1958, HP expanded by acquisition. The first was the F. L. Moseley Company, a producer of high-quality graphic recorders, establishing the foundation of HP's printing business. In 1962, HP had revenues of $110 million with 6,260 employees. In 1964, they introduced the highly accurate HP 5060A cesium-beam atomic clocks which set the new standard for international time. In 1966, they had more than $200 million in revenue and more than 11,000 employees when they introduced their first computer, the HP 2116A. The world's first go-anywhere, do-anything computer was designed to withstand environmental extremes. By 1972, they introduced the HP-35, the world's first scientific hand-held calculator. Small enough to fit in a shirt pocket, it made the slide rule obsolete. In 1980, HP introduced its first personal computer, the HP-85. The unit had input/output modules that allowed it to control instruments, add on more powerful peripherals and even talk to other computers. In 1982, HP's electronic mail system was the first major wide-area commercial network of its kind based on minicomputers. Their most recent annual report shows revenues of $119.93 billion with net losses of $-12.65 billion. HP's total assets are near $109 billion. They have 331,800 employees.
Apple Inc.
(NASDAQ: AAPL) designs and markets personal computers, software, and electronics. The company is the manufacturer of the popular Macintosh brand of computers as well as personal electronics that include iPod mp3 player, iPad media tablet, and the iPhone smartphone. They are also known for their highly successful web service, iTunes. Apple was founded on April 1, 1976 by Steve Jobs, Steve Wozniak, and Ronald Wayne in Cupertino, California. The company was incorporated January 3, 1977 under the name Apple Computer, Inc. After going public in 1980, it generated more capital than any IPO since Ford Motor Company in 1956 and instantly created 300 millionaires. Apple's history is one of triumphs as well as some setbacks. The first product introduced was the Apple I computer kit, followed by the Apple II that included new features like color graphics and the floppy disk drive. The Apple III model did not fare well against competitors like IBM and Microsoft and was soon replaced on the market by the Apple Lisa. By the next year, the Apple Macintosh model was introduced in a commercial break during Superbowl XVIII. This marked the beginning of what is known as the "first golden age" of Macintosh from 1989 -1991. By the late 1990s and into the 21st century, Apple's success reached its height with some of today's current best selling computers, software, and electronics. On May 19, 2001, the first Apple retail stores opened in Virginia and California and in the same year, Apple's iPod digital audio player hit the market. On January 9, 2007, Apple Computer, Inc. officially changed its name to Apple, Inc. and the following day, iPhone and Apple TV were introduced to the public. 2010 was a year in which Apple unveiled the iPad that sold more than 300,000 units on its first day as well as released updates to its iPod models, iPhone, MacBook Air and Mac OS X operating system. Since Macintosh's introduction during the 1984 Superbowl ad, directed by Ridley Scott, Apple has been known for its advertising and marketing efforts for all of their products. Apple is responsible for popularizing the song "1234" by Feist after it appeared in its iPod nano commercials as well as for launching the single "New Soul", by Yael Naim, to the top of the singles charts after it appeared in its MacBook Air commercials. Apple also took a shot at the PC platform in their "Get a Mac" ad campaigns with the opening lines, "I'm a Mac. And I'm a PC." The story of Apple is directly related to and deeply affected by the life story of Steve Jobs. He left the company in 1985 to start NeXT Computer with $7 million. The mediocre computer company bought a graphics software company later to be known as Pixar, and the rest, as they say, is history. In 1996, Apple bought NeXT for $427 million. The deal brought Jobs back to the company he co-founded. The amazing creativity and innovation that poured out of Apple in the next 15 years made it the most successful company in the world. In 2003, Jobs was diagnosed with a pancreatic neuroendocrine tumor. He died of respiratory arrest related to his metastatic tumor on October 5, 2011. Timothy Cook then became the CEO. According to most recent annual reports, Apple created revenues of $155.97 billion with a net income of $41.73 billion, which represented a 43.6% growth in sales for 2012. They have 76,100 employees.
MEDIA USAGE

Last 12 Months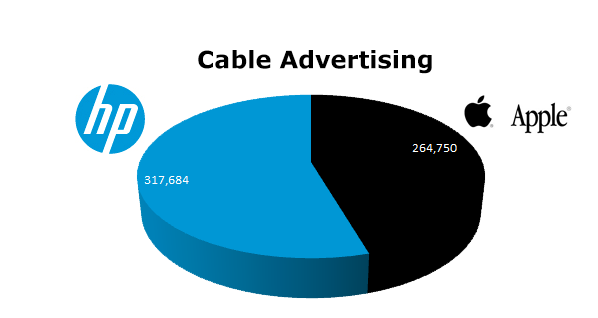 On Local Cable, HP and Apple are running neck to neck. HP ran 317,684 spots, while Apple 264,750 ads. Apple's biggest month was August 2012 when they ran 32,652 ads and HP ran hottest in August 2012 as well with 83,537 ads.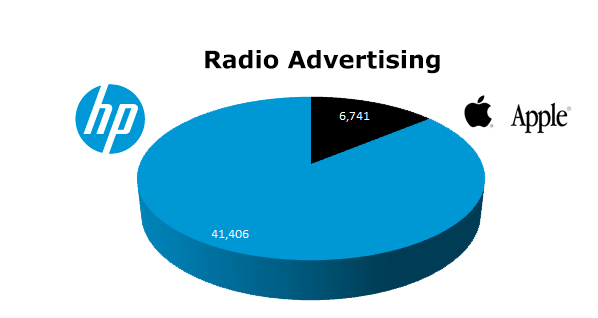 On the radio, HP was out ahead of Apple, but even their 12 month spot count was limited. HP ran 41,406 ads in the last 12 months, while Apple only appeared 6,741 in the same period. HP's biggest monthly count appeared in December 2012 with 11,437 spots, while Apple ran the most radio in February 2012 at 3,789 spots.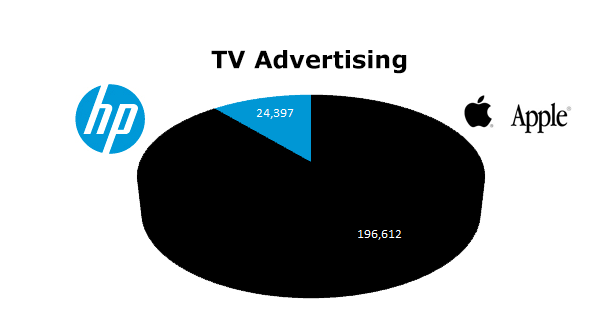 On Broadcast TV, Apple clearly is the leader with 196,612 spots in the last 12 months, while HP cleared 24,397 spots. HP ran the most TV in August 2012 with 5,572 spots and Apple was hottest in October 2012 with 21,335 ads. Posted: February 25, 2013 <! ----End Here -->
Media Monitors
445 Hamilton Avenue, 7th Floor
White Plains, NY 10601 USA
1-800-67-MEDIA

For The Current Spots: