Weekly Spots
POSTED: February 18, 2013

MEDIA MONITORS RESEARCH SPOT TEN RESULTS
Click an icon to download Adobe Reader

or PDF Plugin for Firefox

Mac & non IE or FF Browsers Click Here To Download Spot Charts

MOTOR CITY & MEDICINE
Detroit and Medical Services
By: Dwight Douglas, VP Marketing
Media Monitors - New York
(White Plains, NY) February 18, 2013
– According to Arbitron, Detroit is the 12th largest radio market with a population of 3,760,200. They were the 11th market two years ago.
CITY FACTS
The city name comes from the Detroit River, which in French is le détroit du Lac Erie, meaning "the strait of Lake Erie".
Detroit was recaptured from the British in 1813 and incorporated as a city in 1815
Following the death of President Abraham Lincoln, George Armstrong Custer delivered a eulogy where he called the Michigan Brigade during the American Civil War the "Wolverines", which is now the name of the mascot of the University of Michigan.
In 1896, a thriving carriage trade prompted Henry Ford to build his first automobile in Detroit, and in 1904, the Ford Motor Company was founded. The automotive pioneers William C. Durant, the Dodge brothers and Walter Chrysler cemented Detroit's status as the world's automotive capital.
In the 1940s, Detroit's blues scene featured the likes of John Lee Hooker, but the biggest musical breakthrough came when Berry Gordy, Jr. founded Motown Records in the 1960s in Detroit and launched the careers of Stevie Wonder, The Temptations, The Four Tops, Smokey Robinson & The Miracles, Diana Ross & The Supremes, and Marvin Gaye. Aretha Franklin is another Detroit R&B star, but was on the Atlantic Record label out of New York.
Professional sports are big time in D town with the Detroit Lions of the NFL; the Detroit Tigers - a founding member team of Major League baseball; the Detroit Pistons of the NBA; and the Detroit Red Wings of the NHL.
Some of the famous people from Detroit: Ellen Burstyn – actor; Francis Ford Coppola - film director; Charles A. Lindbergh – aviator; Madonna – singer; Dick Martin – comedian; John N. Mitchell - attorney general; Ted Nugent – hunting activist and singer; Gilda Radner – actor; Della Reese – singer; Diana Ross – singer; Bob Seger – rock legend; Tom Selleck – actor; Lily Tomlin – actor; and Danny Thomas - entertainer.
DETROIT SPOT TEN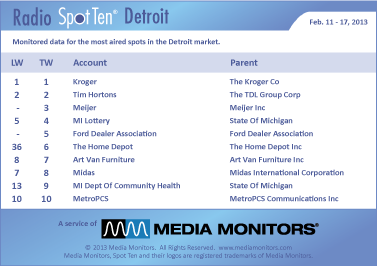 In the Motor City last week, the #1 advertiser on the radio was KROGER with 801 spots. TIM HORTONS was #2 again with 742 ads, while MEIJER was #3 with 715 spots. The MICHIGAN LOTTERY landed on #4 with 655 announcements and #5 was owned by the FORD DEALER ASSOCIATION with 617 spots. THE HOME DEPOT powered back up from #36 to #6 with 561 spots, while ART VAN FURNITURE sat down at #7 with 530 ads. MIDAS attached itself to #8 with 499 spots and the MICHIGAN DEPARTMENT OF COMMUNITY HEALTH was #9 with 475 spots. Coming in #10 was METROPCS with 453 spots.
DIAGNOSTIC & MEDICAL SERVICES SPOT TEN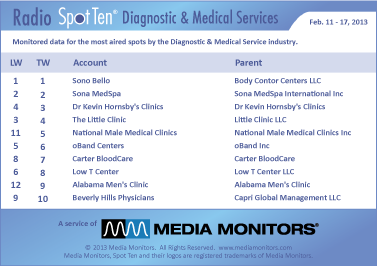 NATIONAL STATISTICS
- In the category of Diagnostic Medical Services, the #1 radio advertiser in the nation last week was SONO BELLO with 1,703 spots. Coming in #2 was SONA MEDSPA with 1,346 spots, while DR. KEVIN HORNSBY'S CLINICS clocked in at #3 with 1,074 spots. THE LITTLE CLINIC was big at #4 with 699 ads and NATIONAL MALE MEDICAL CLINICS claimed #5 running 445 commercials. The OBAND CENTERS seized #6 with 413 spots and CARTER BLOODCARE was #7 with 332 spots. LOW T CENTER was #8 with 332 spots as well, while ALABAMA MEN'S CLINIC checked into #9 airing 305 spots. And #10 was the BEVERLY HILLS PHYSICIANS with 303 spots.
NATIONAL SPOT TEN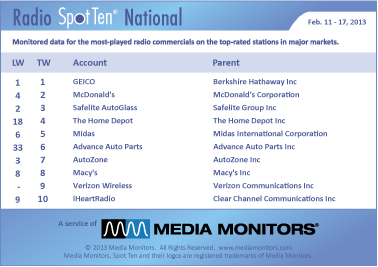 NATIONAL STATISTICS
- Last week, the #1 radio advertiser in the nation was once again GEICO with 48,149 spots. #2 was MCDONALD'S with 29,275 ads, while SAFELITE AUTOGLASS was #3 with 28,134 ads. THE HOME DEPOT leaped from #18 up to #4 airing 26,456 spots and MIDAS took over #5 with 23,634 spots.
Posted: February 18, 2013


SPOT TRENDS
Last Twelve Months
Nissan Motor Company, Ltd.
, known by most as Nissan, is a Japanese multinational automaker headquartered in Japan. They are the manufacturer of Nissan and Infiniti cars. The company's global headquarters is located in Nishi-ku, Yokohama. Its origins can be traced to the Kwaishinsha Motor Car Works in 1911. In 1914, the company produced its first car, called DAT. They became the DAT Motorcar Co. in 1925. In 1931, DAT came out with a new smaller car, the first "Datson", meaning "Son of DAT". The spelling was later changed to Datsun for marketing purposes. Following World War I, Aikawa reorganized its assets into (Japan Industries) or Nippon Sangyo Corporation. Nippon Sangyo was shortened to 'Nissan' in the 1930s. Nissan was a builder of trucks, airplanes, and engines for the Japanese military during the Second World War. As the war progressed, Japan took land in China, moved the plant Nissan plant there, until the war ended. Russia took control of that area and helped the US move Nissan back to Japan. Under the command of American William R. Gorham, technologies, ideas and consultants were brought in from Detroit to help with the post-war economy. In the 1950s, Nissan made a conscious decision to expand into worldwide markets. Nissan management realized their Datsun small car line would fill an unmet need in markets such as Australia and the world's largest car market, the United States. They showed their cars at the 1958 Los Angeles auto show, and sold a few cars that year in the United States. The decision to change the name Datsun to Nissan in the U.S. was announced in the autumn of 1981. The rationale was that the name change would help the pursuit of a global strategy; one name, everywhere. The Infiniti brand was introduced in the United States in 1989. The marketing strategy was to target the premium vehicle segment in the United States. The Nissan VQ engines - V6 configuration - won Ward's 10 Best Engines for 14 straight years. From 1993-2002 Nissan partnered with Ford to market a consumer-friendly minivan: The Mercury Villager and the Nissan Quest. The two minivans were manufactured with all the same parts and were virtually identical aside from several cosmetic differences. That relationship ended in 2002. During fiscal year 2012, they renewed their large volume global models Altima, Pathfinder, Sentra, NV350 and a long wheelbase version of the Infiniti M sedan. According to the Nissan North America corporate web site, they had record sales in 2012 year sales of 1,141,656 units versus 1,042,534 in 2011, an increase of 9.5 percent and the first time that the Nissan brand sold more than 1 million units in a calendar year.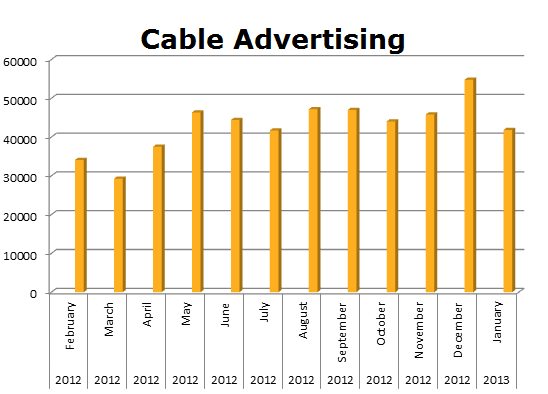 On Local Cable, Nissan ran 514,065 spots in the last 12 months. They ran hottest in December 2013 with 54,809 commercials.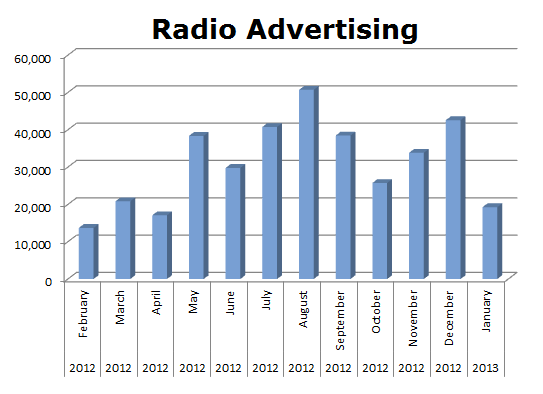 On the Radio, Nissan ran 371,280 spots in the last 12 months. Their biggest month was August with 50,708 spots.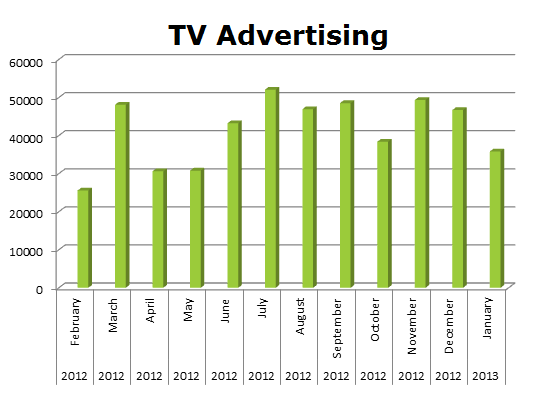 On Broadcast TV, Nissan cleared 496,055 spots in the last 12 months with the large monthly buy happening in July 2012 with 52,043 spots.
POSTED: February 18, 2013
<! ----End Here -->

Sleep Train vs. Select Comfort
Sleep Train
is one of the top three mattress retailers in the United States, was founded by Dale Carlsen in June 1985 and is based in Rocklin, California. Sleep Train carries mattresses manufactured by Sealy, Stearns & Foster, Simmons, Vera Wang by Serta, and Tempur-Pedic as well as headboards by Fashion Bed Group and Modus International. Today, Sleep Train has more than 90 stores throughout California and Nevada employing nearly 1,000 people in the Sacramento, San Francisco Bay Area, and San Diego markets. Sleep Country USA, Inc., is a subsidiary of Sleep Train. Sleep Country USA, Inc. was founded in 1991 by Sunny Kobe Cook and Bob Cook, Sleep Country USA has 75 stores and 350 employees in the Pacific Northwest. Sleep Train bought them in 2006 for $55 million. In September of 2011, Sleep Train bought Christian's Mattress Xpress, a retailer with three stores in the California Central Valley region and then in October last year, Sleep Train bought Mattress Outlet, a 14-store company with 13 stores in eastern Washington and one in Idaho, and America's Mattress, a seven-store company in western Washington. Because they are an employee owned store, no financial figures were readily available. They currently have 255 outlets.
Select Comfort
(NASDAQ: SCSS) manufactures the Sleep Number bed as well as foundations and bedding accessories. The company is based in Plymouth, Minnesota. In addition to its Minnesota headquarters, Select Comfort has manufacturing and distribution facilities in South Carolina and Utah. In 1980, the category of adjustable air supported sleep systems was invented by a private company, Comfortaire Corporation, of South Carolina. An executive from Comfortaire left and formed a new company in 1987 called Select Comfort based on the mattress invented by Bob and JoAnn Walker. At the touch of a button, the Sleep Number bed can be made firmer or softer on each side, making it the perfect bed for couples. The company's TV commercials used to feature actress Lindsay Wagner. Other endorsers include conservative radio talk show hosts Glenn Beck, Rush Limbaugh, and Laura Ingraham. As of 2006, Select Comfort held 32 issued or pending patents for its products. Select Comfort products are sold through 400 company-owned stores located across the United States; direct marketing operations; and online at sleepnumber.com. The current CEO is Bill McLaughlin. According to their latest annual report, they had revenues of $743.20 million with a net income of $60.48 million, which represented a 22.7% sales increase in 2011. They have 2,328 employees.
MEDIA USAGE

Last 12 Months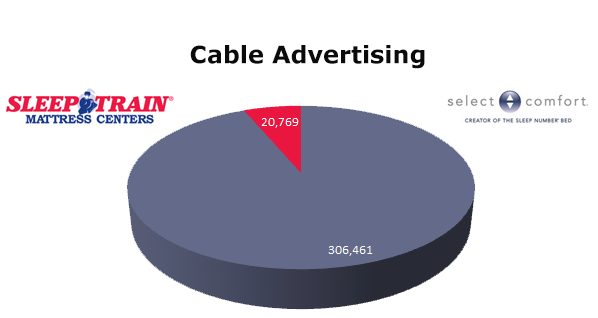 On Local Cable, Sleep Train ran 6.78% of the ads that Select Comfort ran in the last 12 months. To be exact, Sleep Train ran 20,769 spots, while Select Comfort cleared 306,461 spots. Selector Comfort's biggest month was February 2012 when they ran 43,503 spots, while Sleep Train's biggest thrust was in August 2012 with 3,113 spots.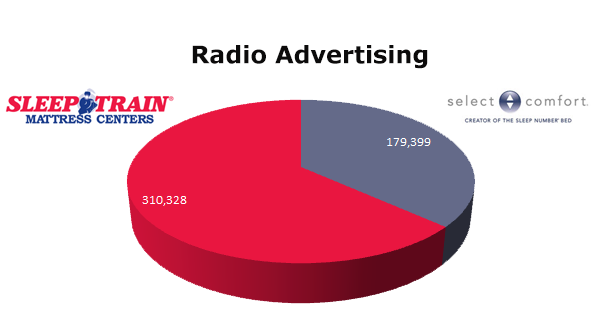 On the Radio, Sleep Train ran 310,328 spots in the last 12 months, while Select Comfort had 179,399 spots. The biggest radio month for Sleep Train was January 2013 with 30,013 spots. Sleep Train consistently averaged around 25,000 spots for every month in 2012. Select Comfort ran hottest in August 2012 with 21,696 ads. They too, were fairly consistent month to month in 2012.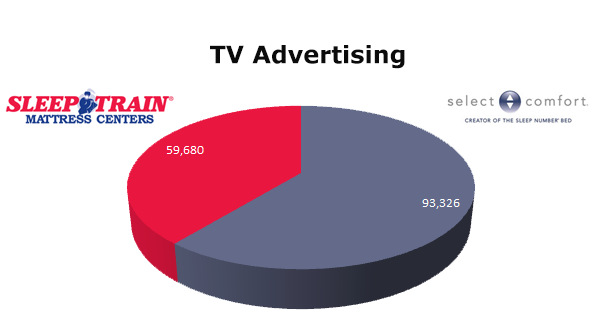 On Broadcast TV, Sleep Train ran around 63.95% as many spots at Select Comfort. Sleep Train cleared 59,680 spots in the last 12 months, while Select Comfort ran 93,326 spots in the same period. Sleep Train's hottest TV months were August with 7,246 spots and January 2012 with 7,354 ads. Select Comfort's biggest month was March 2012 with 12,382 spots. Posted: February 18, 2013 <! ----End Here -->
Media Monitors
445 Hamilton Avenue, 7th Floor
White Plains, NY 10601 USA
1-800-67-MEDIA

For The Current Spots: