Weekly Spots
POSTED: February 11, 2013

MEDIA MONITORS RESEARCH SPOT TEN RESULTS
Click an icon to download Adobe Reader

or PDF Plugin for Firefox

Mac & non IE or FF Browsers Click Here To Download Spot Charts

WEST PALM BEACH
South Florida and Food and Beverages
By: Dwight Douglas, VP Marketing
Media Monitors - New York
(White Plains, NY)
February 11, 2013 – According to Arbitron, West Palm Beach-Boca Raton, Florida is the 48th largest radio market with a population of 1,176,600.
CITY FACTS
Henry Morrison Flagler in 1893 created a plan to change Palm Beach into a resort area and create a 'worker city' for his employees. The 'worker city' later became known as West Palm Beach and became a city on November 5, 1894. Many of the streets of West Palm Beach were named after local plants.
From 1920 to 1927, the city's population quadrupled, and everything grew including the schools, the farming and sugar businesses in the Glades, the hotels and theaters. This slowed a bit due to the hurricanes of 1926 and 1928.
After World War II the economy was boosted again when many returning veterans moved south after 1945.
West Palm Beach is home to the Palm Beach International Airport, which can trace its roots back to 1936.
Palm Beach County's largest industry is tourism and hosts over 800 events per year and 400,000 guests annually. It is also a great place to base out of during Major League Baseball's annual spring training with games at Port St. Lucie and Jupiter, Florida.
Some of the famous people from West Palm Beach include A.J. McClean (singer); Diana Canova (actress); Cassandra Freeman (actress); and Allman Brothers guitarist Dicky Betts.
WEST PALM BEACH SPOT TEN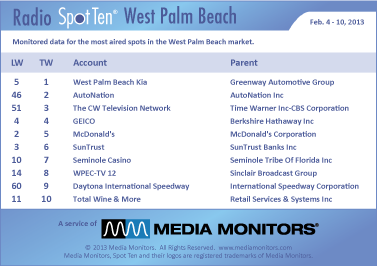 In WPB last week the #1 radio advertiser was WEST PALM BEACH KIA with 619 spots. AUTONATION flew from #46 to #2 airing 577 ads, while THE CW NETWORK soared from #51 to #3 with 397 spots. GEICO was steady at #4 with 379 commercials and MCDONALD'S was #5 with 375 spots. SUNTRUST seized #6 with 374 spots, while SEMINOLE CASINO rolled #7 with 327 ads. WPEC-TV 12 landed at #8 with 291 ads and the DAYTONA INTERNATIONAL SPEEDWAY zoomed into #9 from back in the pack at #60 by running 289 spots. TOTAL WINE & MORE popped the cork on #10 airing 272 spots.
FOOD & BEVERAGE SPOT TEN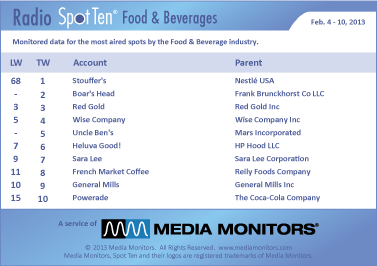 NATIONAL STATISTICS
- In the Food & Beverage category, we had STOUFFER'S on top with 3,934 spots. BOAR'S HEAD sliced their way into #2 with 3,395 ads, while RED GOLD got #3 with 1,471 spots. The WISE COMPANY perched at #4 with 976 commercials and UNCLE BEN'S was #5 with 783 spots. HELUVA GOOD! landed at #6 with 764 spots, while SARA LEE was #7 airing 613 spots. FRENCH MARKET COFFEE perked at #8 with 525 ads and GENERAL MILLS marched into #9 with 512 spots. POWERADE was #10 with 345 spots.
NATIONAL SPOT TEN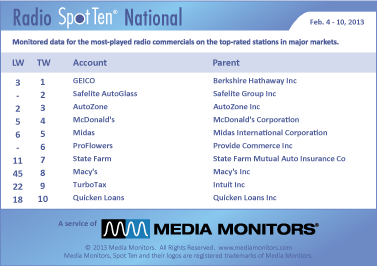 NATIONAL STATISTICS
- GEICO has returned to their #1 position this week with 53,767 spots. SAFELITE AUTOGLASS popped into #2 with 33,843 ads, while AUTOZONE receded to #3 with 33,373 spots. MCDONALD'S was #4 with 28,224 commercials and MIDAS entered the top five for the first time with 25,041 spots.
Posted: February 11, 2013


SPOT TRENDS
Last Twelve Months
Intuit
Inc. (NASDAQ: INTU) is a software company, headquartered in Mountain View, California, that creates financial and tax preparation software for small businesses, accountants and individuals. Their big products include Quicken and TurboTax (and its Canadian counterpart, QuickTax), as well as the small business accounting program QuickBooks. Intuit has R&D centers in Edmonton, Alberta and Bangalore, India. Intuit was founded in 1983 by Scott Cook and Tom Proulx and conceived when Scott Cook, whose prior work at Procter & Gamble, helped him realize that personal computers would lend themselves as a replacement for paper-and-pencil based personal accounting. Cook ran into Tom Proulx at Stanford and the two started Intuit, which initially operated out of a modest room on University Avenue in Palo Alto. The first version of Quicken was coded in Microsoft's Compiler BASIC for the IBM PC and UCSD Pascal for the Apple II by Tom Proulx. They had many serious competitors, but they managed to survive the 80s. Intuit struggled financially until they found their formula for success, which revolved around direct marketing campaigns, favorable reviews in industry and consumer magazines and word of mouth from satisfied customers. They focused on usability and customer support. Although by 1988 Quicken became a best-seller in its market, the company wasn't a major success until the advent of Windows 3.0 in the early 1990s, when sales of Quicken grew more rapidly. In 1993 Intuit went public and used the proceeds to make a key acquisition: the tax-preparation software company Chipsoft based in San Diego. They became so successful they received a buyout offer from Microsoft in 1995; at this time Intuit's market capitalization reached $2 billion. The buyout fell through because of Department of Justice scrutiny of Microsoft, who proceeded to launch the program Microsoft Money to compete directly with Quicken. In response, Intuit launched new web-based products and solutions and put more emphasis on QuickBooks and on TurboTax. The company made a number of investments around this time. Among others, it purchased a large stake in Excite and acquired Lacerte Software, a Dallas-based developer of tax preparation software used by tax professionals. It also divested itself of its online bill payment service unit and extended and strengthened its partnership with CheckFree. According to the annual report, Intuit had revenues of $4.15 billion with a net income of $767 million, which represented a 7.8% sales growth in 2012. They have 8,500 employees; 500 more than last year.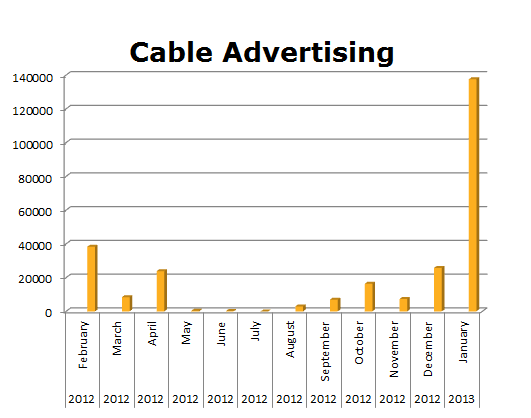 On Local Cable, Intuit ran 267,839 spots in the last 12 months. Their biggest month was January 2013 with 137,475 ads.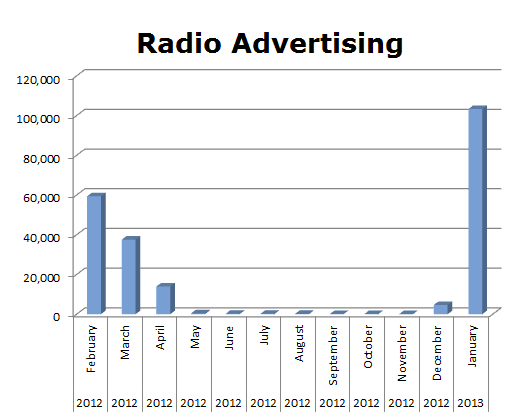 On the Radio, Intuit cleared 220,022 spots in the last 12 months with their biggest push last month, January 2013, when they ran 103,292 spots – or 47% of their entire radio budget for that period.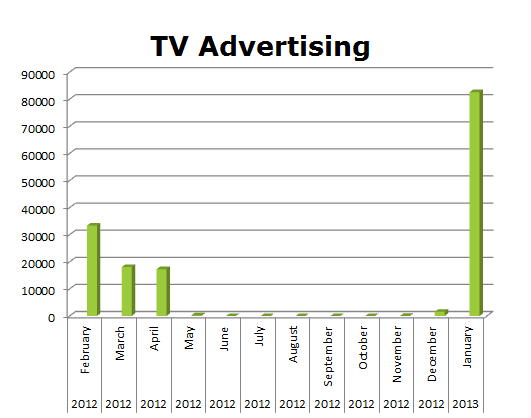 On Broadcast TV, Intuit ran 153,060 ads with their biggest dent coming in January 2013 when they ran 82,582 spots.
POSTED: February 11, 2013
<! ----End Here -->

NBC TV vs. ABC TV
NBC
, now called NBCUNIVERSAL, started as the National Broadcasting Company in New York City's Rockefeller Center. It is sometimes referred to as the Peacock Network because of its logo. Formed in 1926 by the Radio Corporation of America (RCA), NBC was the first major broadcast network in the United States. In 1986, control of NBC passed to General Electric (GE), with GE's $6.4 billion purchase of RCA. The famous three-note NBC chimes came about after several years of development. The three note sequence G-E-C was heard first over Atlanta's WSB. The triplet is known by musicians as a second inversion C Major triad. Someone at NBC in New York heard the WSB version of the notes during the networked broadcast of a Georgia Tech football game and asked permission to use it on the national network. In 1991 Warren Littlefield took over the reins from Brandon Tartikoff and after losing David Letterman to CBS, some people were counting NBC out. But the peacock came back with hits like Friends, Mad About You, Frasier, ER, Will & Grace and of course, Seinfeld, which put NBC in the driver's seat for almost a decade. NBC's Today show just completed its 61st season, while the NBC Nightly News; under the watch of Brian Williams has branched out with a new show called Rock Center that airs Wednesday night. The Sunday political talk show Meet the Press, one of the oldest shows on TV, is the most influential network offering. Unfortunately, two of their critically acclaimed shows, 30 Rock and The Office will be wrapping up this year. NBC Universal merged with Comcast last year. Comcast was founded in 1963. As of June 30, 2011, its cable systems served approximately 22.5 million video customers, 17.5 million high-speed Internet customers, and 9.1 million phone customers. According to the latest annual report, Comcast had revenues of $55.84 billion, with a net income of $4.16 billion, which represented a 47.2% growth in sales. They have 126,000 employees.
The American Broadcasting Company
(ABC) was created in 1943 out of what was called the NBC Blue radio network. In 1940, the FCC decided that broadcasting was dominated by too few companies, so they urged NBC, then owned by RCA, to divest itself of a network. RCA sold the radio network to Edward Noble for $8 million. Noble owned Life Savers candy and Rexall drug stores. In 1944, he changed the name to American Broadcasting Company and made deals to get call letters WABC away from CBS. In 1947, in a move that seemed genius, they applied for channel 7 in all their markets, under the assumption that 2-6 would go away. They never did. In April 1948, ABC went on the air. ABC began to run out of money, so they merged with United Paramount Theaters, which was recently spun off from Paramount Studios by court order. Leonard Goldenson, former head of Paramount, became the president of ABC and was able to tap all his studio connections to get top shows to fill his network schedule. In 1961, they kicked off the ABC Wide World of Sports which gave them a hook and enabled them to deliver on some of the most memorable events in sports history throughout the decades. In 1984, they acquired controlling interest in ESPN, which boosted their sports footprint on both cable and over-the-air TV. It also helped them maintain Monday Night Football on an ABC property. In 1985, Capital Cities bought ABC and ran it for ten years, until 1996 when the Walt Disney Company bought the giant network. Recently, the ABC radio group has been sold, with Disney keeping the film, studio and TV side of the business. ABC TV owns 10 stations and has more than 200 affiliates. Although ABC has had some blockbuster shows including Desperate Housewives, Grey's Anatomy and Dancing with the Stars, CBS has taken command of prime-time ratings at this point. For fiscal 2012, Disney's net profit totaled almost $5.7 billion, up 18 percent from revenues of $42.3 million, up 3 percent from 2011. They have more than 135,000 employees. According to their web site, more than 64,000 employees and cast members are eligible upon vesting for a Company-provided pension benefit when they retire.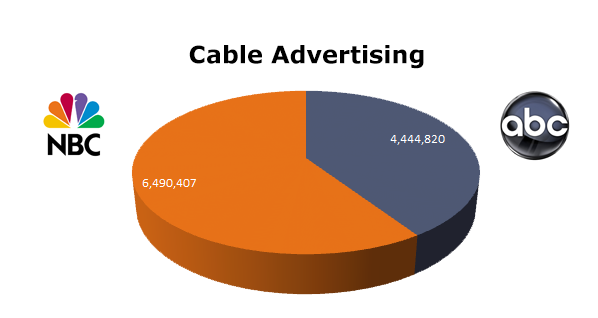 The fight for eye balls in the world of TV starts with using your assets wisely. Most of the networks own many cable channels where they are notorious for self-promotion. Here are the facts from the last 12 months. NBC ran 6,490,407 spots – promos – on cable outlets in the U.S.A. ABC ran 4,444,820 spots in the same period. ABC TV's biggest month was October 2012 with 450,740 spots followed closely with last month, January 2013, when they ran 421,724 ads. NBC ran hottest last month with 637,822 spots.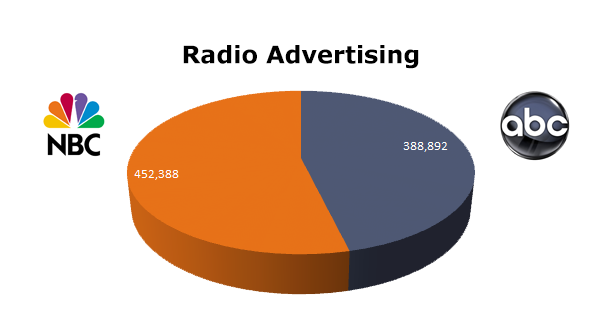 On the Radio, NBC TV edged out ABC slightly with 452,388 spots in the last 12 months. ABC ran 388,892 ads in the same period. NBC's biggest month was October of 2012 when they cleared 59,486 spots, while ABC ran hottest in September of last year with 66,944 spots.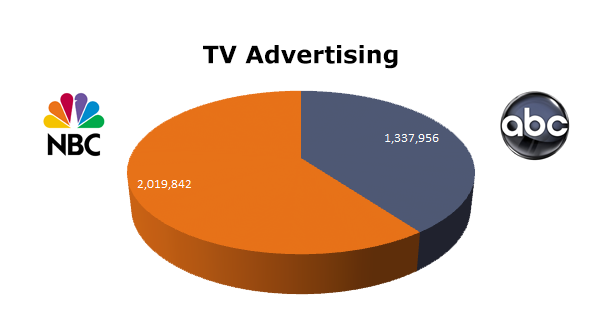 On the Broadcast TV side, NBC ran 2,019,842 spots, while ABC ran 1,337,956 ads in the last 12 months. NBC TV ran the most in January 2013 with 180,073 spots and ABC TV ran the most in May 2012 with 122,190 spots. Posted: February 11, 2013 <! ----End Here -->
Media Monitors
445 Hamilton Avenue, 7th Floor
White Plains, NY 10601 USA
1-800-67-MEDIA

For The Current Spots: