Weekly Spots
POSTED: February 4, 2013

MEDIA MONITORS RESEARCH SPOT TEN RESULTS
Click an icon to download Adobe Reader

or PDF Plugin for Firefox

Mac & non IE or FF Browsers Click Here To Download Spot Charts

Salmon & Stats
Portland, Oregon & Accounting, Auditing & Tax Prep
By: Dwight Douglas, VP Marketing
Media Monitors - New York
(White Plains, NY) February 4, 2013
– According to Arbitron, Portland, OR is the 23rd largest radio market with a population of 2,152,300.
CITY FACTS
The land for the city was once owned by two men. One was from Boston, and one was from Portland, Maine. Each wanted to name the town after where they had come from, so they decided to toss a coin. The gentleman from Portland won, and that is how Portland got its name.
Portland's climate is ideal for growing roses, and for more than a century, Portland has been known as "The City of Roses" with many rose gardens – most prominently the International Rose Test Garden.
Major performing arts institutions include the Oregon Ballet Theatre, Oregon Symphony, Portland Center Stage, and the Portland Opera. Over 75 other art organizations produce theatre, music, dance, folk art, and media arts in Portland.
Portland has one major league sports team, the Portland Trail Blazers of the NBA who play in a place called The Rose Garden.
Portland is well-known for its microbrewery beer. It is often said that Portland is the home of the microbrew revolution in the United States, sometimes being called Beervana.
Major Companies headquartered in Portland include: Willamette Industries, Louisiana-Pacific, CH2M HILL, U.S. Bank, Evraz, Vestas Wind Systems, and sporting goods manufacturers Li-Ning Co., Hi-Tec Sports, KEEN, Inc. and Adidas. NIKE is located in Beaverton, Oregon.
Famous People from Portland: food expert James Beard, trumpeter Chris Botti, cartoonist Matt Groening, skater Tonya Harding, baseball player Lance Blankenship, basketball player A.C. Green, NFL great and sportscaster Ahmad Rashad, author Zoe Trope, guitarist for Death Cab For Cutie Chris Walla and pop band The Kingsmen famous for their recording of Louie, Louie.
PORTLAND SPOT TEN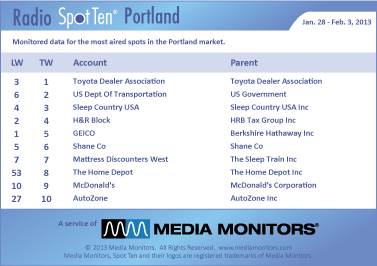 In Portland last week the #1 radio advertiser was the TOYOTA DEALER ASSOCIATION with 763 spots. #2 was the U.S. DEPARTMENT OF TRANSPORTATION with 713 announcements, while SLEEP COUNTRY USA took #3 with 704 spots. H&R BOCK locked into #4 with 686 ads and GEICO moved down from #1 to #5 with 668 commercials. SHANE COMPANY commanded #6 with 613 spots, while MATTRESS DISCOUNTERS WEST was firm at #7 airing 522 spots. THE HOME DEPOT leaped from #53 up to #8 with 492 ads and MCDONALD'S was #9 with 482 spots. AUTOZONE zoomed from #27 to #10 with 447 spots.
ACCOUNTING & TAX PREPARATION SPOT TEN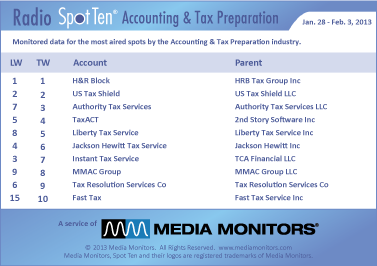 NATIONAL STATISTICS
- With W-2 forms dropping from the sky, this is the big time of the year for this category. The king of the hill here is H&R BLOCK with 47,460 spots nationally. Coming in #2 was US TAX SHIELD with 4,351 ads and AUTHORITY TAX SERVICES moved into #3 with 2,214 spots. TAXACT was #4 with 1,851 ads, while LIBERTY TAX SERVICE slid into #5 with 1,398 ads. JACKSON HEWITT TAX SERVICE was #6 running 1,195 commercials and INSTANT TAX SERVICE was #7 with 1,128 spots. MMAC GROUP held down #8 with 896 spots and TAX RESOLUTION SERVICES COMPANY was #9 with 837 spots. FAST TAX flew from #15 up to #10 with 398 spots.
NATIONAL SPOT TEN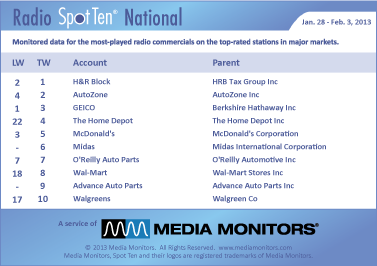 NATIONAL STATISTICS
- As we said in the previous report, Tax Preparation Services are being driven by one major advertiser in the field; H&R BLOCK was crowned #1 advertiser nationally last week in all categories with 47,459 spots. AUTOZONE moved up from #4 to #2 with 38,029 ads. GEICO backed off from #1 down to #3 with 34,461 spots, while THE HOME DEPOT had new life with their bounce from #22 up to #4 with 31,904 spots. And remaining in the Top Five, at #5, was MCDONALD'S with 31,079 spots.
Posted: February 4, 2013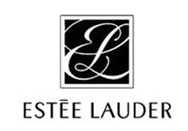 SPOT TRENDS
Last Twelve Months
Estée Lauder
, born Josephine Ester Mentzer, founded the company with her husband Joseph from their original formulas of Estée Lauder Creme Pack, Estée Lauder Cleansing Oil, and Estée Lauder All Purpose Creme and Skin Lotion. Ms. Lauder was the fiercely ambitious ninth child in a Jewish immigrant family that lived in Corona, Queens, New York. In 1948, Estée Lauder established Saks Fifth Avenue in New York City as their first retail department store account. Their early marketing techniques included sampling so that potential customers could actually try their products before buying. Despite her small ad budget, Estée Lauder sought only the most prestigious accounts. By 1960 Estée Lauder was an international corporation selling their products in the famous Harrod's Department Store in London. Within a few short years they opened outlets in Central America, Denmark, Hong Kong, Italy, Spain, Sweden, Belgium New Zealand and Switzerland. In 1964, Estée Lauder again set out to revolutionize the industry by establishing one of the very first exclusively male fragrance lines, Aramis for Men. By 1967 Mrs. Lauder, always known as a woman of impeccable style and taste, was recognized as one of the country's 10 Outstanding Women in Business. It encompasses a significant number of recognizable companies including but not limited to; Estée Lauder, Aramis, Clinique, Prescriptives, Origins, M•A•C, Bobbi Brown essentials, Tommy Hilfiger, jane, Donna Karan, Aveda, La Mer, Stila, Jo Malone, and Bumble and bumble. In their 2012 annual report, Estée Lauder had revenues of $9.71 billion producing a net income of $856.9 million, which represented 10.3% sales growth in 2012. They have 38,500 employees, which is up 6,200 from a year ago.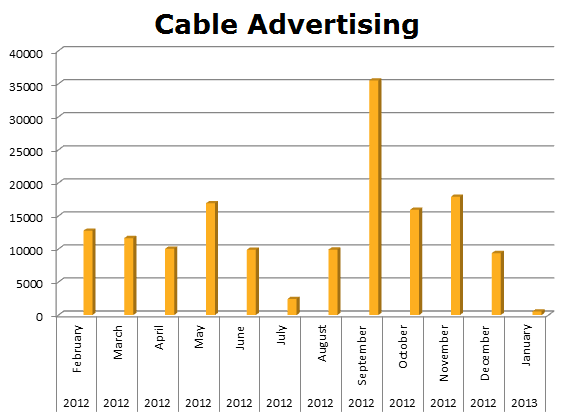 On Local Cable, Estée Lauder ran 152,799 spots in the last 12 months. Their biggest month was September with 35,499 spots.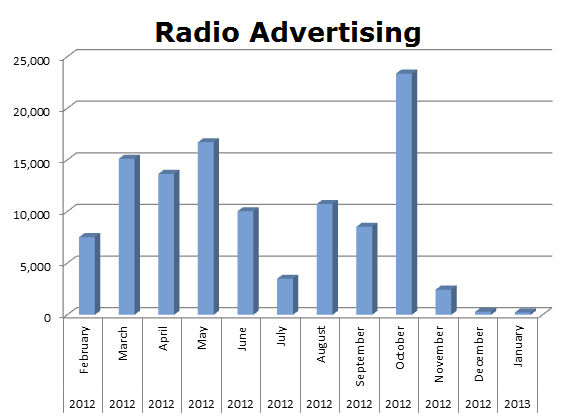 On the Radio, Estée Lauder cleared 112,085 spots in the last 12 months with the hottest month being October 2012 when they ran 23,365 spots.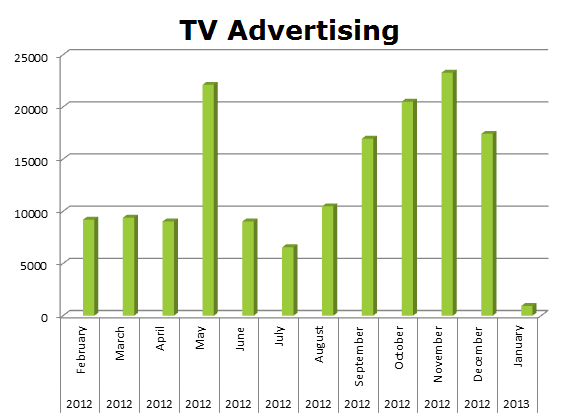 On Broadcast TV, Estée Lauder ran 154,860, very similar to Cable, over the last 12 months. They excelled in May with 22,118 spots and then again in November 2012 with 23,281 spots.
POSTED: February 4, 2013
<! ----End Here -->

T-MOBILE vs. SPRINT
T-Mobile
has a multi-merger history. In 1994, from the merger of General Cellular and Pacific Northwest Cellular, Western Wireless grew into a PCS provider for several western and southwestern states as well as Hawaii. After a successful public offering by Western Wireless, VoiceStream Wireless was launched. VoiceStream Wireless grew its capabilities and personality-building coverage, advanced customer care centers, and, with the signing of actress Jamie Lee Curtis, a nationwide message: Get More. After spinning off from its parent company, VoiceStream Wireless grew to more than 7 million customers, launching innovations like wireless Internet service, and ultimately merging with Deutsche Telekom AG. In 2002, VoiceStream Wireless officially became T-Mobile USA, launching service in California and Nevada. T-Mobile signed actress and wife of Michael Douglas, Catherine Zeta-Jones as the global spokeswoman. In 2006, they introduced the myFaves experience. While the brand maintained its signature magenta hue, T-Mobile had a new tagline, "stick together," created to underscore the importance of maintaining and enhancing personal relationships. On March of 2011, Deutsche Telekom accepted a $39 billion stock and cash purchase offer for the company from AT&T Inc. The merger would have created the largest wireless carrier in the U.S., with nearly 130 million customers. The deal faced significant regulatory and legal hurdles. On December 19, 2011, amid heavy resistance from the U.S. government, AT&T CEO Randall Stephenson announced that the company had officially withdrawn their bid and agreed to pay T-Mobile a $4 billion breakup fee. Deutsche Telekom AG announced in October 2012 that they will acquire MetroPCS Communications Inc. which according to the Wall Street Journal will combine the fourth and fifth largest U.S. wireless carriers. According to T-Mobile's 3rd quarter 2012 report, they were serving 33.3 million customers and they have 33,000 employees. Even though their customer totals have fallen recently, they are positive about their new 4G network launching this year.
SPRINT
was born out of mergers with United Telecommunications, US Sprint and Centel. Each embraced the same bold approach that United Telecommunications' founder Cleyson Brown showed in 1899, when the Brown Telephone Company successfully went toe-to-toe with the Bell monopoly in Abilene, Kansas. By the mid-1970s, the company's aggressive growth strategies had firmly established it as the nation's largest independent local telephone provider, which is still true today. When long distance opened to competition in the 1980s, Sprint seized the opportunity. By 1986, Sprint led all U.S. telecom companies by completing the first nationwide, 100% digital, fiber-optic network. At the same time, the company was a pioneer in data communications, establishing the world's third largest commercial packet data network in 1980. Sprint charged into the 1990s with pacesetting moves for both consumers and businesses, when in 1993, Sprint and Centel merged to become a unique provider of local, wireless and long distance services. Sprint took its wireless strategy a big step further in the late '90s by building the only nationwide PCS network in the U.S. In 2004, Sprint merged with Nextel which always had gold and black as their colors, and Sprint adopted their colors and added the bird-like feather emblem. The merger has made the Nextel name vanish except on franchises that sell cell phones under the Nextel brand. Those offices are known as Nextel Partners. According to their 2011 annual report, Sprint created revenues of $33.679 billion with net losses of $-2.89 billion. They have assets worth $49 billion and their total equity is around $11.5 billion. They have 40,000 employees.
MEDIA USAGE

Last 12 Months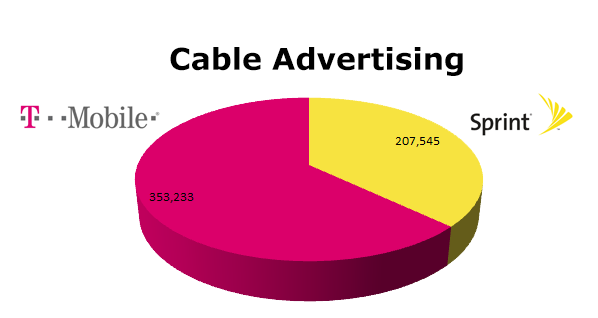 On Local Cable, T-Mobile leads the way with 353,233 spots in the last 12 months, while Sprint cleared 207,545 ads in the same period. T-Mobiles biggest month was December 2012 with 54,820 and Sprint ran hottest in July 2012 with 38,498 ads.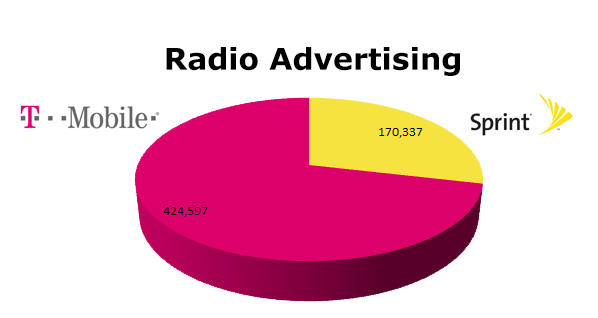 On the Radio, T-Mobile bested Sprint. T-Mobile ran 424,597 spots in the last 12 months, while Sprint ran 170,337 commercials. T-Mobile ran hottest in December with 84,510 ads and Sprint also ran the most in December 2012 with 49,944 spots.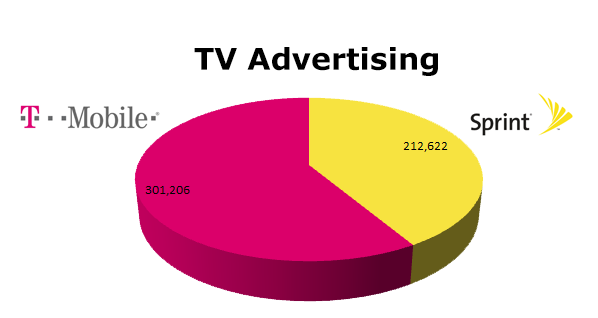 On Broadcast TV, T-Mobile ran 301,206 spots in the last 12 months, while Sprint ran 212,622 spots. T-Mobile ran the most in December 2012 with 53,335 ads, while Sprint hit the December holiday schedules with 35,595 spots. Posted: February 4, 2013 <! ----End Here -->
Media Monitors
445 Hamilton Avenue, 7th Floor
White Plains, NY 10601 USA
1-800-67-MEDIA

For The Current Spots: