Weekly Spots
POSTED: January 28, 2013

MEDIA MONITORS RESEARCH SPOT TEN RESULTS
Click an icon to download Adobe Reader

or PDF Plugin for Firefox

Mac & non IE or FF Browsers Click Here To Download Spot Charts

UP, UP and AWAY
Albuquerque, New Mexico and Medicated Products
By: Dwight Douglas, VP Marketing
Media Monitors - New York
(White Plains, NY) January 28, 2013
– According to Arbitron, Albuquerque, NM is the 68th largest radio market with a population of 748,700.
CITY FACTS
Albuquerque dates back 12,000 years, when the Anasazi Indians settled in the area and lived there for 2 centuries, from 1100 to 1300. In 1912, New Mexico was admitted to the US, the 47th state in the Union. The city was named after Viceroy Francisco Fernandez de la Cueva, the Duke of Albuquerque. The "r" apparently fell out of use casually and over a long period.
The Albuquerque International Balloon Fiesta is a yearly festival of hot air balloons that takes place in Albuquerque, New Mexico, USA during early October. The balloon fiesta is a nine day event, and has around 750 balloons. The event is the largest hot air balloon festival in the world.
In higher learning they have the University of New Mexico.
The area's major employers are part of what is known as the Sandia National Laboratories, a government research and development lab and is involved in laser technology and solar energy. Kirtland U.S. Air Force Base, the area's largest employer and the sixth-largest military base in the world, is a weapons research center.
Items and goods produced: machine tools, fabricated structural steel, furniture, hardware, textiles, paints, varnishes, fertilizers, scientific instruments, electronic equipment, neon and electric signs and Native American jewelry and curios.
Sports in Albuquerque come down to the University of New Mexico Lobos and the minor league hockey team, the New Mexico Scorpions (WPHL).
Famous people from Albuquerque: NASCAR drivers Al Unser Sr., Jr. and Bobby Unser, rock band the Shins, Amazon's Jeff Bezos, baseball's Tito Landrum, director Jay Roach, fashion Model Elyse Sewell, pro football's Ronnie Lott and Jim Everett and the creative talent Mike Judge of King of the Hill fame, lives in this New Mexico city.
ALBUQUERQUE SPOT TEN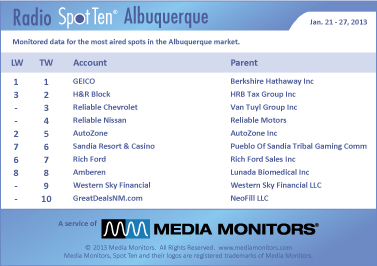 Last week the #1 advertiser was GEICO with 1,044 spots. H&R BLOCK pushes into #2 with 700 spots, while RELIABLE CHEVROLET took #3 with 541 spots. RELIABLE NISSAN was #4 running 528 ads and AUTOZONE moved down to #5 with 506 spots. SANDIA RESORT & CASINO was #6 with 448 spots and RICH FORD found #7 with 447 commercials. AMBEREN was #8 airing 440 ads and WESTERN SKY FINANCIAL was #9 with 425 spots. GREATDEALSNM.COM was #10 with 410 spots.
NON-PRESCRIPTION REMEDIES SPOT TEN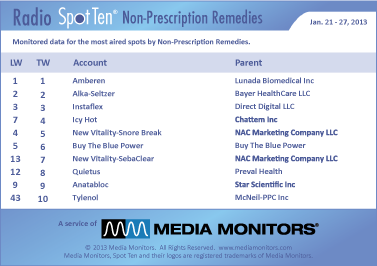 NATIONAL STATISTICS
- #1 in this category in the country was AMBEREN with 12,177 spots. ALKA-SELTZER was #2 airing 6,936 announcements, while INSTAFLEX was solid at #3 running 6,477 spots. ICY HOT got hot from #7 to #4 with 3,984 ads and NEW VITALITY – SNORE BREAK made some noise at #5 with 3,891 spots. BUY THE BLUE POWER was #6 with 3,021 spots, while NEW VITALITY-SEBACLEAR soared from #13 to #7 airing 1,778 spots. QUIETUS moved quietly from #12 to #8 with 1,763 spots and ANATABLOC was solid at #9 running 1,737 ads. TYLENOL took #10, up from #43, with 1,650 spots.
NATIONAL SPOT TEN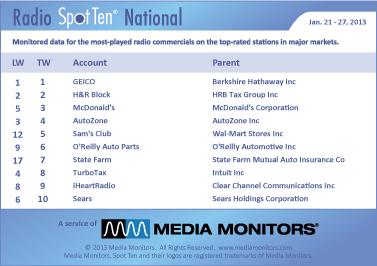 NATIONAL STATISTICS
- On the national front, GEICO keeps #1 tied-up with 58,180 spots. Coming in #2 was H&R BLOCK with 43,015 ads. MCDONALD'S moved up to #3 with 29,116 spots, while AUTOZONE claims #4 with 22,030 spots. New to the top five, it's SAM'S CLUB with 21,509 spots.
Posted: January 28, 2013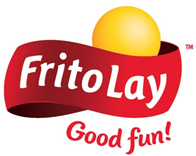 SPOT TRENDS
Last Twelve Months
Frito-Lay
North America is a division of PepsiCo and manufactures, markets and sells corn chips, potato chips and other snack foods. The primary snack food brands produced under the Frito-Lay name include Fritos corn chips, Cheetos cheese-flavored snacks, Doritos and Tostitos tortilla chips, Lay's potato chips, Ruffles chips and Walkers potato crisps (Europe), as well as Rold Gold pretzels and Cracker Jack. In 1932, C.E. Doolin entered a small San Antonio cafe and purchased a bag of corn chips. Little did he dream this savory chip would become one of the nation's most popular snacks. Mr. Doolin learned that the manufacturer of the chips was eager to sell his small business, so he purchased the recipe, and began to sell FRITOS® Corn Chips from his Model T Ford. That same year, Herman W. Lay began his potato chip business in Nashville. Not long after, Mr. Lay purchased the manufacturer, and the H.W. Lay & Company was formed. The success of Frito-Lay is a tribute to two entrepreneurs' dreams. H.W. Lay & Company became one of the largest snack food companies in the Southeast, and LAY'S® brand Potato Chips is still America's favorite potato chip. In 1961, the Frito Company and the H.W. Lay Company merged and became Frito-Lay, Inc. Frito-Lay brands account for 59% of the U.S. snack chip industry. Recently, Frito-Lay North America continued to expand its product lines with acquisitions such as Stacy's Pita Chip Company, which represented Frito-Lay's desire to participate more broadly in the $90 billion macro-snack category -particularly with snack foods made with more natural ingredients. The parent company Pepsico had revenues of $66.50 billion in 2011 with a net income of $6.44 billion, which represented a 15% increase in sales. The parent company has 297,000 employees, while the Frito-Lay website claims 48,000 employees, up by 3,000 from a year ago.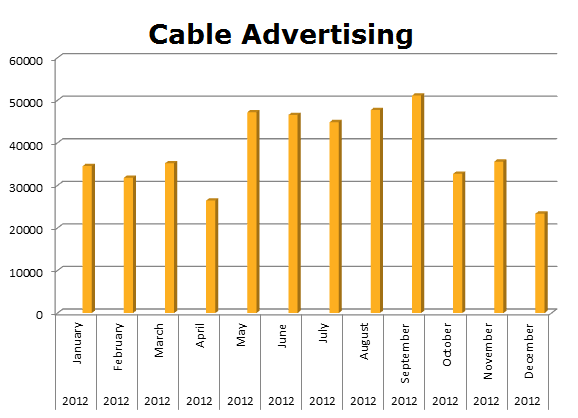 On Local Cable, Frits Lay ran 457,114 spots last year with their biggest month being September with 51,117 ads. 65% of all their spots on the three media ran on Cable.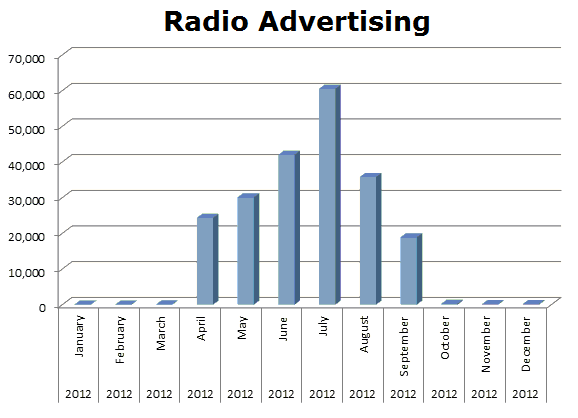 On the Radio, Frito Lay focuses their campaigns between April and September. Last year they ran 212,109 spots on radio with July being the big month with 60,482 spots.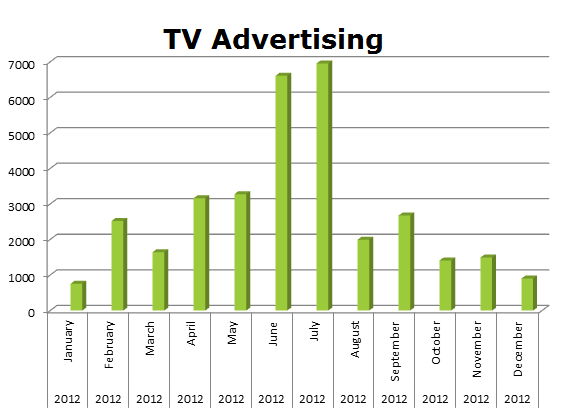 On Broadcast TV, Frito Lay ran 33,398 spots for the last 12 months with big spikes in June (6,608) and July (6,956) spots.
POSTED: January 28, 2013
<! ----End Here -->

MACY'S vs. KOHL'S
Macy's
, originally named R.H. Macy & Co. was founded by Rowland Hussey Macy, a Quaker businessman. He opened the first New York City store on 6th Ave. at 14th Street. On the company's first day of business, which was October 28, 1858, the sales totaled $11.06 (Approximately $287.37 in today's economy). In the 1850s, inspired by the red star tattooed on his arm, Macy replaced his store's original trademark rooster with one of the most recognizable retail marks of all time: the Macy's red star. In 1862, Macy's was the first department store to introduce the in-store Santa that promoted a new holiday standard for department stores worldwide. Macy's was also the first department store to showcase elaborate holiday window displays in 1864. Macy's employed the very first female retail executive in 1866, Margaret Getchell. In 1902 Macy's moved uptown to 34th street and Herald Square into a 9 story building with 33 elevators and 4 escalators, the first American store to use them. Once finished with their 7th avenue addition in 1924, Macy's declared itself the world's largest store. Macy's kicked-off their Thanksgiving Day Parade in 1924, which was originally called the "Macy's Christmas Parade" and featured live animals from the Central Park Zoo. The classic holiday 1947 movie, "Miracle on 34th Street" was based on Macy's. Macy's sponsored the first "Macy's Fireworks Spectacular" in 1976, which is now the largest fireworks display in America and a 4th of July tradition in the city of New York. In 1994 Macy's joined Federated Department Stores Inc. to create the largest department store retailer in America. In 2007 Federated Department Stores, Inc. became Macy's Inc., which built on the nationwide strength of the Macy's brand. Latest records show Macy's revenues at $26.405 billion with net income of $1.256 billion. As of January 28, 2012, Macy's had approximately 171,000 regular full-time and part-time employees and that's up 10,000 from 2011.
Kohl's Corporation
is a department store chain headquartered in Menomonee Falls, Wisconsin, a suburb of Milwaukee. The company currently operates 1,022 stores in 49 states. Kohl's mission, as stated in store and online, is to be the leading value-oriented, family-focused, specialty department store. Kohl's was founded by Max Kohl, who had previously operated grocery stores. His first Kohl's supermarket was built in 1946, which grew to a southeastern Wisconsin chain known as Kohl's Food Stores. In 1962, he started his first department store, Kohl's Department Store, in Brookfield, Wisconsin. He positioned Kohl's between the higher-end department stores and the discounters, selling everything from candy to engine oil to sporting equipment. In 1972 the British-American Tobacco Company's BATUS Inc., bought a controlling interest in Kohl's Corp., which at the time operated 50 grocery stores, six department stores, three drug stores and three liquor stores. The Kohl family, led by Allen and Herb Kohl, continued to manage the company until 1979. In 1983, the grocery stores were sold to A&P. A group of investors, including the senior management, purchased the company in 1986. As of January, 2012, Kohl's had 1,127 stores in 49 states with 142,000 associates, with 30,000 full-time employees and 112,000 part-time workers. According to their latest annual report, Kohl's created $18.8 billion in revenues with a net income of $1.1 billion.
MEDIA USAGE

Last 12 Months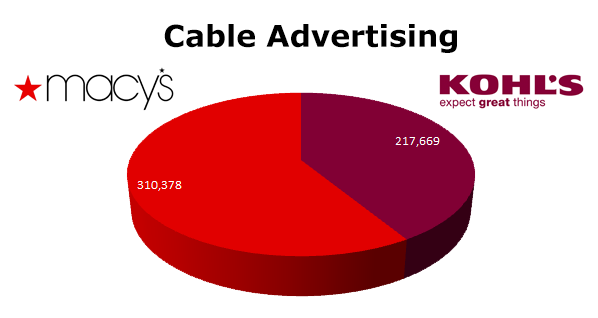 On Local Cable, Macy's ran 310,378 spots against Kohl's 217,669 ads last year. Macy's biggest month was November with 56,793 spots, while Kohl's also ran hottest in November with 57,910 spots.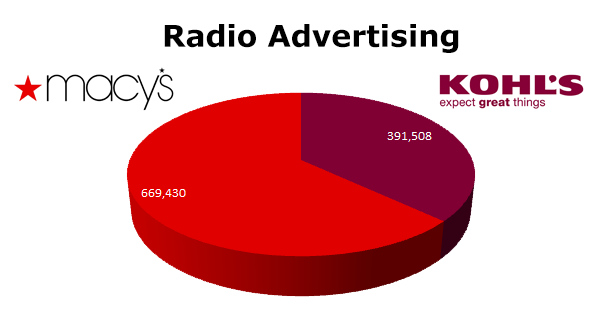 On the Radio, Macy's ran 669,430 spots last year, while Kohl's cleared 391,508 spots in 2012. Macy's biggest month was December when they ran 111,777 holiday spots, while Kohl's biggest month was August with 53,176 spots.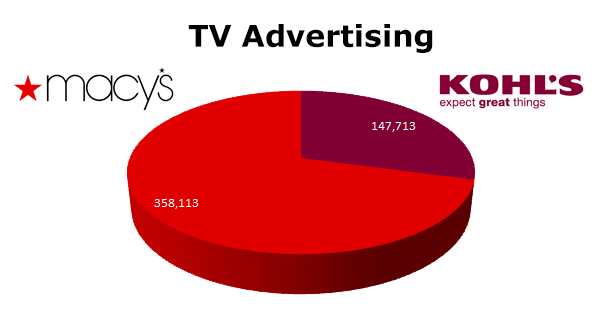 On Broadcast TV, Macy's ran 358,113 ads against Kohl's 147,713 spots last year. Kohl's biggest month was November with 27,198 spots and Macy's ran hot in both November (54,981) and December (54,240). Posted: January 28, 2013 <! ----End Here -->
Media Monitors
445 Hamilton Avenue, 7th Floor
White Plains, NY 10601 USA
1-800-67-MEDIA

For The Current Spots: