Weekly Spots
POSTED: January 21, 2013

MEDIA MONITORS RESEARCH SPOT TEN RESULTS
Click an icon to download Adobe Reader

or PDF Plugin for Firefox

Mac & non IE or FF Browsers Click Here To Download Spot Charts

TWIN CITIES & MORE JOBS
Minneapolis and Employment Services
By: Dwight Douglas, VP Marketing
Media Monitors - New York
(White Plains, NY) January 21, 2013
– According to Arbitron, Minneapolis, MN is the 16th largest radio market with a population of 2,793,800.
CITY FACTS
The name Minneapolis is attributed to the city's first schoolmaster, who combined mni, the Dakota word for water, and polis, the Greek word for city. Minneapolis is nicknamed the "City of Lakes" and the "Mill City".
Minneapolis' collegiate scene is dominated by the main campus of the University of Minnesota where more than 50,000 undergraduate, graduate, and professional students attend twenty colleges, schools, and institutes.
Six Fortune 500 corporations make their headquarters within the city limits of Minneapolis: Target Corporation, U.S. Bancorp, Xcel Energy, Ameriprise Financial, Thrivent Financial for Lutherans and PepsiAmericas.
In 1958, their basketball team the Lakers moved to LA. In 1993, they lost their Hockey team the North Stars to Dallas. Starting in 1961, the Twin Cities launched the Minnesota Vikings as a NFL expansion team and in baseball the Minnesota Twins arrived when the Washington Senators relocated to Minnesota. They have the Minnesota Lynx of the WNBA and the Timberwolves of the NBA. In the NHL the Minnesota Wild call the Twin Cities home.
Some notable residents from the Minneapolis area: Warren E. Burger, jurist; William Demarest, actor; William Orville Douglas, jurist; Francis Scott Fitzgerald, author; Jean Paul Getty, oil executive; John Madden, sportscaster; E. G. Marshall, actor; Kate Millett, feminist; singer Prince (Prince Rogers Nelson); actors Jane Russell and Winona Ryder; Charles Schulz, cartoonist; Michael Todd, producer; and of course the bigger-than-life character, politician, wrestler and entertainer, Jesse Ventura.
MINNEAPOLIS SPOT TEN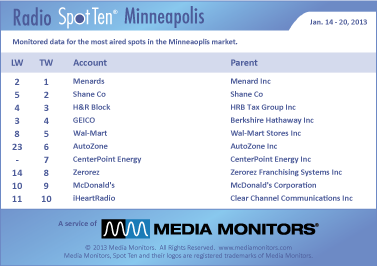 In the Twin Cities last week the #1 radio advertiser was MENARDS with 652 spots. Coming in #2 was the SHANE COMPANY with 498 spots, while H&R BLOCK captured #3 with 476 ads. GEICO was #4 running 468 commercials and WAL-MART marched into #5 with 454 spots. AUTOZONE zoomed from #23 to #6 with 410 spots, while CENTERPOINT ENERGY lit #7 with 387 spots. ZEROREZ (Cleaning Services) takes #8 with 368 ads and MCDONALD'S was #9 with 366 commercials. IHEARTRADIO comes in #10 with 341 spots.
EMPLOYMENT SERVICES SPOT TEN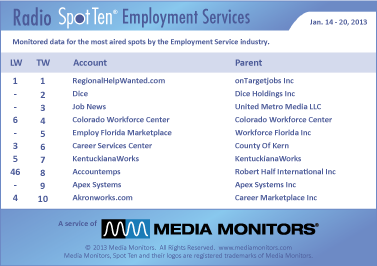 NATIONAL STATISTICS
- In the category of Employment Services, REGIONALHELPWANTED.COM was clearly #1 with 6,722 spots. DICE was #2 airing 609 announcements, while JOB NEWS nudged into #3 with 187 spots on the radio. COLORADO WORKFORCE CENTER took #4 with 122 spots and EMPLOY FLORIDA MARKETPLACE landed in #5 with 120 spots. CAREER SERVICES CENTER secured #6 with 116 spots, while KENTUCKIANAWORKS was #7 with 89 spots. ACCOUNTEMPS leaps from #46 to #8 with 88 spots and APEX SYSTEMS was #9 with 88 spots as well. AKRONWORKS.COM was #10 with 88 spots.
NATIONAL SPOT TEN
NATIONAL STATISTICS
- On the National chart, GEICO remained in the driver's seat with 54,876 spots. H&R BLOCK kept their seasonal dominance with 40,902 spots making them #2, while AUTOZONE captured #3 airing 29,388 spots. TURBOTAX took #4 with 26,836 and MCDONALD'S was solid at #5 running 26,039 spots.
Posted: January 21, 2013


SPOT TRENDS
Last Twelve Months
Nationwide Insurance
has historic roots. Over the last 80 years, Nationwide has grown from a small mutual auto insurer owned by policyholders to one of the largest insurance and financial services companies in the world, with more than $135 billion in assets. In 1925, the Ohio Farm Bureau Federation incorporated the Farm Bureau Mutual Automobile Insurance Company with the goal of providing quality auto insurance at low rates for farmers in Ohio. With help from locally based sponsoring organizations in 1928, Farm Bureau Mutual expanded into other states. These included West Virginia, Maryland, Delaware, Vermont and North Carolina. By 1934, they started insuring motorists in metropolitan areas and, through the purchase of a fire insurance company, began writing property insurance policies as well. Between 1943 and 1955, Farm Bureau Mutual expanded operations until it became clear that they had far outgrown their original goals and their name. So, with a western expansion that included 20 additional states, the company changed its name to Nationwide Insurance®. In 1982, Nationwide acquired a 100-year-old company and America's leading farm insurer Farmland Insurance, which is now Nationwide Agribusiness Insurance. In 1997 Nationwide Financial® went public, but in 2009 Nationwide Corporation, a wholly owned subsidiary of Nationwide Mutual Insurance Company (Nationwide), purchased all of the outstanding shares of common stock of Nationwide Financial Services (NFS) it did not already own; NFS became a wholly-owned subsidiary of Nationwide. According to their 2011 annual report they created revenues of $20.7 billion with a net income of $585 million in net operating income.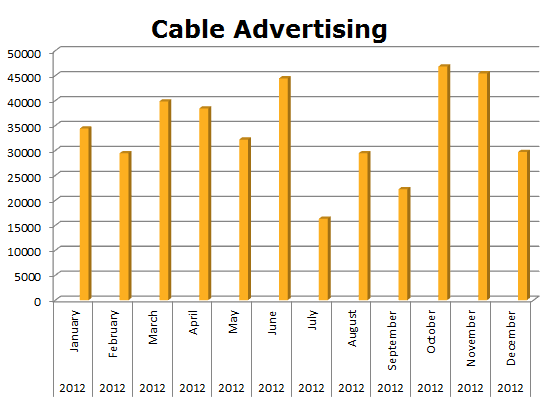 On Local Cable, Nationwide Mutual cleared 408,596 spots last year. The biggest month was June when they ran 44,443 spots.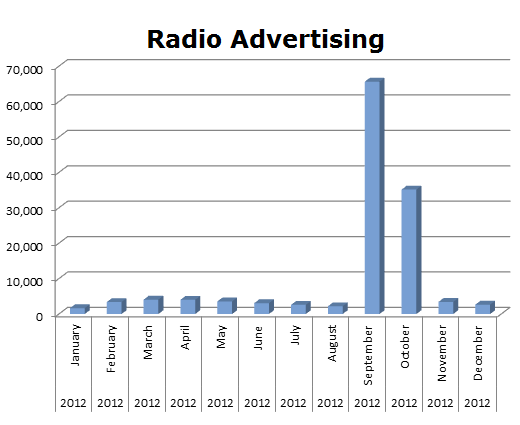 Nationwide Mutual was on a slow burn running fewer than 5,000 spots each month until September when they exploded with 65,649 spots. October had 35,163 spots, then, they returned to their lower levels for the rest of the year.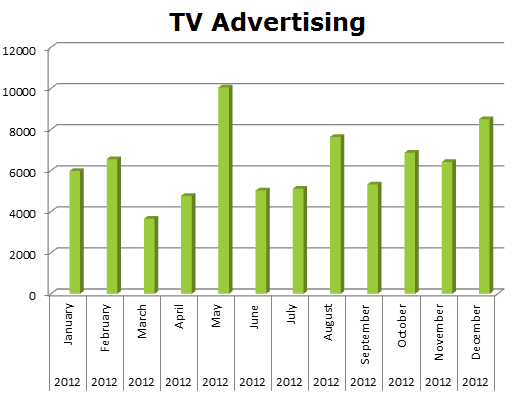 On Broadcast TV, Nationwide Mutual cleared 75,891 spots last year with the hottest month being May when they ran 10,046 ads.
POSTED: January 21, 2013
<! ----End Here -->

General Mills vs. Campbell Soup Company
General Mills
(NYSE: GIS) traces its roots back to the banks of the Mississippi River in what is now Minneapolis. Harnessing the power of St. Anthony Falls, Cadwallader Washburn built one of the leading milling companies in the world. John Crosby eventually became his partner, forming the Washburn Crosby Company. When the Minnesota Valley Canning Company named its new, extra-large green pea variety "Green Giant," no one dreamed that one day it would become the company's name. Today, the Green Giant and his helper, Sprout, still live happily in their valley growing vegetables picked at the peak of freshness. Green Giant has been part of General Mills since 2001. The mascot, Betty Crocker began as a pen name in 1921 to answer cooking-related questions that were sent to the Washburn Crosby Company, the predecessor of General Mills. This advertising icon has grown to become one of the more recognizable brands in the grocery store. Wheaties cereal was discovered by accident. A health clinician spilled bran gruel on a hot stove. The mixture crackled and sizzled into a crisp flake, and it tasted great. The clinician brought the idea to the Washburn Crosby Company in 1924, launching the cereal that later became The Breakfast of Champions. The choice of an athlete to appear on the box is not only an honor, but one that comes with certain role model expectations by General Mills. In 1928, Washburn Crosby merged with 26 other regional mills to become General Mills. General Mills became the sponsor of the popular radio show The Lone Ranger in 1941. The show was then brought to television, and, after 20 years, their long-term sponsorship came to an end in 1961. In 1970, General Mills acquired a five-unit restaurant chain called Red Lobster and expanded it nationwide. From this sprung a division called General Mills Restaurants which took charge of the Red Lobster chain. In 1982, General Mills Restaurants founded a new Italian-themed restaurant chain called Olive Garden. In 2001, General Mills Inc. acquired Pillsbury. Giggling his way to spokes character superstardom, Poppin' Fresh, the Pillsbury Doughboy, first introduced himself to TV viewers across the nation in 1965. The Pillsbury Doughboy has become one of corporate America's most popular advertising icons. When the Minnesota Valley Canning Company named its new, extra-large green pea variety "Green Giant," no one dreamed that one day it would become the company's name. Today, the Green Giant and his helper, Sprout, still live happily in their valley growing vegetables picked at the peak of freshness. Green Giant has been part of General Mills since 2001. In their latest annual report, General Mills showed revenues of $16.66 billion, producing a net income of $1.57 billion, which was an 11.9% increase in sales for 2012. They have 35,000 employees.
Campbell Soup Company
(NYSE: CPB), also known as Campbell's, is an American producer of canned soups and related products. Campbell's products are sold in 120 countries around the world. Headquartered in Camden, New Jersey, Campbell's divides itself into three divisions: the simple meals division, which consists largely of soups both condensed and ready-to-serve, the baked snacks division, which consists of Pepperidge Farm, and the health beverage division, which includes V8 juices. The company was started in 1869 by Joseph A. Campbell, a fruit merchant, and Abraham Anderson, an icebox manufacturer. They produced canned tomatoes, vegetables, jellies, soups, condiments, and minced meats. In 1897, John T. Dorrance, a nephew of the general manager Arthur Dorrance, began working for the company. Dorrance was a chemist with degrees from MIT and Göttingen University, Germany and figured out a method for condensing soup by halving the quantity of its heaviest ingredient: water. He went on to become president of the company from 1914 to 1930, eventually buying out the Campbell family. In 1898, Herberton Williams, a Campbell's executive, convinced the company to adopt a cherry red and bright white color scheme, because he was taken by the crisp colors of the Cornell University football team's uniforms. To this day, the layout of the can, with its red and white design and the metallic gold medal seal from the 1900 Paris Exhibition, has changed very little, with the exception of the French phrase changed to English: "Paris International Exposition". Campbell Soup became one of the largest food companies in the world under the leadership of William Beverly Murphy. While at Campbell's Soup Company, he took the corporation public and increased its brand portfolio to include Pepperidge Farm's breads, cookies, and crackers, Franco-American's gravies and pastas, V8 vegetable juices, Swanson broths, and Godiva's chocolates. According to their latest annual report Campbell's produced revenues of $7.71 billion with a net income of $796 million. They have 17,700 employees, up 200 from a year ago.
MEDIA USAGE

Last 12 Months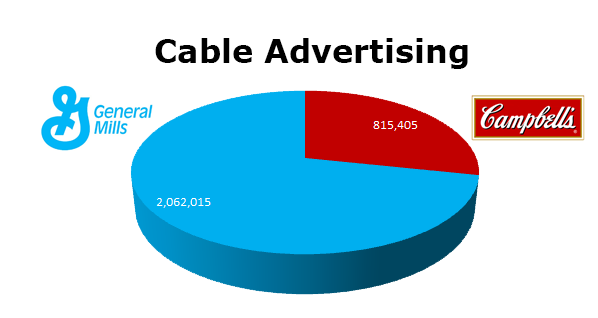 On Local Cable, General Mills ran 2,062,015 spots last year, while Campbell's ran 815,405 ads in the same period. General Mills biggest month was October with 244,612 spots. Campbell's hottest month was January 2012 with 109,521 ads. On Local Cable, Campbell's brands aired 39.54% as many spots as General Mills.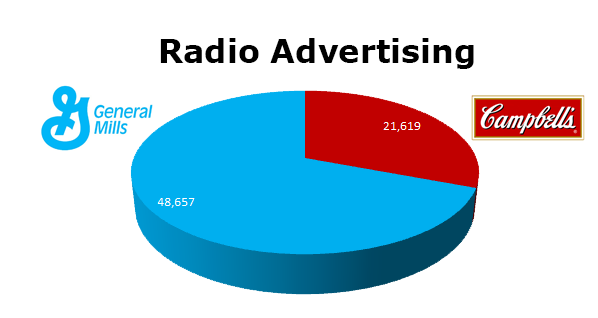 On the Radio, General Mills ran 48,657 spots against Campbell's 21,619 spots last year. General Mills ran the most radio ads in October 2012 with 6,904 and Campbell's cooked in February with 10,158 spots. On Radio, Campbell's brands aired 44.43% as many spots as General Mills.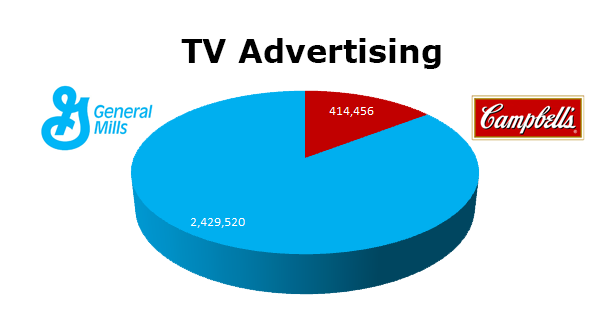 On Broadcast TV, General Mills steamed ahead with 2,429,520 spots, while Campbell's cleared 414,456 spots last year. General Mills ran the most spots last January with 285,663 spots, while Campbell's was hottest in the same month, January 2012, airing 64,498 spots. On TV, Campbell's brands aired 17.06% as many spots as General Mills brands. Posted: Januray 21, 2013 <! ----End Here -->
Media Monitors
445 Hamilton Avenue, 7th Floor
White Plains, NY 10601 USA
1-800-67-MEDIA

For The Current Spots: