Weekly Spots
POSTED: January 14, 2013

MEDIA MONITORS RESEARCH SPOT TEN RESULTS
Click an icon to download Adobe Reader

or PDF Plugin for Firefox

Mac & non IE or FF Browsers Click Here To Download Spot Charts

Rubber City
Akron, Ohio and Cosmetics
By: Dwight Douglas, VP Marketing
Media Monitors - New York
(White Plains, NY) January 14, 2013
– According to Arbitron, Akron, Ohio is the 79th largest radio market with a population of 601,500.
CITY FACTS
In 1811, Paul Williams settled near the corner of what is now Buchtel and Broadway and suggested to the surveyor of the Connecticut Western Reserve, General Simon Perkins, to make a town at the summit of the developing Ohio and Erie Canal.
In the early 1900s, the city became the nation's fastest growing city due to industries such as the stoneware used in sewers, fishing tackle, farm equipment, matches, toys, and things made out of rubber. The companies General Tire, Goodrich, Firestone, and Goodyear built headquarters in Akron, but only the latter remains. Thus the nickname, the rubber city.
It's now the center of what is known as, the Polymer Valley, which consists of 400 polymer-related companies of which 94 were located within the city itself. Popular polymers include synthetic rubber, Bakelite, neoprene, nylon, PVC, polystyrene, polyethylene, polypropylene, polyacrylonitrile, PVB, silicone, and many more.
In the musical comedy, Glee, Vocal Adrenaline, the New Directions rivals are from a fictional school named Carmel High School, which is set in Akron.
The All-American Soap Box Derby, a youth racing program, has its World Championship finals at Derby Downs in Akron.
Akron's professional sports teams include the Akron Aeros (Minor League Baseball), Akron Racers (National Pro Fastpitch), Rubber City Rollergirls (Roller Derby) and NEO Roller Derby, (Women's Flat Track Derby Association); and the Akron Summit Assault USL Premier Development League (PDL), the fourth tier of the American Soccer Pyramid.
Higher education can be found at the University of Akron which is also home to the Goodyear Polymer Center and National Polymer Innovation Center, and first College of Polymer Science and Polymer Engineering.
Famous "Akronites" include: from the NBA, LeBron James and Stephen Curry, Gus "Honeycomb" Johnson and Nate "The Great" Thurmond, the father of Baseball Hall of Famer Thurman Munson; International Boxing Hall of Famer Gorilla Jones; former Notre Dame coach Ara Parseghian; and track star Butch Reynolds. From the world of music, Akron has produced Devo, The Black Keys, The Waitresses, and singers Chrissie Hynde, James Ingram and David Allan Coe, and Tool's Maynard James Keenan. Famous actors: Frank Dicopoulos, David McLean, Melina Kanakaredes, and Elizabeth Franz also started out in Akron.
AKRON SPOT TEN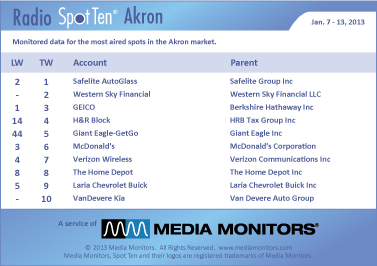 In Akron, the #1 radio advertiser in the rubber city was SAFELITE AUTOGLASS with 270 spots. WESTERN SKY FINANCIAL was #2 airing 224 announcements, while GEICO landed in #3 with 223 ads. H&R BLOCK make their January push taking #4, up from #14 and running 182 spots. GIANT EAGLE-GETGO soared from #44 to #5 with 161 spots and MCDONALD'S was #6 with 157 spots. VERIZON WIRELESS was #7 with 143 ads, while THE HOME DEPOT was solid at #8 with 141 ads. LARIA CHEVROLET BUICK was #9 with 139 spots and VANDEVERE KIA was #10 with 138 spots.
COSMETICS & SKIN CARE SPOT TEN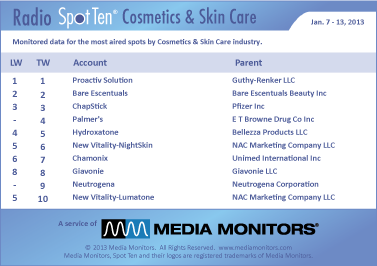 NATIONAL STATISTICS
- In this category, the #1 advertiser on radio in the nation was PROACTIV SOLUTION with 7,414 spots. BARE ESCENTUALS stayed at #2 with 4,560 spots, while CHAPSTICK was stuck at #3 with 3,660 ads. PALMER'S took #4 with 2,117 spots and HYDROXATONE was #5 running 1,682 spots. NEW VITALITY-NIGHTSKIN was #6 with 522 commercials, while CHAMONIX was #7 airing 138 spots. GIAVONIE stayed at #8 with 71 spots and NEUTROGENA was #9 with 62 spots. NEW VITALITY-LUMATONE fell from #5 to #10 last week with 44 spots.
NATIONAL SPOT TEN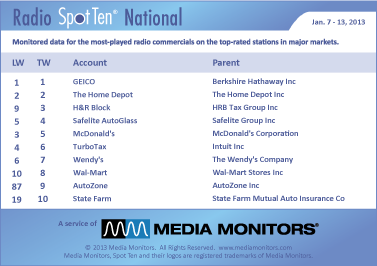 NATIONAL STATISTICS
- GEICO remains on top with 60,956 spots. THE HOME DEPOT in #2 ran 39,936 spots, while H&R BLOCK pushed their services up to #3 airing 36,056 ads. SAFELITE AUTOGLASS grabbed #4 with 30,391 spots and MCDONALD'S was #5 with 28,277 spots.
Posted: January 14, 2013


SPOT TRENDS
Last Twelve Months
Discover Financial Services
(NYSE: DFS) is a leading credit card issuer and electronic payment services company. In 1985, the idea was test marketed in Chicago, San Diego and Atlanta. In 1986 Discover card launched nationally by Dean Witter Financial Services Group, Inc., a subsidiary of Sears, Roebuck and Co. They kicked off with their big TV spot the "Dawn of Discover" during Super Bowl XX. Since its inception, the company has become one of the largest card issuers in the United States. The company operates the Discover card, America's cash rewards pioneer, and offers student and personal loans, as well as savings products such as certificates of deposit and money market accounts. In 1997 Dean Witter, Discover & Co. merged with Morgan Stanley Group, Inc. 2004 marked the resolution of the U.S. Department of Justice lawsuit against Visa and MasterCard for anticompetitive practices and it cleared the way for financial institutions to issue cards on the Discover network. The ruling freed financial institutions to issue payment cards on competing networks, opening the door to increased payment card choices for issuers, merchants and consumers. In July of 2007, Morgan Stanley spun off Discover Financial Services as a publicly traded independent corporation. In 2008, they acquired Diners Club International. Discover finally reaped the reward for their anti-trust law suit in 2008 against Visa and MasterCard when they were awarded $2.75 billion. It was the third largest reported antitrust settlement in U.S. history according to the Discover web site. In 2010 Discover took over The Student Loan Corporation, which included $4.2 billion of private student loans and other assets. The company's track record of pioneering accomplishments includes the introduction of cash rewards, known as "Cashback Bonus" - America's #1 Cash Rewards program. Discover card was one of the earliest to offer 24/7 customer service and secure account numbers for online purchases. According to the latest annual report, Discover produced revenue of $8.89 billion and a net income of $2.35 billion. They claim a 5.1% increase in 2012 sales. They have 10,300 employees.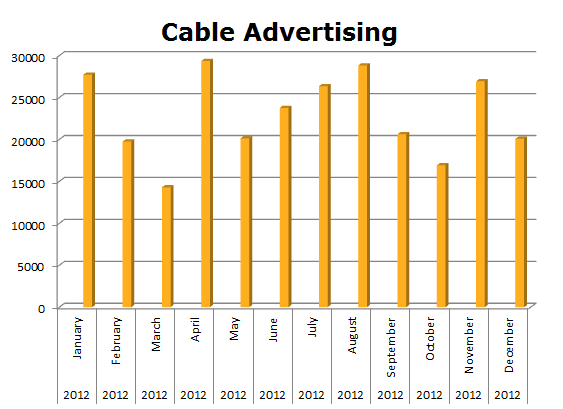 On Local Cable, Discover Financial ran 274,674 spots last year. Their hottest month was April with 29,344 spots.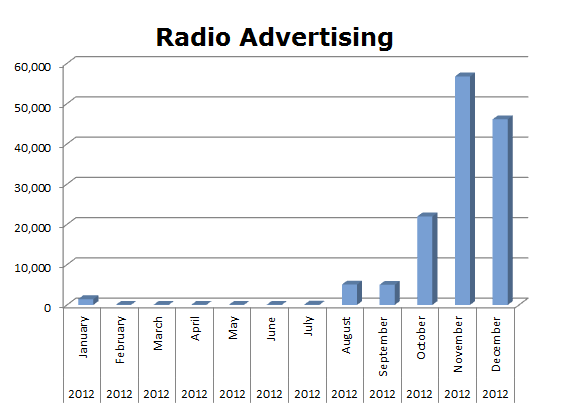 On the Radio, Discover started out a bit slow in 2012. They finally kicked in during the month of August with their biggest month being November when they ran 56,742 spots. For the whole year in 2012, they ran 136,638 spots.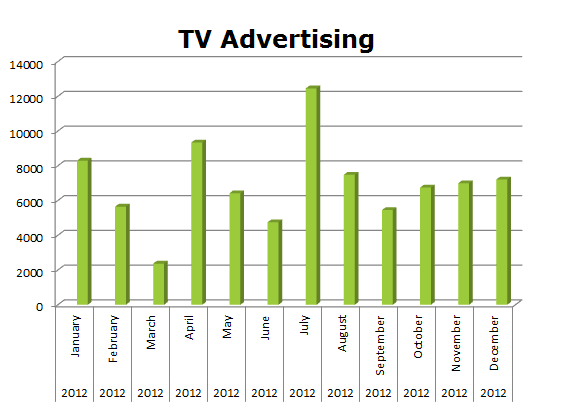 On Broadcast TV, Discover cleared 83,154 spots last year with the biggest month being July when they ran 12,452 spots
POSTED: January 14, 2013
<! ----End Here -->

GM vs. Chrysler vs. Ford
General Motors Company
(NYSE: GM), commonly known as GM is a multinational automotive corporation headquartered in Detroit, Michigan. GM does business in 157 countries, while producing cars and trucks in 31 countries. The GM International Operations segment sells vehicles under the brands Buick, Cadillac, Chevrolet, Daewoo, FAW, GMC, Holden, Isuzu, Jiefang, Opel and Wuling brands. General Motors was founded on September 27, 1908, in Flint, Michigan, as a holding company for Buick, controlled by William C. Durant. It acquired Oldsmobile later that year. In 1909 Durant brought in Cadillac, Elmore, Oakland (later known as Pontiac) and several others. Also in 1909, General Motors acquired the Reliance Motor Truck Company of Owosso, Michigan, and the Rapid Motor Vehicle Company of Pontiac, Michigan, the predecessors of GMC Truck. Durant lost control of GM in 1910 to a bankers' trust because of the large amount of debt taken on in its acquisitions coupled with a collapse in new vehicle sales. A few years later, Durant started the Chevrolet Motor car company and through this he secretly purchased a controlling interest in GM. Durant took back control of the company after one of the most dramatic proxy wars in American business history. GM's unprecedented growth lasted into the early 1980s when it employed 349,000 workers who staffed 150 assembly plants. When the top executives came to Washington to ask for a bailout, GM was forced into Chapter 11, but has since resolved their crisis. In the public offering in November of 2010, GM raised $15.77 billion, as well as $4.35 billion in preferred shares, more than the initially planned $4 billion. According to the latest GM Annual Report, they created revenues of $150.28 billion with a net income of $9.19 billion, which represented sales growth of 10.8% in 2011. They have 207,000 employees, that's up 5,000 from last year.
Chrysler
Group LLC, headquartered in the Detroit suburb of Auburn Hills, Michigan, was first organized as the Chrysler Corporation in 1925. The company was founded by Walter Chrysler (1875–1940) on June 6, 1925 when the Maxwell Motor Company (est. 1904) was re-organized into the Chrysler Corporation. Walter Chrysler had originally arrived at the ailing Maxwell-Chalmers company in the early 1920s, having been hired to take over and overhaul the company's troubled operations. Then in January 1924, after getting rid of the Chalmers brand, Walter Chrysler launched the well-received Chrysler automobile. Among the innovations in its early years: the first practical mass-produced four-wheel hydraulic brakes, a system nearly completely engineered by Chrysler with patents assigned to Lockheed, and rubber engine mounts to reduce vibration. Chrysler also developed a road wheel with a ridged rim, designed to keep a deflated tire from flying off the wheel. This safety wheel was eventually adopted by the auto industry worldwide. In 1998, Chrysler and its subsidiaries were purchased by German-based Daimler-Benz AG, creating the combined entity DaimlerChrysler AG. Under DaimlerChrysler, the company was named DaimlerChrysler Motors Company LLC, with its U.S. operations generally referred to as the "Chrysler Group". On May 14, 2007, DaimlerChrysler announced the sale of 80.1% of Chrysler Group to American private equity firm Cerberus Capital Management, L.P., therefore being known as Chrysler LLC, although Daimler (renamed as Daimler AG) continued to hold a 19.9% stake. On April 30, 2009, Chrysler LLC filed for Chapter 11 reorganization and announced a plan for a partnership with Italian automaker Fiat. On June 10, 2009, the sale of most of Chrysler's assets to "New Chrysler", formally known as Chrysler Group LLC was completed. The federal bailout for Chrysler was reported to be as much as $12.5 billion. According to Chrysler's full year report, they earned $54.981 billion in revenues with a net income of $183 million which included a 43% increase in U.S. sales. Worldwide their vehicle sales were up 22%. According to the Detroit Free Press, Chrysler has 52,000 employees. The
Ford Motor Company
was launched in a converted factory in 1903 with $28,000 in cash from twelve investors, most notably John and Horace Dodge (who would later found their own car company). Ford and coal dealer Alexander Y. Malcomson retained 51% of the company known as Ford. Their first attempt, under the name the Henry Ford Company, later became the Cadillac Motor Company in 1902. So, Ford's first attempt was not a success. During its early years, the company produced just a few cars a day at its factory on Mack Avenue in Detroit, Michigan. Groups of two or three men worked on each car from components made to order by other companies. Henry Ford was 40 years old when he founded the Ford Motor Company, which would go on to become one of the world's largest and most profitable companies, as well as being one to survive the Great Depression. As one of the largest family-controlled companies in the world, the Ford Motor Company has been in continuous family control for over 100 years. In the recent bailout frenzy of a year ago, Ford decided not to take any of the money offered by the Federal Government, which helped their image with consumers. According to Ford's latest Annual Report, they produced revenues of $136.26 billion with net income of $20.21 billion, which represented 5.7% growth in sales for 2011. They have 164,000 employees.
MEDIA USAGE

Last 12 Months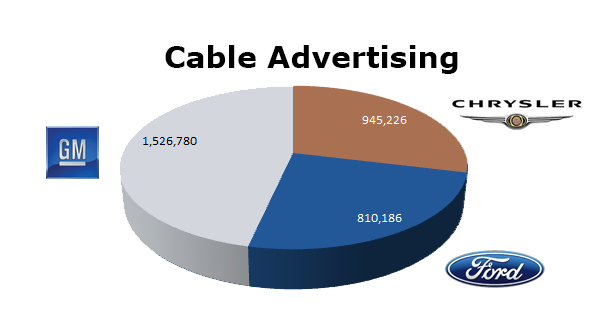 In the battle for dominance in the Big Three U.S. automakers, GM wielded a big stick in Local Cable with 1,526,780 spots last year. Chrysler was next with 945,226 and Ford was not far behind with 810,186 spots. GM's ran hottest in December 2012 with 168,388 spots, while Chrysler ran hottest in October 2012 with 104,183 ads. Ford cleared the most spots in October as well with 86,711 spots.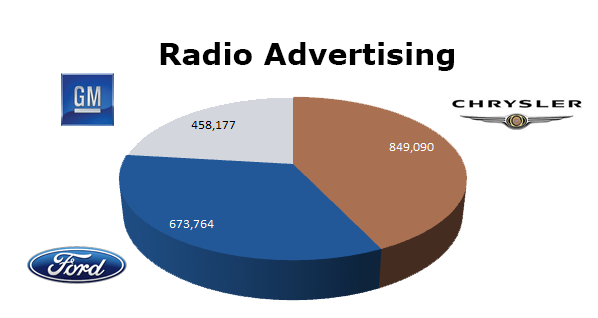 On the Radio, Chrysler tops the three with 849,090 spots in the last 12 months, while Ford was #2 with 673,764 spots in 2012. GM ran 458,177 spots last year. GM ran the most in June with 52,627 ads, while Ford was hottest in September with a grand total of 133,315 spots. Chrysler cleared 91,090 spots in August.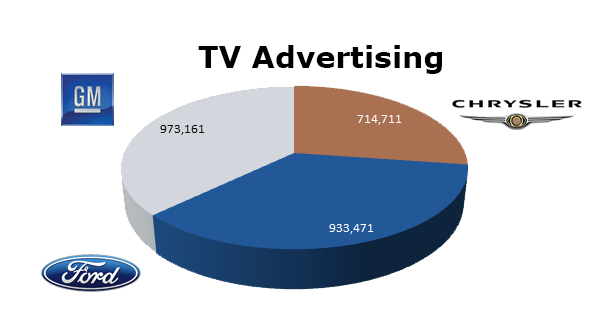 On Broadcast TV, GM had the edge with 973,161 spots last year compared to Ford's 933,471 ads. Chrysler ran the least with 714,711 spots in 2012. GM ran hottest in December 2012 with 104,851 spots, while Ford ran the most in December as well at 95,735 commercials and Chrysler cleared the most in September at 72,202 spots. Posted: January 14, 2013 <! ----End Here -->
Media Monitors
445 Hamilton Avenue, 7th Floor
White Plains, NY 10601 USA
1-800-67-MEDIA

For The Current Spots: