Weekly Spots
POSTED: January 7, 2013

MEDIA MONITORS RESEARCH SPOT TEN RESULTS
Click an icon to download Adobe Reader

or PDF Plugin for Firefox

Mac & non IE or FF Browsers Click Here To Download Spot Charts

The City of Angels, Kings, Dodgers and Lakers…
Los Angeles and Local Dealers: Cars and Trucks
By: Dwight Douglas, VP Marketing
Media Monitors - New York
(White Plains, NY)
January 7, 2013 – According to Arbitron, Charleston, SC is the 83rd largest radio market with a population of 573,100.
CITY FACTS
According to Arbitron, Los Angeles, California is the 2nd largest radio market with a population of 11,044,200.
Los Angeles is known by many as simply "LA" or the "City of Angels". It is a world center of business, international trade, entertainment, culture, media, fashion, science, technology, and education. It is home to renowned institutions covering a broad range of professional and cultural fields and is one of the most substantial economic engines within the United States.
Los Angeles was founded on September 4, 1781 by Spanish governor Felipe de Neve. It became a part of Mexico in 1821 following the Mexican War of Independence. In 1848, at the end of the Mexican–American War, Los Angeles and the rest of California were purchased as part of the Treaty of Guadalupe Hidalgo and became part of the United States. Los Angeles was incorporated as a municipality on April 4, 1850, five months before California achieved statehood.
Los Angeles is the home to Hollywood, globally recognized as the epicenter of the motion picture industry, and plays host to the Academy Awards as well as dozens of film festivals each year. The city also boasts over 1,000 musical, theater, dance, and performing groups. There are also 841 museums and art galleries in Los Angeles County; more museums per capita than any other city in the world including the Los Angeles County Museum of Art, the Getty Center, and the Museum of Contemporary Art.
There are three public universities located in Los Angeles: California State University Los Angeles, California State University Northridge, and the University of California Los Angeles. Private Universities include University of Southern California, Loyola Marymount University, the American Film Institute Conservatory, and the Fashion Institute of Design & Merchandising.
Los Angeles is the home of the Los Angeles Dodgers and the Los Angeles Angels of Anaheim of Major League Baseball; the Los Angeles Kings of the National Hockey League; the Los Angeles Clippers and Los Angeles Lakers of the National Basketball Association; the Los Angeles Sparks of the Women's National Basketball Association, as well as the USC Trojans and the UCLA Bruins in the NCAA. The city is the largest in the U.S. without an NFL team.
While many famous people currently make Los Angeles their home, there are some notable people who are actually from Los Angeles: actress, Angelina Jolie; actress, Drew Barrymore; former President Ronald Regan; film director Spike Lee; rapper/musician, Snoop Dogg; and actor, Dustin Hoffman.
LOS ANGELES SPOT TEN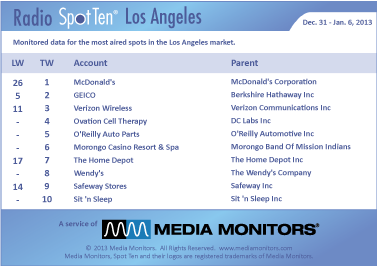 In Los Angeles last week the #1 radio advertiser was MCDONALD'S with 1,069 spots. GEICO was #2 with 1,056 ads, while VERIZON WIRELESS jumped from #11 to #3 with 750 spots. OVATION CELL THERAPY clocked in at #4 airing 750 commercials and O'REILLY AUTO PARTS was #5 with 720 spots. MORONGO CASINO RESORT & SPA landed in #6 with 714 spots, while THE HOME DEPOT was up from #17 to #7 with 698 commercials. WENDY'S was #8 running 670 spots and SAFEWAY STORES bagged #9 with 650 ads. SIT 'N SLEEP rested at #10 with 577 spots.
CARS AND TRUCKS: LOCAL DEALERS SPOT TEN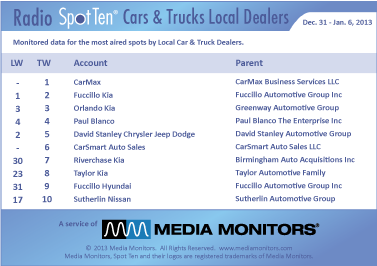 NATIONAL STATISTICS
- The #1 Car Dealer radio advertiser in the country was CARMAX with 8,694 spots. FUCCILLO KIA (upstate New York) was #2 with 1,875 spots, while ORLANDO KIA took #3 airing 1,391 spots. PAUL BLANCO (Northern California) was solid at #4 with 1,271 spots and DAVID STANLEY CHRYSLER JEEP DODGE (Oklahoma) was #5 with 1,035 spots. CARSMART AUTO SALES was #6 with 815 ads, while RIVERCHASE KIA (Birmingham) was #7 with 794 ads. TAYLOR KIA (Ohio) was #8 airing 758 spots and FUCCILLO HYUNDAI was #9 751 spots, while SUTHERLIN NISSAN (Georgia/Florida) took #10 with 741 spots.
NATIONAL SPOT TEN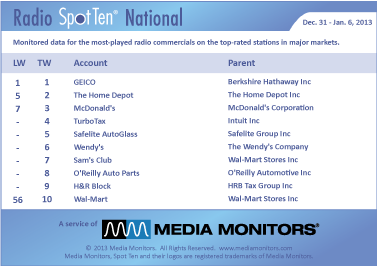 NATIONAL STATISTICS
- GEICO continues to tap into the power of radio with 68,162 spots making them #1 again. THE HOME DEPOT returned to #2 with 34,928 spots, while MCDONALD'S jumped from #7 to #3 with 297spots. TURBOTAX takes the seasonal position of #4 with their 26,076 spots and SAFELITE AUTOGLASS renters the top five with 25,211 spots.
Posted: January 7, 2013


SPOT TRENDS
Last Twelve Months
In the 1960s, Ernie Talley owned a retail company in Wichita, Kansas. He saw many hardworking customers who either did not have the cash to purchase goods for their homes or who had been turned down for credit. Seeing them leave empty-handed gave him an idea to rent used merchandise with an option to own it. The idea soon caught on and Talley opened the first rent-to-own store, Mr. T's TV Rental, in Tulsa, Oklahoma, offering new and pre-leased products. A concept, born out of the desire to serve the needs of customers who lacked the cash or financing to buy the products they wanted and needed, has today grown into a $6.7 billion industry serving millions of customers. Rent-to-own, rental purchase or rent with an ownership option — depending on which state you live in — is a unique transaction different from other retail transactions. At RAC, they offer quality merchandise, free service and delivery, 90 days same as cash, convenient payment options, loaners if needed, and lifetime reinstatement. All of this is provided with no down payment or credit report required. According to their web site, more than one million customers rely on the brand-name products and services Rent-A-Center provides. Since opening in 1986, Rent-A-Center (RAC) has grown from 16 stores to more than 3,050 in the United States, Puerto Rico and Canada through acquisitions and new store openings. Their largest acquisition was in 1998 when RAC bought 1,409 stores from Thorn Americas. In 2006, they acquired 782 stores from RentWay, their third largest competitor at the time. In 1995, their parent company, then known as Renters Choice, went public on the NASDAQ stock market under the symbol "RCII." The Plano, Texas-based company, now called Rent-A-Center Inc., is the nation's largest rent-to-own operator. According to their latest annual report, RAC delivered revenues of $2.88 billion with a net income of $164.64 million, which represented 5.5% in sales growth for 2011. They have 19,700 employees.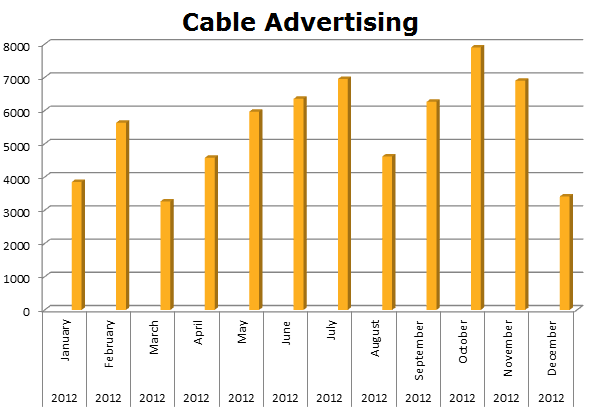 On Local Cable, Rent-A-Center ran 65,683 spots in the last 12 months. Their biggest month was October with 7,900 ads.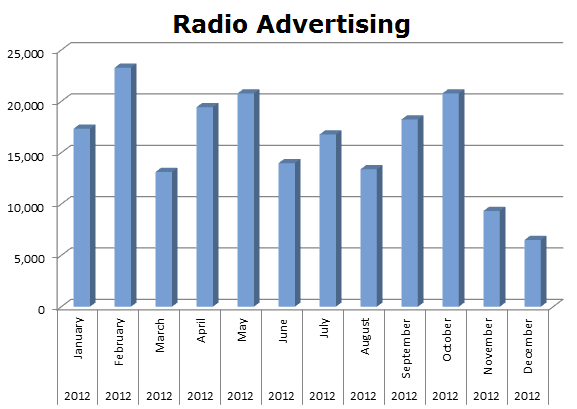 On the Radio, Rent-A-Center cleared 192,879 spots last year. They ran the most in February with 23,272 ads. As a matter of fact, 55.67% of all their spots were run on radio.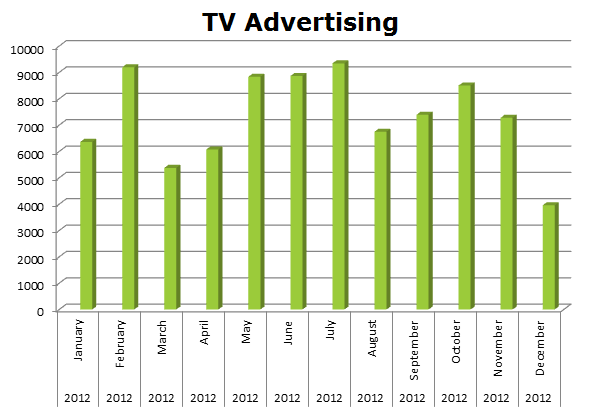 On Broadcast TV, Rent-A-Center ran 87,919 commercials last year with their biggest months being February (9,195) and July (9,341).
POSTED: January 7, 2013
<! ----End Here -->

Coca-Cola vs. Pepsi
Coca-Cola
pre-dated Pepsi Cola by about seven years. Coca-Cola was invented by Doctor John Pemberton, a pharmacist from Atlanta, Georgia. John Pemberton concocted the Coca-Cola formula in a three legged brass kettle in his backyard. Frank Robinson, Pemberton's bookkeeper, had excellent penmanship, so he scripted "Coca-Cola" into the flowing letters which has become the famous logo of today. The soft drink was first sold to the public at the soda fountain in Jacob's Pharmacy in Atlanta on May 8, 1886. Over the course of three years, 1888-1891, Atlanta businessman Asa Griggs Candler secured rights to the business for a total of about $2,300. Candler would become the company's first president, and the first to bring real vision to the business and the brand. In 1894, a Mississippi businessman named Joseph Biedenharn became the first to put Coca-Cola in bottles and start the bottle beverage revolution. In order to stand out against all the "me-too" carbonated beverages, Coke decided to create a distinctive bottle shape to assure people they were actually getting a real Coca-Cola. The Root Glass Company of Terre Haute, Indiana, won a contest to design a bottle that could be recognized in the dark. In 1916, they began manufacturing the famous contour bottle. The contour bottle, which remains the signature shape of Coca-Cola today, was chosen for its attractive appearance. They have also been a great advertiser on the radio over the years and some of their slogans are locked in millions of minds. Here is just the short list:
COCA-COLA
1904 - Delicious and refreshing
1908 - Good til the last drop
1922 - Thirst knows no season
1924 - Refresh Yourself
1929 - The pause that refreshes
1938 - The best friend thirst ever had
1956 - Coca-Cola ... makes good things taste better
1963 - Things go better with Coke
1969 - It's the real thing
1976 - Coke adds life
2006 - The Coke Side of Life
2007 - Live on the Coke Side of Life (also used in the UK)
2009 - Open Happiness
2010 - Twist The Cap To Refreshment
2011 - Life Begins Here
According to their latest annual report, Coca-Cola Enterprises Inc. created revenues of $8.28 billion with a net income of $749 million, which represented a 23.4% growth in sales for 2012. They have 13,250 employees.
Pepsi Cola
was also invented in the south in the summer of 1893, by a pharmacist, Caleb Bradham of New Bern, North Carolina. Bradham created something he called "Brad's drink" made of carbonated water, sugar, vanilla, rare oils, pepsin and cola nuts. "Brad's drink" was renamed Pepsi Cola five years later. The new name was based on the main ingredients of pepsin and cola nuts. And the Pepsi generations began. After seventeen years of success, Caleb Bradham lost Pepsi Cola. He had gambled on the fluctuations of sugar prices during W.W.I. Bradham thought that sugar prices would continue to rise but, instead they fell, which left him with an overpriced sugar inventory. Pepsi Cola went bankrupt in 1923. Assets were sold and Roy C. Megargel bought the Pepsi trademark. Eight years later, the company went bankrupt again. Pepsi's assets were then purchased by Charles Guth, the President of Loft Inc. Loft was a candy manufacturer with retail stores that contained soda fountains. He sought to replace Coca-Cola at his stores' fountains after Coke refused to give him a discount on syrup. Guth then had Loft's chemists reformulate the Pepsi-Cola syrup formula. During the Great Depression, Pepsi Cola gained popularity following the introduction in 1936 of a 12-ounce bottle. Initially priced at 10 cents, sales were slow, but when the price was slashed to five cents, sales increased substantially. They launched a radio advertising campaign featuring the jingle "Pepsi-Cola hits the spot / Twelve full ounces, that's a lot / Twice as much for a nickel, too / Pepsi-Cola is the drink for you," arranged in such a way that the jingle never ends. In 1940, history was made when the first advertising jingle was broadcast nationally. The jingle was "Nickel Nickel" an advertisement for Pepsi Cola that referred to the price of Pepsi and the quantity for that price. "Nickel Nickel" became a hit record and was recorded in fifty-five languages. Pepsi, like Coke, has always fed language into our pop-culture with their slogans:
PEPSI COLA Ad Campaigns
1939: Twice as Much for a Nickel
1950: More Bounce to the Ounce
1958: Be Sociable, Have a Pepsi
1961: Now It's Pepsi for Those Who Think Young
1963: Come Alive, You're in the Pepsi Generation
1969: You've Got a Lot to Live, and Pepsi's Got a Lot to Give
1983: Pepsi Now! Take the Challenge!
1984: Pepsi. The Choice of a New Generation (Commercial with Michael Jackson, featuring Pepsi version of Billie Jean)
1990: You got the right one Baby UH HUH (sung by Ray Charles for Diet Pepsi)
2011-present "Summer Time is Pepsi Time"
2011-present "Born in the Carolinas"
According to the latest annual report for PepsiCo Inc., they created revenues of $66.5 billion with a net income of $6.44 billion, with represented a 15% increase in sales over 2011. They have 297,000 employees.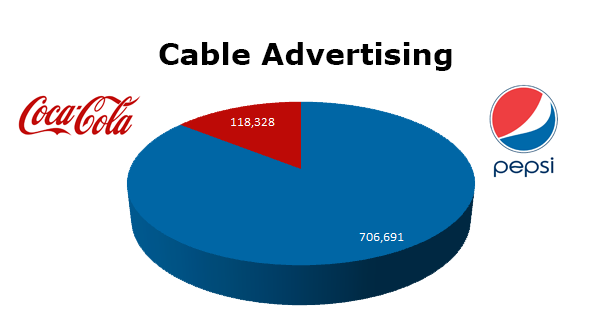 On Local Cable, Pepsi dominated the media over Coca-Cola last year. Pepsi ran 706,691 ads, while Coca-Cola cleared 118,328 spots. The biggest month for Pepsi was August with 89,051 spots. Coca-Cola ran the most in March with 16,745 spots.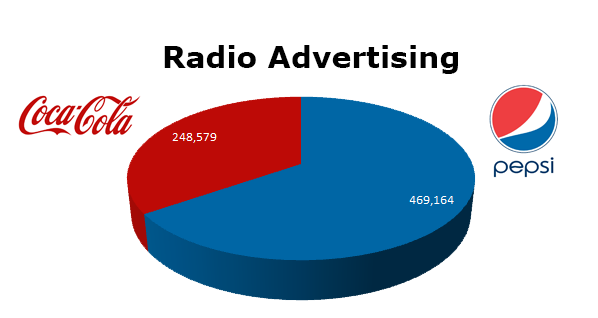 On the Radio, Pepsi ran 469,164 spots last year against Coca-Cola that cleared 248,579 ads. Pepsi-Cola ran hottest in June with 134,327 spots, while Coca-Cola ran the biggest schedule in April with 51,096 spots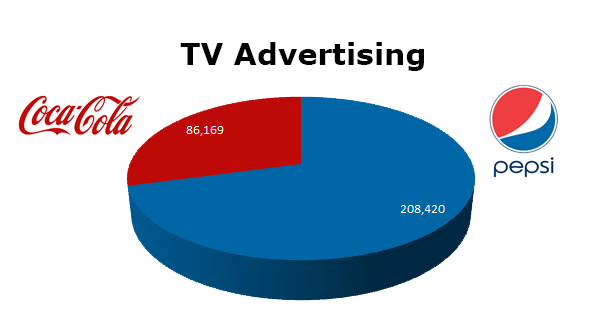 On Broadcast TV, Pepsi ran 208,420 spots last year, while Coca-Cola ran 41% of what Pepsi with 86,169 spots. Coke poured it on in August with 12,910 spots and Pepsi ran hottest in June with 23,593 spots and July with 23,132 ads. Posted: January 7, 2013 <! ----End Here -->
Media Monitors
445 Hamilton Avenue, 7th Floor
White Plains, NY 10601 USA
1-800-67-MEDIA

For The Current Spots: