MEDIA MONITORS 2012 Radio Advertising Top Ten NATIONAL
All markets copyright 2013 Media Monitors All Rights Reserved
White Plains, NY (January 4, 2013)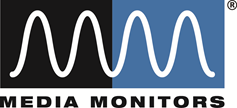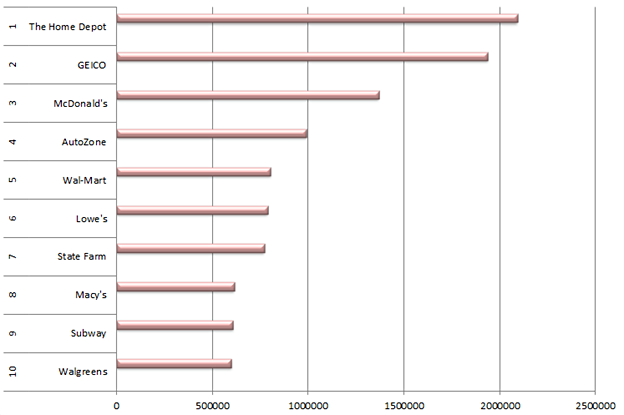 | | | | | |
| --- | --- | --- | --- | --- |
| Rank | Account | Parent | | Spot Count |
| 1 | The Home Depot | The Home Depot | | 2,093,047 |
| 2 | GEICO | Berkshire Hathaway | | 1,937,625 |
| 3 | McDonald's | McDonald's Corporation | | 1,366,786 |
| 4 | AutoZone | AutoZone | | 990,822 |
| 5 | Wal-Mart | Wal-Mart Stores | | 802,351 |
| 6 | Lowe's | Lowe's Companies | | 786,490 |
| 7 | State Farm | State Farm Mutual Auto Insurance Co | | 770,512 |
| 8 | Macy's | Macy's | | 613,485 |
| 9 | Subway | Doctor's Associates | | 606,883 |
| 10 | Walgreens | Walgreen Co | | 597,1040 |
There were some great stories for 2012 with the economy coming back and radio reaping benefits of the Presidential Election and advertisers coming back to radio big time. THE HOME DEPOT was #2 in 2011, but in 2012 vaulted to the top with more than 2 million spots. GEICO dropped from #1 to #2 with 1.9 million. MCDONALD'S stayed at #3 with 1.3 million spots, while AUTOZONE landed in #4 after being at #5 in 2011. WAL-MART slipped from #4 to #5 with 802,351 spots and LOWE'S came up from #9 in 2011 to #6 last year. STATE FARM was #6 and is now #7, while MACY'S improved from #17 to #8 in 2012. SUBWAY was #18 in 2011 and moved to #9 in 2012. WALGREENS soared from #23 in 2011 to #10 in 2012.
About Media Monitors
Media Monitors is the nation's leading broadcast monitoring and verification service for broadcasters, print media, media investment companies and advertising agencies. Media Monitors is a subsidiary of RCS, the world's largest provider of broadcast and webcast software. Media Monitors and its logo are registered trademarks of Media Monitors. The Media Monitors broadcast content recognition process of audio fingerprinting used by Media Monitors is protected by U.S. Patent 5,437,050. For more information, visit
www.mediamonitors.com
Editors: interview opportunities and graphics are available. Contact Dwight Douglas at Media Monitors, 914-259-4733, or e-mail the Media Monitors Newsroom for more information.